The man at the center of the £105million fake art scandal story involving Prince Charles that broke this weekend is none other than troubled poker-playing billionaire James Stunt.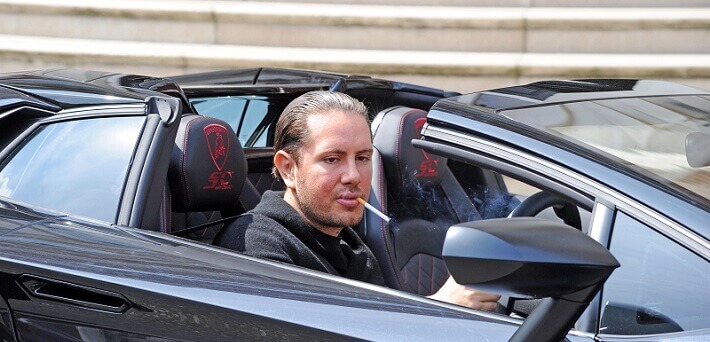 Stunt played poker online and in casinos
The former son-in-law of Bernie Ecclestone, once in line for a share of the Formula 1 racing tycoon's estimated $3billion fortune, was for a while a semi-regular at the highest stakes poker action at London casinos.
He also may have chucked a massive chunk of money in a brief online poker flirtation. But first a little about the gigantic art fraud scandal.
Works by Monet, Dali, and Picasso worth more than £100million were among 17 paintings Stunt loaned to Prince Charles for Dumfries House, the HQ of The Prince's Foundation.
This week, however, it has been claimed that the authenticity of the paintings is in serious doubt. The Picasso below, valued at around £42million, is among them.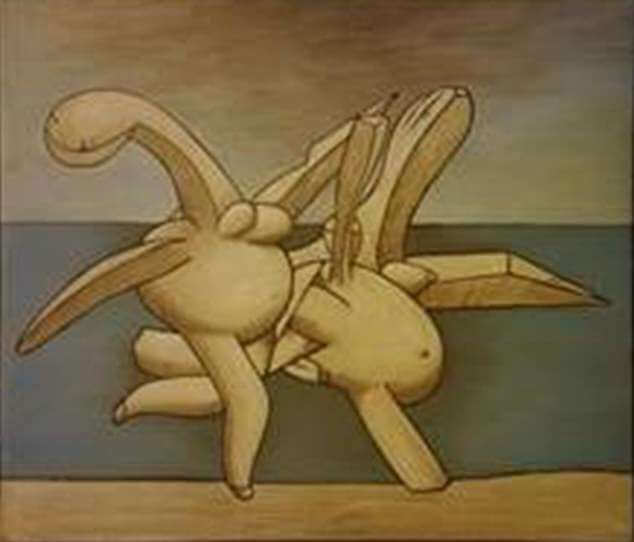 An American art forger, Tony Tetro, claims he painted eleven paintings for Stunt.
Stunt refuted the forgery claims. However, it's just the latest in a long line of disasters that have plagued him, including his rotten poker results.
An online account on PokerStars going by the name of James Stunt once dropped $133k to Daniel 'Jungleman' Cates in a single session of PLO back in 2016, according to HighStakesdb.
The total loss over 1968 hands was $206,405 for a brief and inglorious online career. The hsdb graph below showing its ugliness: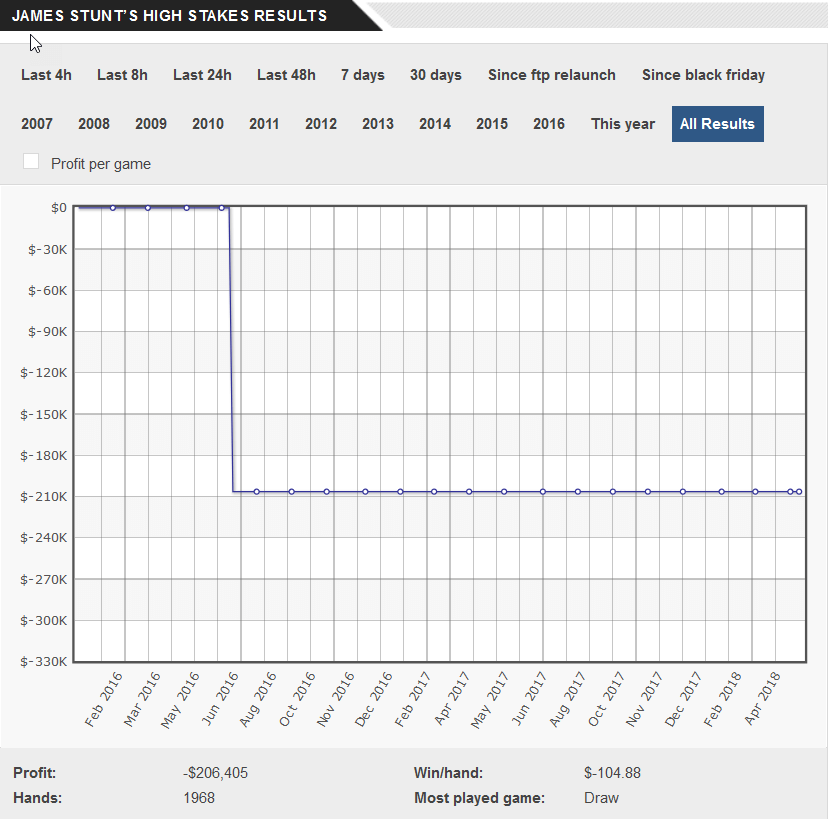 Other reports cast doubt on who exactly was behind that online poker account. Some are claiming it may have been Justin BoostedJ Smith. Others, however, made the point that it was a pretty lousy player with deep-pockets, so Stunt certainly fits the bill.
Around the same time, Stunt was spotted at London casinos with an entourage of ex-special forces bodyguards.

James Stunt is not planning to return to the tables
This made its way to the 2plus2 poker forum, one forumite posting: 'He has been showing up at various poker rooms around London in the last few weeks.
'He always has five bodyguards with him and wants to play the highest stakes available. Comes across as a complete tool.'
With a messy divorce from Petra Ecclestone (pictured below with Stunt) making the news at regular intervals, it seems Stunt's poker bankroll had taken a big enough hit.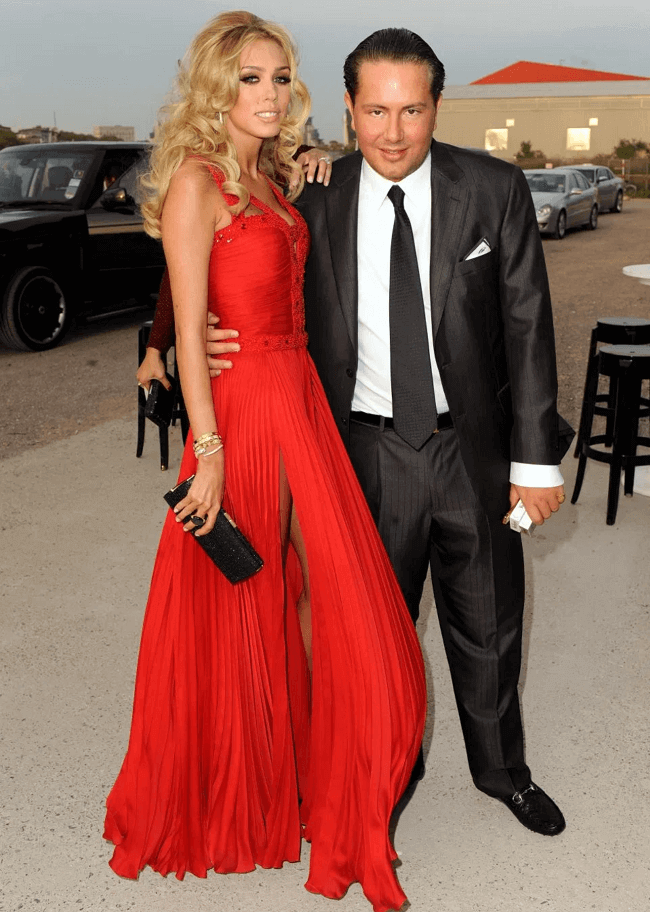 Little more has been heard of him as a 'high stakes poker player,' although he continued to spew money everywhere else.
A £1million spread betting debt was among the £14million of unpaid bills included in his recent bankruptcy. His £11.5million home and several luxury supercars were frozen under a 'proceeds of crime' restraint order.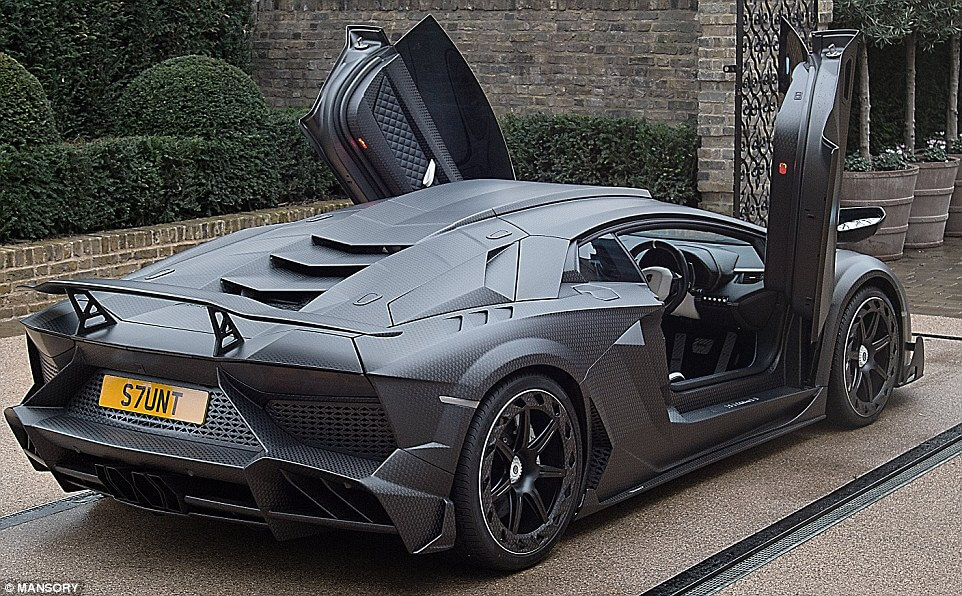 Of course, poker has seen card-loving billionaires come and sometimes go over the years.
Cirque du Soleil founder Guy Laliberte and Texan oil mogul Andy Beal can be counted among the former, with hedgefund guru Bill Perkins and Malaysian bookmaker magnate Paul Phua among the latter group.
James Stunt, it seems, despite being described as a 'very, very rich man' by his lawyer, likely won't be in the mood to hand over any more money at the poker tables.
Earn up to 60% partypoker rakeback when signing up through us!
When signing up through VIP-Grinders.com on partypoker, you can now earn up to 60% cashback on partypoker plus take part in the following exclusive VIP-Grinders Promotions with massive extra value:
$30 Welcome Bonus in SPINS Tickets
New Customers Only | 18+ | T&Cs Apply
Upon making your first deposit of £/€/$20, you will receive $30 in SPINS tickets, up to 60% rakeback, our Exclusive Party & Bwin Chase along with other exclusive promotions and races.
Terms and conditions apply. New customer offer and 18+ only. Should you require help regarding your betting pattern, please visit www.begambleaware.org.