GGPoker Review
GGPoker Bonus, Traffic and Software
GGPoker is one of the most popular poker sites for Asian players. It is the flagship skin of the Good Game Network, which was launched in 2014.
Both GGPoker and the GGNetwork are trying to "make poker fun again." Therefore they have prohibited third-party tools such as Holdem Manager or Pokertracker.
The GGNetwork was initially launched in Asia in 2014 and was focused on Chinese and Southeast Asian operators.
In the following year, more and more European and Canadian facing skins joined their network. This process caused many new European and Canadian players to join the action.
The GGNetwork itself is trying to attract as many players as possible to their sites. They are continually adding new promotions and competitions for their players.
Their skins such as GGPoker benefit from that and can provide their player pool with new exciting promotions regularly.
Because GGPoker is trying to attract new and recreational players, you can have a good time at the tables.
Playing at GGPoker is not only worth it because of the sheer amount of promotions, but you will also play against rather weak players.
In addition to that, GGPoker removed the option to save hand histories rendering tracking software such as PokerTracker and Hold'em Manager useless.
Even though keeping track of your results is more complicated, playing against Asian fish will make up for it.
The GGNetwork also provides players with several innovative features you won't find anywhere else. The PokerCraft tool lets you improve your game and compensates for the lack of third-party programs.
Moreover, you can also join their fast-paced All-In or Fold and Rush & Cash Fast-Fold poker games.
There are lots of tables and tournaments running throughout the day. The GGNetwork has a growing player pool, and their ongoing promotions make their cash games and tournaments even more appealing.
By joining our GGPoker Rakeback deal, you can make use of an exclusive WSOP welcome bonus and earn up to 50% rakeback on top of that.
Please read our in-depth GGPoker Review below and check out our fantastic GGPoker Rakeback Deal.
What's on Offer?
Below you can find an overview of currently available GGPoker rakeback and Promotions:
| | |
| --- | --- |
| PROMOTION | VALUE |
| 2020 WSOP ONLINE FIRST DEPOSIT BONUS | $100 in free tickets |
| RAKEBACK | Up to 50% |
| PRIVATE FREEROLLS | |
| $30,000 EXCLUSIVE RACE | |
| EXCLUSIVE GG CHASE | up to $15,000 (30%) |
| $2,000,000 CASH GIVEAWAY | |
| DAILY $33,000 RUSH & CASH LEADERBOARD | |
| ALL-IN OR FOLD $10,000 FLIPOUT | |
| SHORT DECK $5,000 DAILY LEADERBOARD | |
| STAYATHOME FREEROLL | |
| BUBBLE PROTECTION | |
| FISH BUFFET | |
| BIG HAND JACKPOT | |
| FLUSH JACKPOT | |
| ALL-IN OR FOLD JACKPOT | |
| ALL-IN OR FOLD BINGO | |
GGPoker Review written by online poker experts
Our team of professional online poker players and poker experts has been spending a lot of time on testing GGPoker to be able to come up with the most comprehensive GGPoker review online.
GGNetwork's claim to fame is their soft games and juicy promotions. While it was evident from the start that their promotions feature some massive prize pools, we had to test the games ourselves before making a judgment.
The software is both fast and reliable and features a self-explanatory interface, which makes jumping into the games almost effortless.
The lobby is split into six different parts, which can be found at the top of the screen.
The "Home" area displays all currently ongoing promotions, tournaments, and unique features. If you are getting started playing poker online, we recommend you to take a look at the unique features.
PokerCraft allows you to take a look at your game history, check your win/loss ratios, positional stats, and much more.
The Hold'em area features some of the highest stakes online. There is no buy-in limit, which means that the games might get crazy. However, if you are planning to play these sky stakes, you can choose to play micro, mid, or high stakes instead.
GGPoker offers 6-Max, and 9-Max tables and games are running 24/7. You won't have problems finding tables to plat at low stakes for sure.
The GGNetwork is the home of Rush & Cash games. Rush & Cash is the network's unique take on fast-fold Hold'em poker.
It is similar to regular cash game tables, however, you don't have to wait after you've folded, and Cash Drops and Fish Buffet prizes reward players with the equivalent of 65% flat rakeback.
How to open an Account at GGPoker?
Opening an account at GGPoker takes just a couple of seconds. However, we have created a step-by-step guide that will make it even easier and help you get your WSOP welcome bonus in just a couple of moments.
Step 1 – Start Registration Process
Please delete cookies (important) and then CLICK HERE to start the GGPoker registration process.
Step 2 – Enter your Details
You will be redirected to the GGPoker website, where you have to select your country and preferred currency and fill in your details.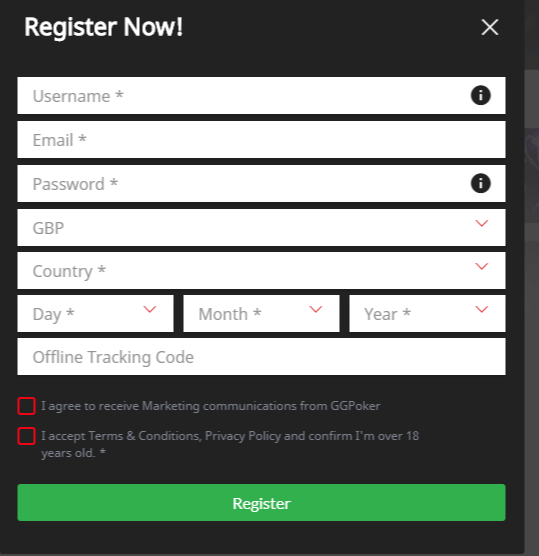 By using the above link, you automatically qualify for the GGPoker Welcome Bonus as well as for our exclusive $30,000 Race once you make your first deposit.
Step 3 – Make your First Deposit and claim your WSOP 2020 Online Welcome Bonus.
Before making your first deposit, you need to provide your details in the "My Profile" tab. Afterward, you can click on "Deposit," select your payment method of choice, and enter the amount you want to deposit, confirm the transaction, and you are good to go!
Please Note: You don't have to enter a poker bonus code to receive your bonus. By using our exclusive $30,000 Race, your bonus and all other rewards will be automatically added to your account.
Step 4 – Submit your GGPoker Username
To ensure that you get access to our exclusive deals and promotions, you have to send us your GGPoker username via the VIP-Grinders.com member system.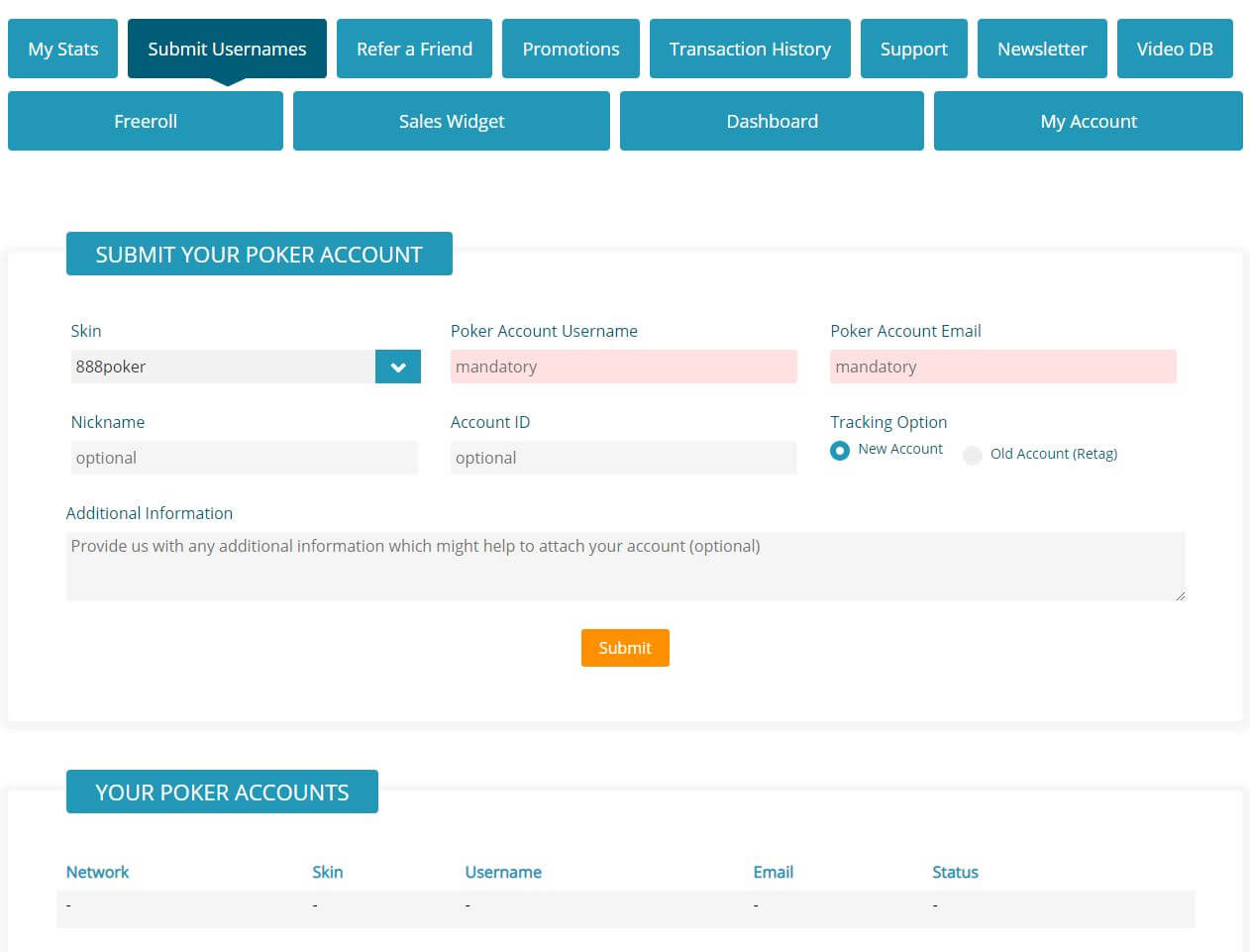 Log into your VIP-Grinders account and navigating to the "Submit Usernames" tab:
All you have to do is to enter your GGPoker Username and choose GGPoker from the drop-down menu.
CLICK HERE TO SUBMIT YOUR USERNAME.
GGPoker Review Promotions
GGPoker offers you a lot of promotions. Players can now claim an exclusive WSOP Online welcome bonus that rewards you with $100 in free tickets and you can also earn up to 50% rakeback.
On top of that, you can currently participate in 16 different promotions which feature lots of prizes.
GGPoker First Deposit Bonus
The GG Network is hosting the WSOP this year and there are plenty of reasons for you to celebrate. Not only will you be able to participate in this epic tournament series from home, but GGPoker is also providing you with a highly attractive new offer.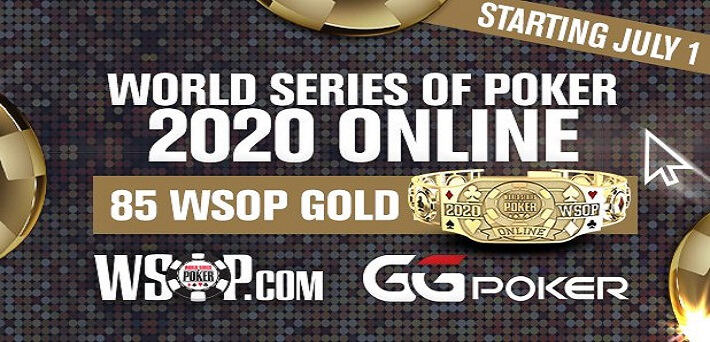 New players who sign-up with GGPoker through us, can claim an exclusive WSOP Welcome Bonus that is worth up to $100!
Simply create your account, deposit $20 or more and receive $60 in tickets right away. However, you can earn a total of $100 in rewards by playing at All-In or Fold tables.
You can earn the remaining $40 in free tickets by playing All-In or Fold on each of the six days after you have made your first deposit.
Make sure to hit the daily hands target to grab a $5 WSOP satellite ticket for that day's play and GGPoker will reward you with a $10 WSOP satellite ticket on the final day.
GGPoker WSOP Poker Freerolls
On top of the above-mentioned WSOP Welcome Bonus, you will also get the chance to participate in exclusive WSOP poker freerolls at GGPoker.
Instead of the regular prize pool, you will compete for 5 WSOP tickets that are worth $500 in total!

It's a unique opportunity for you to compete in the world's largest and most popular tournament without risking your own money!
Make sure to sign-up in time to get a chance to participate in the WSOP 2020 for free! Click on the button displayed below to get additional information about the upcoming WSOP poker freerolls at GGPoker.
GGPoker Rakeback Deal
All players signing up with GGPoker will automatically enter the Fish Buffet rewards program. It provides you with cash in exchange for the rake that you have paid in tournament fees or cash games.
You earn 1 Fish Buffet point for every $0.01 in rake. The more you play, the higher your rewards.
There is a total of 25 different loyalty levels in the Fish Buffet program. To climb the ladder, you need to collect a certain amount of points within a specific time.
Below you can find an overview of all Fish Buffet Rewards.
Level
 
FPs
Time
Prize Range
Cashback
Plankton
Starting Level
500
24 hours
$0.50 ~ $1.50
15%
Shrimp
1,000
24 hours
$1 ~ $3
20%
Goldfish
Bronze
1,500
24 hours
$1.50 ~ $6
22%
Silver
25%
Gold
28%
Crab
Bronze
5,000
72 hours
$5 ~ $25
28%
Silver
30%
Gold
32%
Octopus
Bronze
15,000
Seven days
$15 ~ $90
32%
Silver
33%
Gold
34%
Platinum
35%
Diamond
36%
Whale
Bronze
40,000
15 days
$40 ~ $320
40%
Silver
41%
Gold
42%
Platinum
43%
Diamond
44%
Shark
Bronze
100,000
30 days
$100 ~ $1,000
45%
Silver
46%
Gold
47%
Platinum
48%
Diamond
49%
Black
50%
VIP
300,000
90 days
$300 ~ $3,000
50%
After you have hit the required amount of FP within the time limit, you will reach the new level. Then you will get a chance to spin the wheel which boasts increasing rewards depending on your rank.

With every spin, you get a chance to win one of the six prizes within the prize range for your level.

Our GG Network poker rakeback deals got a whole lot juicier! Join our exclusive GG Chase and reward yourself with up to $15,0oo!
Join our Exclusive GG Chase and reward yourself with up to $15,000 (30%) extra every month along with our Exclusive $30,000 race.
Note: Players are only eligible for a chase prize from June and onwards after they cleared the welcome bonus on any of the participating brands. Once you cleared the welcome bonus, please email support@vip-grinders.com so we can add your account to our Exclusive GG Chase.

Join our $30,000 Exclusive Race and reward yourself with up to $3,000 for the top-performing player!
GGPoker Review Traffic and Software
Just like other rooms on the GG Network, GGPoker runs on the software built by NSUS Ltd. The software is a favorite of many online poker players worldwide.
Downloading the software takes just a couple of minutes, and there are lots of customizing it according to your personal preferences. The software itself runs smoothly, and we haven't had any connection issues while playing there.
Moreover, there is an in-built staking feature that allows you to buy or sell shares in any tournament and all transactions are handled automatically after the end of a tournament.
There are more than enough players throughout the day, and GGPoker offers a large number of games such as Texas Holdem, Pot-Limit Omaha, All in or Fold, and lots of exclusive tournaments with guaranteed prize pools.
There are multiple tables at low and mid-stakes at all times, and most of the time, you should be able to get at least a handful of tables going at the highest stakes.
GGPoker Review Mobile App
You can also join the action by installing the GGPoker mobile app. The app has been developed by poker experts and provides an excellent interface that makes playing on mobile devices more comfortable than ever.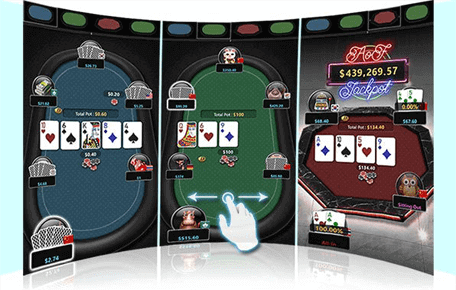 Using the new multi-table feature, players are even able to play up to four tables at once. Select the tables you wish to play at to start multi-tabling.
You don't even have to turn your phone sideways; The Betting Gears system allows you to take control of the tables and actions with your thumb.
Visit GGPoker to download the app onto your Android or iOS device.
Compatibility
The GGPoker Mobile App is available for the most common operating systems and mobile devices such as iOS and Android.

Downloading the GGPoker Mobile App
Please head over to GGPoker and follow the steps below if you want to make sure to install the app on your mobile device successfully.
Android users:
Go to Settings and check "Unknown sources."
Click Install.
Enjoy your favorite games on the go.
iOS users:
Go to Settings -> General
Select Device Management (for iOS 9.1 or below, go to Profile to view)
Select "NSUS Ltd." and then select "Trust NSUS Ltd."
GGPoker Review Deposit Options and Limits
To deposit money at GGPoker, you need to be a registered GGPoker player. You can either use the GGPoker app or deposit funds using their website.

Currently, there are four different deposit methods to choose from: VISA, Mastercard, Skrill, and NETELLER. However, please be aware of the fact that there might be different payment options available in your country.
GGPoker Review Cashout History and Processing Times
Deposits at GGPoker are settled instantly, which means that you can start playing right away.
Right now you may only use your Skrill or NETELLER account to withdraw your funds. However, cashouts are safe and reliable, making GGPoker one of the safest places to store your online poker funds. Once you are fully verified, withdrawals rarely won't take more than one business day.
GGPoker Restricted Countries
Persons located in Afghanistan, Algeria, Angola, Bahrain, Cuba, Curacao, Eritrea, Ethiopia, Jordan, Iran, Iraq, Israel, Kuwait, Libya, Mauritania, Norfolk Island, North Korea, Oman, Pakistan, Qatar, Rwanda, Saudi Arabia, Sudan, Somalia, South Sudan, Syria, Tunisia, UAE, United States of America, Yemen are neither eligible to open an account with GGPoker, make any deposits nor use the Services.
GGPoker Featured Promotions
Company Information
| | |
| --- | --- |
| Company Name: | NSUS Interactive |
| Website: | www.ggpoker.com |
| Network: | GGNetwork |
| License: | UKGC & Curacao |
| Skrill Loyalty: | Yes |
| P2P Option: | No |
Sign-up Now & Submit Details
GGPoker Games & limits
| | |
| --- | --- |
| Average Total Players: | 1870 |
| Average Cash Players: | 1400 |
| HEM/PT Compatibility: | Yes |
| Rake Structure: | 5% |
| NLH 6max: | Up to High Stakes |
| NLH HU: | Up to High Stakes |
| PLO 6max: | Up to High Stakes |
| PLO HU: | Up to High Stakes |
| Pos | Nickname | Points | Prize |
| --- | --- | --- | --- |
| 1 | Fredebiel | 21526.50 | 3000.00 |
| 2 | DaveBuznik | 18650.15 | 2250.00 |
| 3 | rhonin9 | 17265.21 | 1750.00 |
| 4 | Mogelwette | 14550.68 | 1500.00 |
| 5 | as22theone | 12890.61 | 1250.00 |

| Pos | Nickname | Points | Prize |
| --- | --- | --- | --- |
| 1 | rhonin9 | 7603.00 | 975.00 |
| 2 | as22theone | 5729.00 | 625.00 |
| 3 | soulsnotfaces | 2724.00 | 312.50 |
| 4 | Nabbo77 | 1057.00 | 100.00 |
| 5 | Allanowich | 474.00 | 20.00 |
GGPoker Review Traffic & Games 
The GGNetwork used to be exclusively accepting players from Asia. However, they shifted their focus more than three years ago, and there are lots of players from Europe and Canada playing at the tables.
GGPoker is striving to create a fun playing experience for all types of players. The poker site is also always adding new promotions and innovative features which makes playing there worthwhile.
You can find a wide variety of games to choose from when playing at GGPoker. The company is not only offering regular cash games, tournaments and Sit and Go's, but they are also adding new exciting types of games such as All-In or Fold and Rush & Cash.
Below we will go into detail and take a closer look at the games, traffic, software, and our exclusive GGPoker Rakeback Deal.
GGPoker is Part of the Good Game Network
The GG Network is one of the newest and fastest-growing networks in the world of online poker. Players from lots of countries can participate in their games and benefit from their fantastic games, viable software, and relatively low rake.
The player numbers of the GGNetwork have been therefore continually increasing since 2016. The traffic is stable around the clock and allows you to play a session whenever you want to.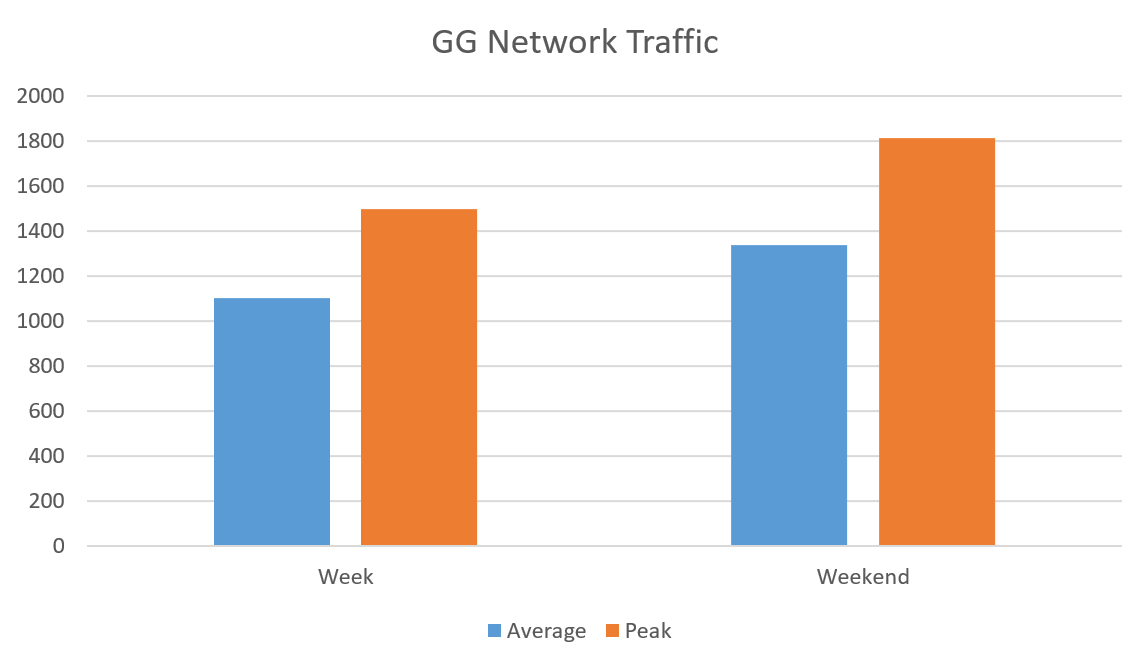 As it is shown above, the traffic on GGPoker rarely drops below 1000 players and stays pretty consistent around the clock.
GGPoker Review Table Currency
GGPoker games and poker accounts balanced are displayed in the currency you chose when you created your account. Therefore it is up to you to decide.
GGPoker Review Cash Games
GGPoker's Cash Games is where the majority of its traffic is. Players can join lots of tables due to the decent traffic at any limit. Stakes range from NL10 up to the so-called "Super High Stakes" with blinds of $200/$400.
No-Limit Texas Holdem
Just like almost anywhere, No-Limit Texas Hold'em games are the most popular on GGPoker.
On average, 400 players are playing NLHE games at any given time. Stakes range from NL10 to NL5k. Note there are only 6-max and 9-max tables at GGPoker.
Pot-Limit Omaha
GGPoker is a fantastic choice if you enjoy playing PLO. The GGNetwork features stakes from PLO10 to "Super High Stakes" and there is plenty of action, especially in the lower stakes.
Most of the traffic is active between PLO10 and PLO100, but you can always find active tables as high as PLO10,000. On average, there are 160 active players at GGPoker's PLO tables.
Other Cash Games (All-In or Fold/Rush & Cash)
GGPoker doesn't offer a fast-fold format of cash games, but they do offer a variant of All-in or Fold games. Those are in essence a simplified version of Hold'em and Omaha. The only two options to choose from in All-In or Fold games: either you go all-in, or you fold your hand. The buy-in is capped at eight big blinds for Hold'em and six big blinds for Omaha respectively.
GGPoker Review MTT Schedule
GGPoker is part of the GGNetwork and therefore features lots of tournaments. There are huge guaranteed prize pools and soft player fields. Both MTT experts and recreational players will have an excellent time.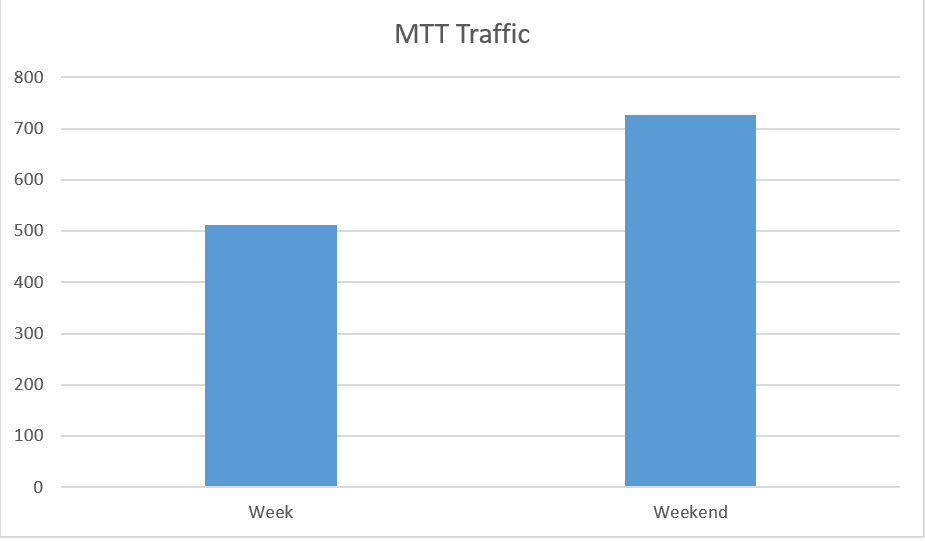 Daily Guarantees
GGPoker's Daily Guarantees include the most popular game formats, and there are at least $100,000 to be won every day.
The prize pool gets doubled on Sunday, with a total of $200,000 up for grabs.
Sunday High Roller Events 
GGPoker is running its famous Marquee Sunday High Roller Tournaments with a big prize pool across two special events. You can register in the daily satellites to grab your seat in these exclusive tournaments.
The buy-in for the Sunday High Roller with a guaranteed prize pool of $25,000 is $500 and the buy-in for the Sunday High Roller event at 19:30 (UTC+0) is $1,000.
Poker Tournaments
The Chinese-style action tournaments at GGPoker offer great action and big prizes. This tournament series is being run in partnership with Macau Billionaire Poker and consists of fourteen events that are running daily.
Compete in MBP tournaments and embrace the crazy Asian action and thrills.
Specials & Private Freerolls
Currently, we are not offering private Freerolls on GGPoker.
GGPoker Review Software
We already briefly mentioned that GGPoker is running the extraordinarily modern and visually appealing GGNetwork Poker Software which will fit any poker player's needs.
GGPoker Client
The GGPoker client is easy to navigate and divided into tabs that each offer all the needed info and features. You can set up individual betting shortcuts, set-up auto rebuys, and add-ons. Moreover, you can also change the general look of the tables.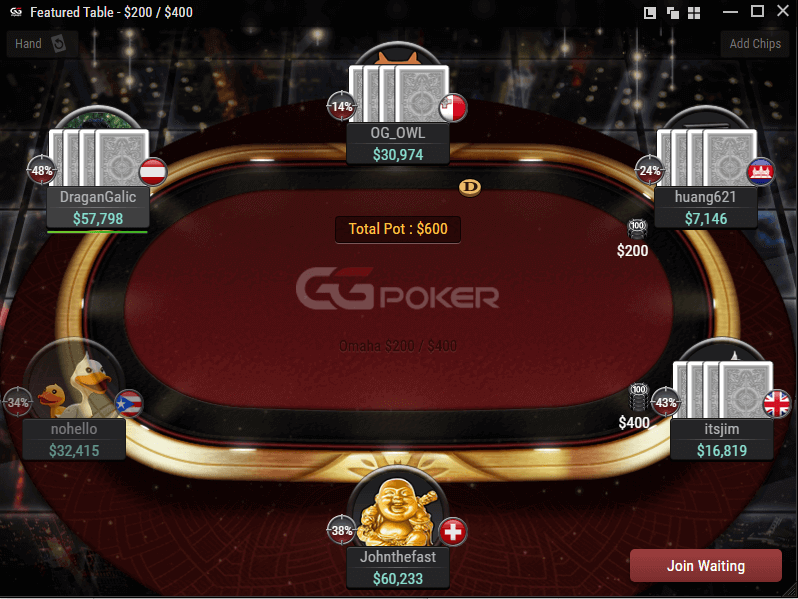 The software also features a built-in staking system that allows you to buy or sell action in any tournament and the division of any winnings is done automatically.
GGPoker Lobby
In addition to the game tabs dividing Tournaments, Rush & Cash, All-In or Fold, Hold'em and Omaha games, you can choose between a table and group view. You can also sort tournaments according to their format.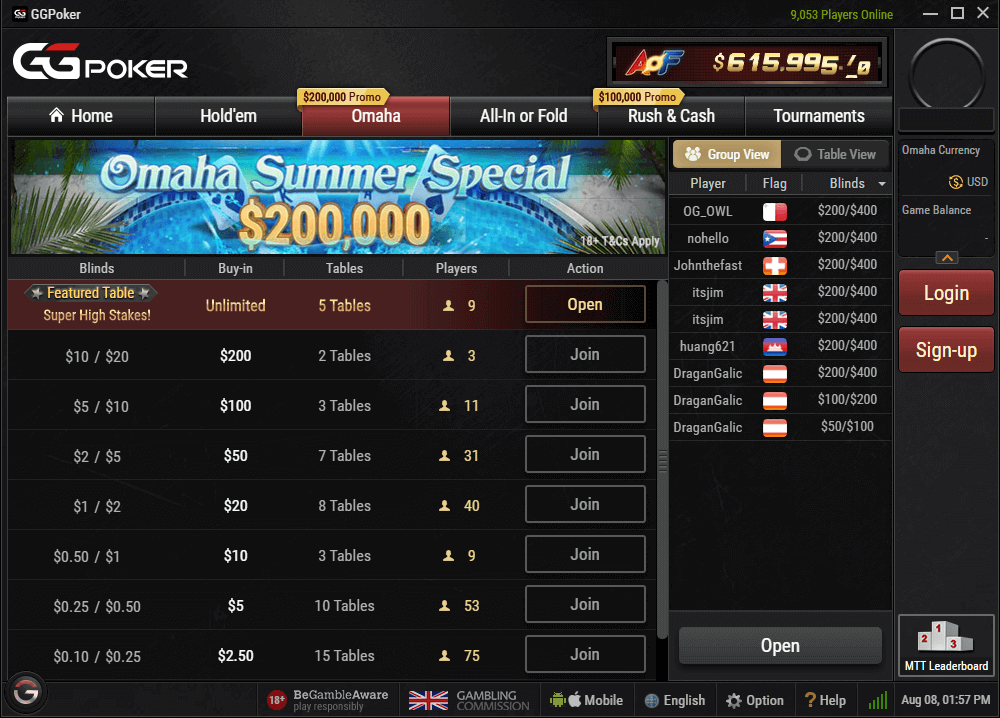 Cash Games Multi Table Capacity
The GGPoker software does not limit the number of Cash Game tables you can open. Make sure not to open more tables than your device can manage.
MTT & SNG Multi Table Capacity
Just like with Cash Games, there is no limit to how many MTT tables you can play on at any given moment.
Hand Converter and Histories
GGPoker offers its hand history and poker analysis tool called PokerCraft. It provides you with in-depth information about the hands and sessions you have played. Even though third-party tools like Hold'em Manager or Poker Tracker are not allowed, you will be able to analyze your game.
GGPoker Review Rake Structure 
GGPoker offers arguably the best rake structure in the industry. Check a detailed overview below.
Hold'Em:
| Blinds | Buy-in | Rake Per Pot | Rake Cap |
| --- | --- | --- | --- |
| $0.05 / $0.10 | $1 ~ $10 | $0.01 for each $0.20 in pot | $1 |
| $0.10 / $0.25 | $3 ~ $25 | $0.01 for each $0.20 in pot | $2 |
| $0.25 / $0.50 | $10 ~ $50 | $0.05 for each $1 in pot | $4 |
| $0.50 / $1 | $20 ~ $100 | $0.10 for each $2 in pot | $5 |
| $1 / $2 | $40 ~ $200 | $0.20 for each $4 in pot | $6 |
| $2 / $4 | $100 ~ $400 | $0.40 for each $8 in pot | $8 |
| $5 / $10 | $300 ~ No Max | $2 for each $40 in pot | $10 |
| $25 / $50 | $1000 ~ No Max | 5% | $10 |
Omaha:
| Blinds | Buy-in | Rake Per Pot (%) |
| --- | --- | --- |
| $0.05 / $0.10 | $1 ~ $10 | 3% |
| $0.10 / $0.25 | $2.50 ~ $25 | 3% |
| $0.25 / $0.50 | $5 ~ $50 | 3% |
| $0.50 / $1 | $10 ~ $100 | 3% |
| $1 / $2 | $20 ~ $200 | 3% |
| $2 / $4 | $40 ~ $400 | 3% |
| $3 / $6 | $100 ~ $1,000 | 3% |
| $5 / $10 | $200 ~ $2,000 | 3% |
| $25 / $50 | $1,000 ~ No Max | 3% |
Note: Any pot amounts below 2.5 BB are not subject to Rake charges
Poker Tournament Fees
All MTT & SNG buy-ins include a 5% fee at GGPoker.
GGPoker Poker Rakeback Deal
Our GGPoker Rakeback Deal lets you earn up to 50% rakeback. You can also compete in our exclusive VIP Leaderboards and other promotions to earn even more cash.
GGPoker Review Conclusion
GGPoker is an excellent choice for grinders and recreational players. The GGnetwork offers players a great environment, rewards, and lots of games to choose from. The software and games are aimed at new players who want to have fun at the poker tables.
However, grinders will also get their fair share of the action. First of all, you will be playing against these recreational players, which makes playing multiple tables profitable. Moreover, you will be climbing up the ladder of the Fish Buffet rewards program which will provide you with additional rakeback.
There are plenty of players around the clock, which allows you to play whenever you want.
There are no User Reviews yet. Let us know your experience now!