Twitch Poker – Watch the best poker live streams on Twitch.tv
What is Twitch?
Twitch is the world's leading video platform and community for gamers and poker players, where you can watch live streams of all major video games, online poker and live poker events or just listen to your favourite music or DJ.
Founded in June 2011 Twitch really started to take off in the end of 2013. In October 2013 Twitch had 45 million unique viewers, while just 5 months later it was already the fourth largest source of Internet traffic in the USA!
Last year Twitch announced that they have more than 100 million visitors per month and 1.7 million people, who are streaming live on one of the several channels.
Facts and Figures:
More than 100 million unique viewers per month.
More than 1.7 million broadcasters.
An average of 106 minutes watched per person per day.
More than 2 million peak viewers.
How does poker on Twitch work?
It's very easy. All a streamer needs is a fast computer and internet connection plus a streaming software, such as open source programs like Open Broadcaster Software (OBS).
Then the streamer records his online poker session and broadcasts it with a couple of minutes delay.
The great thing about Twitch poker is that it is interactive. You can not only watch some of the best poker players in the world watch play and analyzing their game for free, but also contact, comment and interact with the streamer via the chatbox.
That means you can get a live poker coaching, and the best thing is, it is completely free of charge!
Why is Twitch the poker medium of the future?
As stated above the major reason is simply that it is for free. Poker players don't have to pay a lot of money for expensive subscriptions of poker schools anymore.
Almost all top players: Fedor Holz, Doug Polk, Vanessa Selbst, Daniel Negreanu and Phil Hellmuth are now streaming poker on Twitch, so you can learn from the best.
On top of that, Twitch originates in eSports and is perfectly suited for live poker streams and big live events. The Godfather of Twitch Poker, Jason Somerville, already broadcasted the last PCA and Aussie Millions live on his Twitch channel and it was a major success.
Sooner or later we will probably have the opportunity to follow all major tournaments and even the WSOP Main Event Final Table live on Twitch.
Hold on 5mins and enjoy this!
Like our Facebook page
Sign-up with any of the Featured Deals and Submit your Username.
$5 Free Token will be credited automatically – no deposit required!
Make a minimum deposit and earn 20 VIP points to get another $10 Free Token.
| Player | Limit | Date | Time [CET] |
| --- | --- | --- | --- |
Twitch Newsletter
Please subscribe to our Newsletter so we can make sure you receive an automatic notification when there are big players streaming & special hosted events on our channel: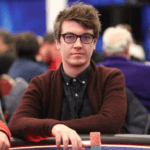 Fintan "easywithaces" Hand
Fintan Hand is 25 years old and playing poker professionally since 4 years. He won the No-Limit Texas Hold'em End of the Month Event in Dublin for $15,701, which also was his biggest live cash. Online he is known under the name "easywithaces", where he won several mid stakes tournaments. On top of that, he is one of the upcoming Twitch streamers. His stream is growing steadily with 262,932 views and 6,954 followers, while being one of the most relaxed poker streams. For VIP-Grinders Fintan will be streaming mid and high stakes MTTs every Saturday from 9 am to 7 pm CET!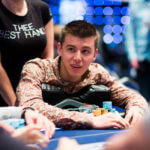 Anatoly "NL_Profit" Filatov
Anatoly Filatov is a professional poker player and famous Twitch streamer from Moscow. Anatoly gained fame online, where he has amassed two million dollar in winnings under the screen name "nl_profit". He is the manager of the Global Poker League team Moscow Wolverines and a poker superstar in Russia. That's why we feel very honoured, that he will stream High Stakes MTTs and 6-Max Turbo SNG Turbos live on our VIP-Grinders Twitch channel.
Gary "GazzyB123" Blackwood
Gary has been playing poker professionally for 2.5 years. The 26-year-old moved up pretty quickly and at the moment plays NL100 Fast Fold on PartyPoker, with the intentions to move up to NL 200 as soon as possible. Blackwood writes a popular blog on 2+2 and has recently started streaming on Twitch. Gary will be streaming NL 100 Zoom every Thursday from 2 to 4 pm CET at the VIP-Grinders Twitch channel.
Jaka "MJQuads" Zabukovec
Jaka Zabukovec is another Slovenian online grinder in our team. He started the old school way playing a shortstack strategy to build up his bankroll. Jaka started with full ring, but then moved to zoom and fast-fold poker, when this new game emerged. He sticked with it and is a regular at NL100 Zoom since 2,5 years. His stream will be a mix of playing and coaching as Zabukovec will also focus on session reviews, no HUD sessions as well as on how to use Holdem Manager for analyzing your game and your opponents.