NordicBet Poker Rakeback Deal
NordicBet Poker Bonus, Rakeback, Traffic and Software Review
NordicBet is one of the leading sportsbooks and online poker rooms in Northern Europe. It was launched officially when the Olympic torch was lit in Salt Lake City on the 8th of February 2002 and has more than 15 years of experience in the poker and iGaming industry.
But why was this date chosen for the official launch? Because back then nobody offered odds on the most popular sports in Finland, Sweden, Norway and Denmark such as their football leagues, ice hockey leagues or Winter Sports.
After that NordicBet has gone from strength to strength, adding Online Poker and Casino to its portfolio. Its potential was recognized by iGaming giant the Betsson Group, who purchased it in 2012.
Through that, it became part of the Microgaming Network (MPN), which is the biggest poker network in the world. Since then NordicBet Poker is boosting fantastic traffic and offers a huge variety of games.
Together with great promotions and our amazing deal and the fact NordicBet Poker is famous for the first-class levels of security when it comes to making deposits and withdrawals, it is a great pick for poker players, who are looking for a reliable poker site.
What´s on Offer?
Below you can find an overview of current and available offers at NordicBet Poker.
Review of NordicBet Poker conducted by poker experts
Our Team consisting of professional poker players and online poker experts alike has been grinding a lot at NordicBet Poker and had a great experience.
NordicBet is not only famous for top-notch security when it comes to making deposits and withdrawals and the outstanding quality of its Customer Service Team, but also for great value and fantastic promotions.
Last but not least, new players get a massive first deposit bonus of 100% up to €2,000, so what are you waiting for?
We, therefore, encourage you to CONTACT OUR SUPPORT in case you have any questions or look for a custom deal. Please feel free to leave a comment and let us know about your experience while playing on Coral Poker!
How to open an Account at NordicBet Poker?
Opening an account at NordicBet Poker is very easy and only takes a couple of minutes. Simply follow our step-by-step registration guide and your poker account together with A MASSIVE FIRST DEPOSIT BONUS OF 100% UP TO €2,000 will be ready in only a few minutes!
Step 1 – Start Registration Process
Please delete Cookies (important) and then CLICK HERE to start the NordicBet Poker registration process. The link will redirect you to the home page of NordicBet Poker. Then simply click on the orange "Register" button in the top right corner:

Step 2 – Enter your Personal Details
The instructions on the screen will guide you through the process. In order to set up your account you will have to enter some details such as your name, date of birth, email, password, address, country of residence and mobile number and then click on the orange "REGISTER MY ACCOUNT" button below: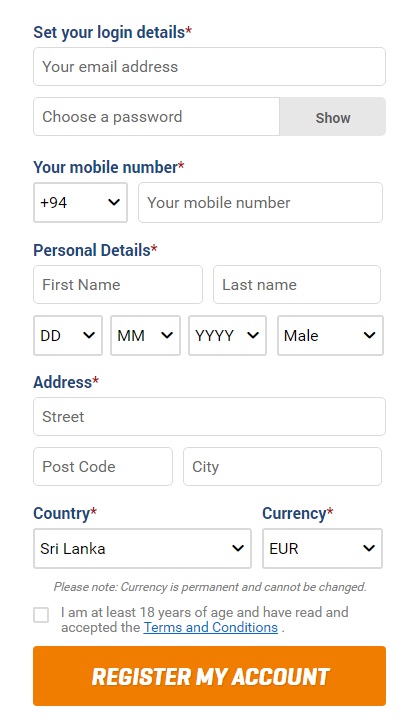 Step 3 – Make your First Deposit and get a €2,000 Bonus
As soon as you have finished the registration of your NordicBet Poker account, you can make a deposit and get your €2,000 FIRST DEPOSIT BONUS.
Click on the "Deposit" button within the NordicBet poker client and choose your preferred deposit option.
Please note, that you now need to choose and activate your bonus! Simply follow those four steps: Go to "Available Bonuses" in the NordicBet Poker client, choose the Bonus you want to claim, press "Claim Bonus", type in the bonus code and the amount you want to claim in bonus. You have 30 days to activate your bonus!
You can choose between four different first deposit bonus options: €50, €100, €250, €1,000 and a staggering €2,000 first deposit bonus by entering the respective bonus code.
The NordicBet Welcome Bonus is credited automatically to your account when making your first deposit using any of the bonus codes below. It expires after 60 days.
| | |
| --- | --- |
| CODE | VALUE |
| 50NORDIC | €50 |
| 100NORDIC | €100 |
| 250NORDIC | €250 |
| 1000NORDIC | €1000 |
| 2000NORDIC | €2000 |
Now you are all set and ready to enjoy your favorite games at NordicBet Poker!
New Customers Only | 18+ | T&Cs Apply
Step 4 – Submit your Details
To ensure that you get access to our exclusive deals and promotions, you have to submit your table alias/nick.
You can do that by logging into your VIP-Grinders account and navigating to the "Submit Usernames" tab.
Here, simply enter your table alias/nick and be sure to pick the right Skin form the drop down menu. You can find the name of the Skin by clicking the "Claim Now" button on this page.
CLICK HERE TO SUBMIT YOUR TABLE ALIAS.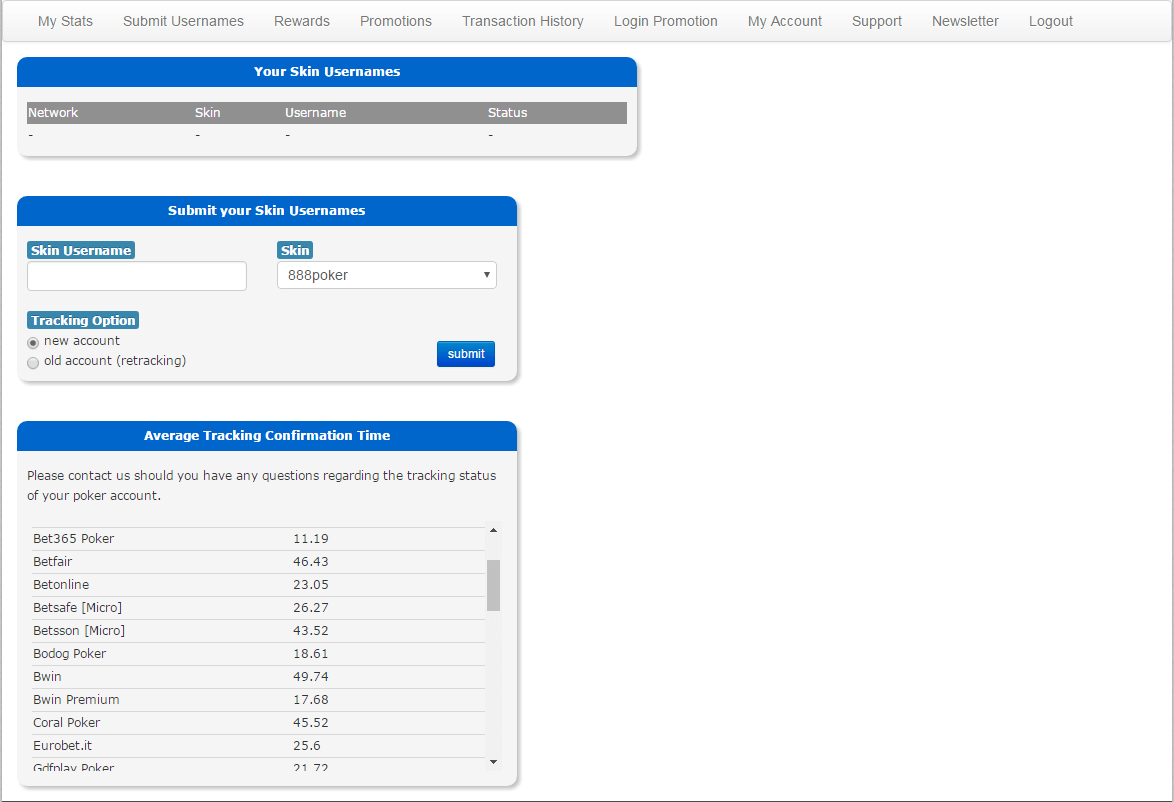 NordicBet Poker Promotions
NordicBet Poker offers some of the best value and promotions in the poker industry. You will not only receive a top-notch deal and welcome bonus but also benefit from our custom bonuses and private rake chases.
And let's not forget our great deal, which offers players, who sign up through us a massive 30% in value fixed on top of the already huge promotions!
NordicBet First Deposit Bonus
NordicBet offers a generous 100% UP TO €2,000 BONUS  which is worth approximately 20% and you have 60 days to clear it.
New players also get access to a New Player Freerolls, with a €1,000 prize pool and another €1 Tournament for new depositors with €500 extra added to the prize pool.
Please Note: Only new players that are aged 18+ are eligible for this bonus! Wagering as well as terms & conditions apply.
New Customers Only | 18+ | T&Cs Apply
NordicBet Poker Value
NordicBet players receive 30% VIP fixed, which is calculated according to contributed terms. It is paid out in points and you can change points for cash bonuses anytime.

Earn up to €5,000 through our new points chase starting 1st of June and running on a monthly basis moving forward!
Fancy to try your luck and play on NordicBet Poker for free?
We are running two €250 private freerolls every month, offering great value to our players. The field is usually pretty small, so you can gain some extra and free monies.
Note that you can review the Password for all our freerolls in your account with us at ´Promotions` tab once the tracking of your NordicBet Poker account has been confirmed.
| | |
| --- | --- |
| DATE: | TIME: |
| FRIDAY, 7TH | 6.00 P.M. |
| FRIDAY, 21ST | 6.00 P.M. |
VIEW OUR FREEROLL SCHEDULE FOR FEBRUARY HERE.
Live Sponsorship Promotion
Become a Poker Pro when getting sponsored for live poker tournaments of your own choice.
You are an ambitious poker player and looking for a sponsorship deal? You have come to the right place!
We can provide live sponsorships for big live tournaments like the WSOP, WPT or EPT for our players. And the best thing is: The sponsorship packages can be used for tournaments of your own choice.
CHECK OUT MORE INFORMATION AND HOW TO APPLY HERE.
NordicBet Poker Traffic, Software and Rake
Being part of the biggest online poker network in the world, it goes without saying that NordicBet offers a huge variety of cash games and tournaments such as MTTs, SNGs and Spin and Gos at all buy-in levels.
The award-winning world-class software comes in several shapes and forms, each of which is frequently updated with new features. Explore this fantastic software yourself by registering an account now at NordicBet.
A wide variety of customization options are available and together with the very favorable rake structure at MPN playing online poker at NordicBet is a joy.
CHECK A DETAILED REVIEW ON NORDICBET POKER'S TRAFFIC, SOFTWARE AND AVAILABLE GAMES HERE.
NordicBet Poker Mobile App
One of the best things is that you can play poker at NordicBet anytime, anywhere! The mobile poker client is available for all mobile devices. Playing poker on the go was never easier. Simply DOWNLOAD THE NORDICBET POKER MOBILE APP  And enjoy playing online poker on your iPhone, iPad, and Android and start playing!
Compatibility
As mentioned above the NordicBet Poker Mobile App is available for all devices and operating systems such as iOs, Android, Windows, Mac, and even Linux.

To download the Android version of the App, however, please go to the WEBSITE  OF NORDICBET POKER.
Download
To download the App, simply click the button below and install the NordicBet Poker mobile experience, CLICK HERE.
NordicBet Poker Payment Options
NordicBet Poker offers a huge variety of payment options and cashouts are processed very safely and quick.
All of the most popular payment options such as Skrill, Neteller, ecoPayz, credit cards, bank transfers are available, so you will find the one you were looking for.
Deposit & Withdrawal Options and Limits
In the table below you can find the available deposit and withdrawal options for NordicBet Poker:
| | | | | |
| --- | --- | --- | --- | --- |
| Payment Method | Minimum Deposit | Withdrawal Fee | Maximum Withdrawal | Processing Time |
| | €10 | No Fee | €50,000 | 24 hours |
| | €10 | No Fee | €50,000 | 24 hours |
| | €10 | 2.5% | €50,000 | 2-5 Working Days |
| | €10 | 2.5% | €50,000 | 2-5 Working Days |
| | €10 | No Fee | €50,000 | Instant |
| | €10 | No Fee | €50,000 | 2-5 Working Days |
|   | €10 | No Fee | €50,000 | 0-3 Working Days |
Cashout History and Processing Times
NordicBet Poker can praise itself with more than 15 years of safe and fast cashouts and withdrawals.
The online poker room has one of the best security and fraud departments in the poker business and together with great support which is available around the clock, NordicBet is one of the safest online poker rooms to deposit and withdraw your poker funds.
New Customers Only | 18+ | T&Cs Apply
NordicBet Poker eligible Countries and Markets
NordicBet Poker is eligible in the following countries: Åland Islands, Albania, American Samoa, Andorra, Anguilla, Antarctica, Antigua And Barbuda, Argentina, Armenia, Aruba, Ascension, Azerbaijan, Bahamas, Bangladesh, Barbados, Belarus, Belize, Benin, Bermuda, Bhutan, Bolivia, Bosnia And Herzegovina, Botswana, Bouvet Island, Brazil, British Indian Ocean Territory, Brunei Darussalam, Bulgaria, Burkina Faso, Burundi, Cambodia, Cameroon, Canada, Canary Islands, Cape Verde, Cayman Islands, Central African Republic, Chad, Chile, Christmas Island, Cocos (keeling) Islands, Colombia, Comoros, Congo, Congo, Cook Islands, Costa Rica, CÔte D'ivoire, Croatia, Cyprus, Diego Garcia, Djibouti, Dominica, Dominican Republic, Ecuador, Egypt, El Salvador, Equatorial Guinea, European Union, Falkland Islands, Faroe Islands, Fiji, Finland, French Guiana, French Polynesia, French Southern Territories, Gabon, Gambia, Germany, Ghana, Gibraltar, Greece, Greenland, Grenada, Guadeloupe, Guatemala, Guernsey, Guinea, Guinea-bissau, Guyana, Haiti, Heard Island And Mcdonald Islands, Holy See (vatican City State), Honduras, Iceland, India, Ireland, Isle Of Man, Israel, Jamaica, Japan, Jersey, Kazakhstan, Kenya, Kiribati, Korea [KP], Korea [KR], Kosovo, Kyrgyzstan, Lao, Latvia, Lebanon, Lesotho, Liberia, Liechtenstein, Luxembourg, Macao, Macedonia, Madagascar, Malawi, Maldives, Mali, Malta, Martinique, Mayotte, Mexico, Micronesia, Moldova, Monaco, Mongolia, Montenegro, Montserrat, Mozambique, Myanmar, Namibia, Nauru, Nepal, Netherlands Antilles, New Caledonia, New Zealand, Nicaragua, Niger, Nigeria, Niue, Norway, Palau, Palestinian, Territory, Occupied, Panama, Papua New Guinea, Paraguay, Peru, Philippines, Pitcairn, Poland, RÉunion, Romania, Russian Federation, Saint Helena, Saint Kitts And Nevis, Saint Lucia, Saint Pierre And Miquelon, Saint Vincent And The Grenadines, Samoa, San Marino, Sao Tome And Principe, Saudi–Iraqi neutral zone, Senegal, Serbia, Seychelles, Sierra Leone, Singapore, Slovakia, Slovenia, Solomon Islands, South Africa, South Georgia And The South Sandwich Islands, Soviet Union, Sri Lanka, Suriname, Svalbard And Jan Mayen, Swaziland, Sweden, Switzerland, Taiwan, Tajikistan, Tanzania, Thailand, Timor-leste, Togo, Tokelau, Tonga, Trinidad And Tobago, Tristan da Cunha, Turkmenistan, Turks And Caicos, Islands, Tuvalu, Uganda, Ukraine, United Kingdom, Uruguay, Uzbekistan, Vanuatu, Venezuela, Viet Nam, Virgin Islands, British, Wallis And Futuna, Western Sahara, Zambia, Zimbabwe.
NordicBet Featured Promotions
Company Information
| | |
| --- | --- |
| Company Name: | NordicBet |
| Website: | NordicBet.com/poker |
| Network: | MPN |
| License: | Malta |
| Skrill Loyalty: | Yes |
| P2P Option: | No |
Sign-up Now & Submit Details
NordicBet Support Details
NordicBet Games & limits
| | |
| --- | --- |
| Average Total Players: | 1650 |
| Average Cash Players: | 710 |
| HEM/PT Compatibility: | No |
| Rake Structure: | 5% up to €3 |
| NLH 6max: | Up to NL10k |
| NLH HU: | Up to NL10k |
| PLO 6max: | Up to PLO10k |
| PLO HU: | Up to PLO10k |
| Rank | Nickname | Points |
| --- | --- | --- |
| 1 | Sebastian L | 127750.85 |
| 2 | Dominic W | 101676.07 |
| 3 | Jarkko S | 98197.12 |
| 4 | martin b | 84292.11 |
| 5 | Erik v | 74685.91 |
NordicBet Poker Traffic and Games Review
Once a small Scandinavian betting site, NordicBet has been making waves in the online poker industry and slowly becoming one of Europe's most well-known poker brands.
Just like its sister sites, Betsson and Betsafe, NordicBet Poker is also a part of a publicly traded company known as the Betsson Group.
Its sportsbook and and casino attract a lot of players to its poker tables, making the player pool of the Microgaming Network, which NordicBet is part of, even softer.
NordicBet Poker belongs to the Microgaming Poker Network (MPN)
NordicBet Poker is a part of the Microgaming Poker Network or MPN for short. The network itself has now been in the online gaming market for more than a decade. The highest point of their journey was around the year 2005 when they dominated the European market.
MPN's lighting fast growth was put to a stop just a few years later. The main reason for that was the bankruptcy of a large part of MPN skins.
After that, MPN took some brave steps in rebranding and reinventing the online poker service. The ground breaking innovations presented by the network ware intended to create a healthy balance between the regular players that ware flooding most of the online poker and recreational players.
They were successful in their efforts and formed a poker ecosystem that takes care of all members of the online poker community.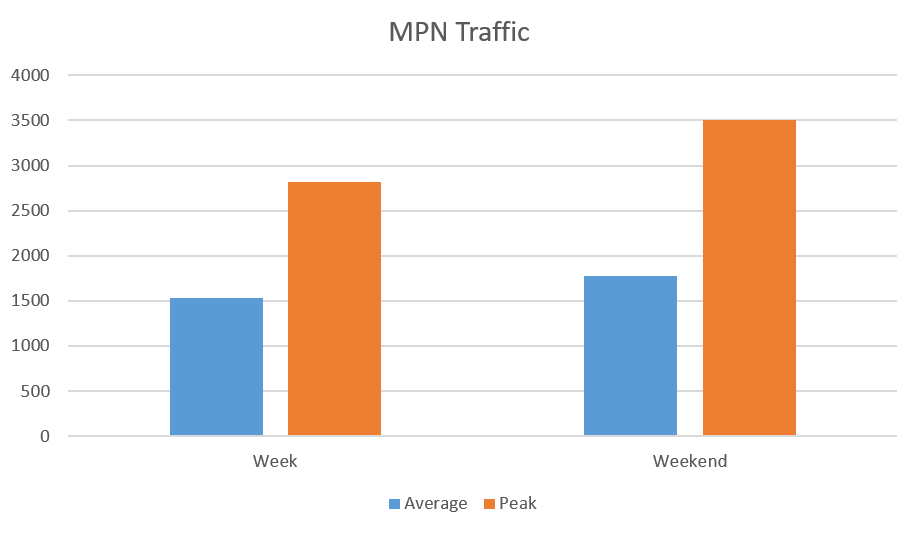 MPN has now one of the most diverse and healthy player pools with thousands of active players.
As you can see above, the MPN traffic is decent throughout the week and it almost doubles during the weekend. Due to the fact that most of the MPN's skins focus on the European markets, the action peaks in the evening in the European timezones.
NordicBet Poker Account and Table Currency
NordicBet accepts payments in EUR, SEK, NOK, USD, GBP and CAD but additional options are added regularly.
The games usually run in EUR but don't worry, the currency exchange is made automatically when you buy-in at any game.
NordicBet Poker Cash Games
MPN Network offers one of the widest game selection on the market. In addition to Hold'em and Omaha games, you can also play 7 Card Stud, 5 Card Stud as well as 5 Card Draw and even Razz.
Cash game traffic is good and stable at most times but it obviously peaks on the weekends when up to 1300 players are active at the cash game tables.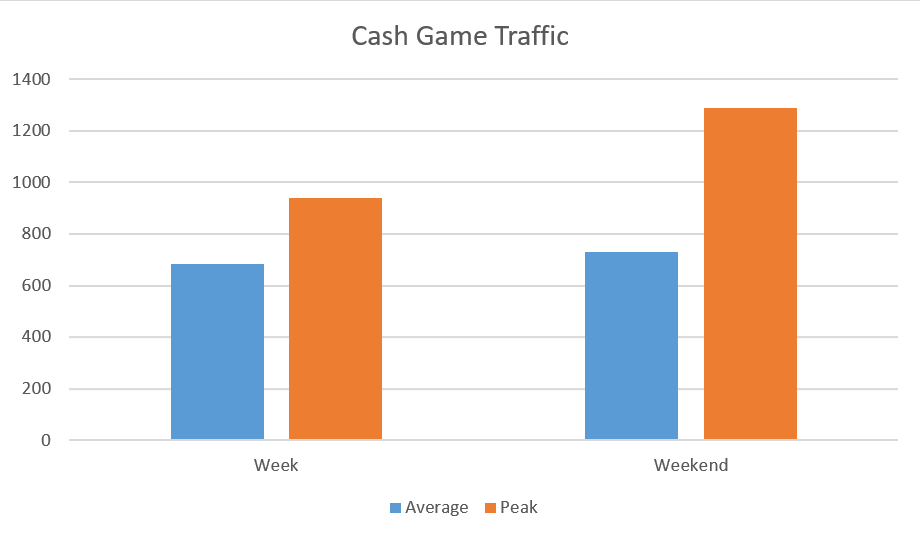 Stake offered on Nordicbet range from NL2 all the way up to NL10000 but there is not much regular action above the NL2000 level.
NordicBet Poker also offers special anonymous tables where the player nick names stay hidden. That means that players can use HUD's at those tables which makes the games there even softer.
No Limit Holdem
No Limit Hold'em is the most popular poker game in the world currently so it is no surprise that the NLHE tables get the most of the traffic at Nordicbet as well.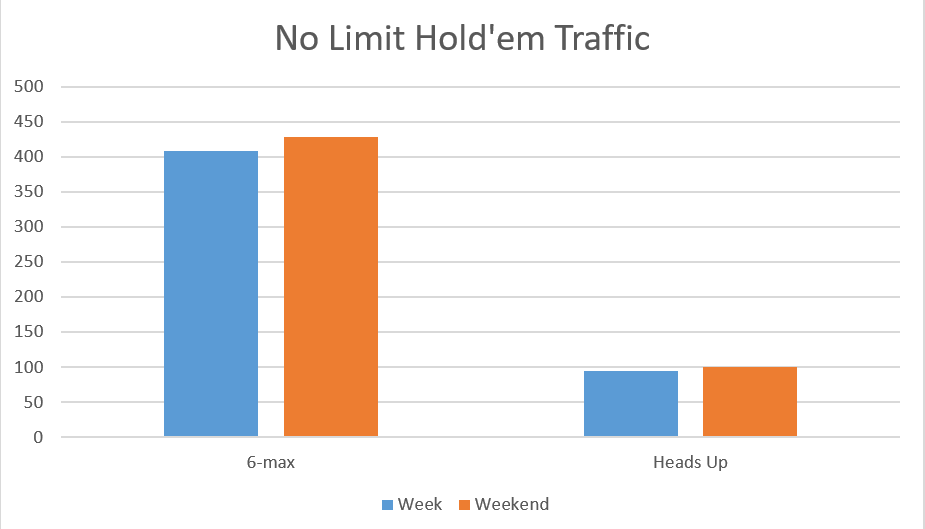 The largest share of NLHE players at Nordicbet plays at 6-max tables, but as you can see in the graph above, there is also some action at the HU tables.
Pot Limit Omaha
Pot Limit Omaha tables also get a decent amount of traffic with games regularly running all the way up to PLO600 but offered stakes range all the way from PLO2 to PLO10000.
If you play PLO you will enjoy your time playing on Nordicbet. Their PLO traffic can compete with most of the world's biggest poker networks. Even the Heads Up PLO games regularly run all the way up to PLO400.
Other Cash Games (Speed/Rush Games)
The fast-fold variant of poker on MPN is known as Blaze Poker. If you are not familiar with fast-fold poker, in fast-fold poker variants you don't play with a specific set of other players like you would at a regular table. Instead you compete with a large pool of players at yours take and every time a hand is finished you get dealt a new hand on a new table with new opponents.
NordicBet Poker (MTT) Tournament Schedule
NordicBet Poker's tournament schedule offers some great tournaments with attractive guarantees. You can choose from multiple low to medium buy-in tournaments but there might be some less action for those looking for high stakes MTT action.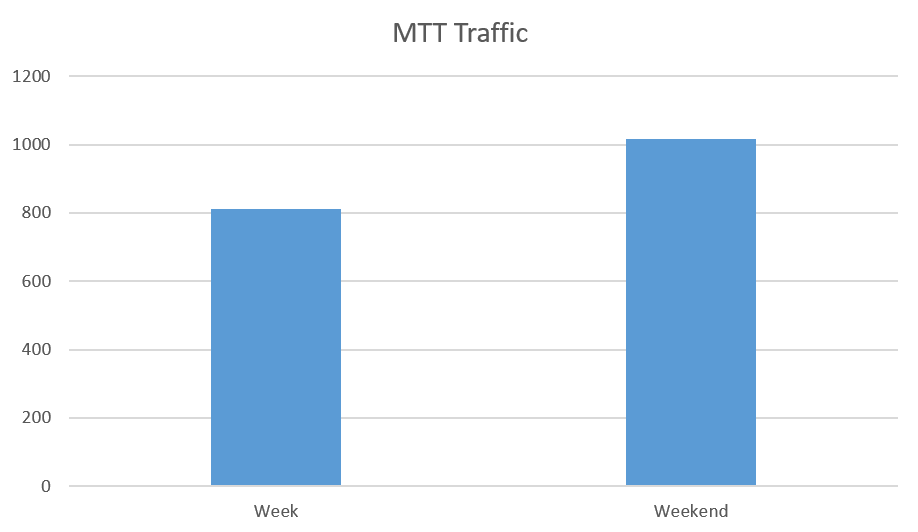 MTT traffic averages around 810 active players during the week and increases on the weekends with an average of 1000 players, when the games soften up even more due to a large influx of recreational players.
Daily Tournaments
The daily schedule features a handful of really good tournaments that offer great guarantees. The biggest daily tournaments are the €7,500 GTD Daily Mosh Pit and the €1,500 GTD Avalon that is also the networks biggest buy-in daily tournament.
Weekend Majors
In addition to daily tournaments NordicBet Poker's weekend MTT schedule offers some exciting majors.
The €25,000 GTD Sunday Showdown and €12,000 GTD Sunday Drive take the center stage over the weekend.
Special Tournaments
Every now and then, MPN runs special tournaments or tournament series that offer huge guaranteed prize pools and loads of soft tournament action.
You will even find freeroll series that offer thousands of dollars in added prize pools.
NordicBet Poker SNG Schedule and Offering
NordicBet offers a good selection of Sit and Go tournaments with various buy-ins ranging from €0,01 to €1050 and formats like Double or Nothing and Fish Party SNG's.
No Limit Hold'em SNG get the biggest share of traffic but there are Razz and Omaha Sit and Go's that also run on occasion.
Headsup (HU) SNGs
Headsup SNGs run at all available stake levels and formats from standard to super turbo speeds.
They also offer a revolutionary new HU SNG format named 10 minute HU, which as the name suggests last only ten minutes. After the time runs out both players go all in every hand until one of them has all the chips.
Hyper SNGs
Hyper turbo or Super Turbo SNGs as they are called on MPN run at multiple stake levels with buy-ins ranging all the way up to €530.
Twister and Spin & Goes (Special SNGs)
The lottery variant of SNGs that run on MPN are called Fish Party tournaments.  Those 3-handed tournaments run at five different buy-in levels and allow you to win up to 5000x your buy-in or even the jackpot prize that gets higher with every Fish Party SNG played.
NordicBet Poker Freerolls
NordicBet Poker has one of the most generously packed freeroll schedules in the industry. They run daily and weekly freerolls that give out a combined €35,000 to their players each month!
Welcome Freerolls
New players get to play a New Player Freerolls offering a €1000 prize pool. New depositors can also compete in a €1 tournament with €500 extra added to the prize pool.
Specials & Private Freerolls
We run two private freerolls every month with great value for our members. The prize pool of every weekly freeroll is $250 and the field is usually pretty small, so you can easily boost your bankroll for free.
Note that you can review the Password for all our freerolls in your account with us at ´Promotions` tab once the tracking of your Nordicbet account has been confirmed.
| | |
| --- | --- |
| DATE: | TIME: |
| FRIDAY, 7TH | 6.00 P.M. |
| FRIDAY, 21ST | 6.00 P.M. |
NordicBet Poker Software
The MPN software that is used by all MPN sites, is up to par with any online poker software out there. It may not be so modernly designed as some other interfaces are, but it still offers all the necessary features any poker player might need.

It is available for Windows, Mac and Linux as well as for Android and iOS. You can play cash games or Blaze poker at various stake levels anytime and anywhere!
NordicBet Poker Client
The client looks great and can be visually customized to your preferences. A wide variety of customization options are available in the NordicBet Poker client. Customizable Hotkeys, alerts and shortcuts make grinding easy.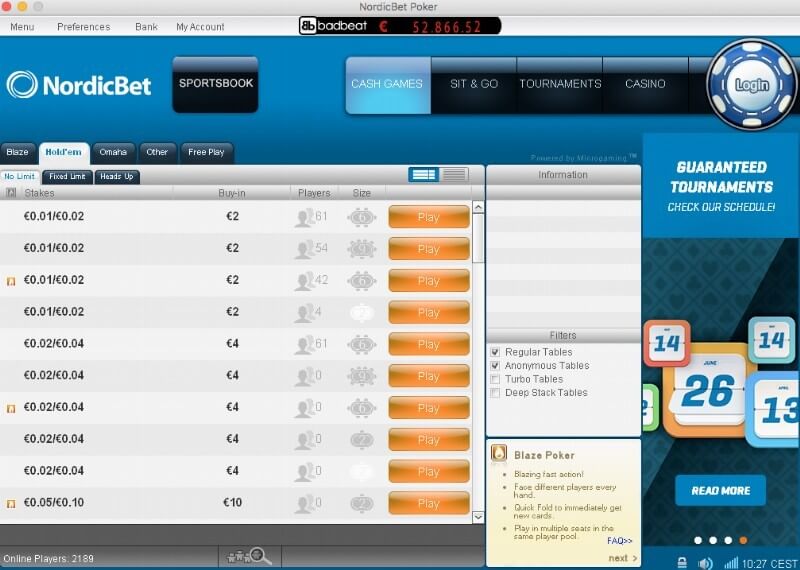 The tile feature allows for simple table tiling. Additional features like a four-colored deck and three different table looks will help you stay focused on the game during the long hours of grinding.
NordicBet Poker Lobby
The NordicBet Poker lobby is easy to navigate and it allows you to find and join your favorite games in no time.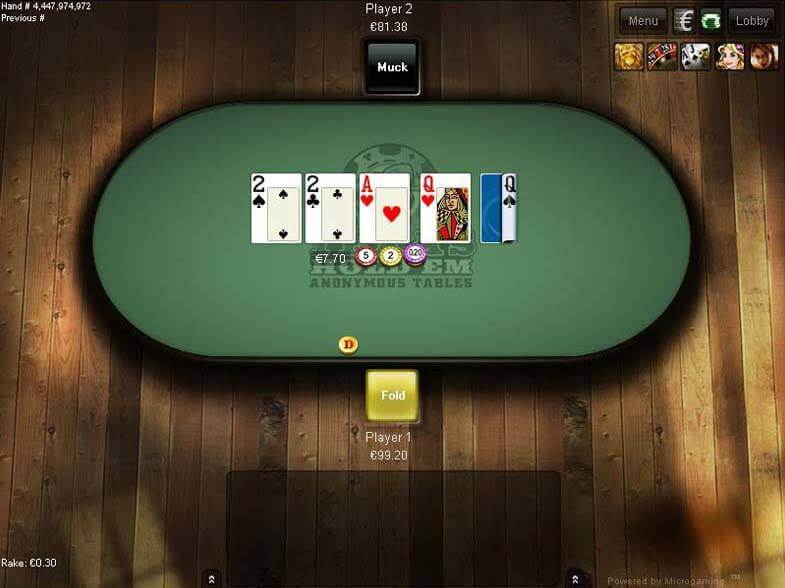 It is divided into four separate sections: Cash Games, Sit & Go, Tournaments and Casino. You can than filter the mentioned categories even further using the built in "Filters" feature.
Cash Games Multi Table Capacity
You can play up to 6 Cash Game tables at any given moment.
MTT & SNG Multi Table Capacity
You can play up to 6 MTT or SNG table at any given moment.
Holdem Manager & Pokertracker Compatibility: HUD
Hold'em Manager and Pokertracker natively support MPN, meaning your database and HUD software will work with minimal customization.
Make sure that your Hand Histories are saving in English otherwise you tracking software might have trouble reading them.
Hand Converter and Histories
To locate your NordicBet Hand Histories go to its install folder that is by default saved in C:MicrogamingPokerNordicBet.
Look for a GameHistory.Dat because that is where your Hand History will be saved.
NordicBet Poker Rake Structure and Caps
The rake structure at MPN is extremely affordable. HU rake caps are no more than 1 big blind and the microstakes rake caps scale all the way down to NL2, meaning the rake structure is much more microstakes-friendly than elsewhere on the internet.
Cash Games Rake  
You can find all the information regarding NordicBet Poker's Rake structure in the tables bellow. In case you have any questions about how the calculations work, do not hesitate to contact our expert team that will gladly help you out!
5+ Players Dealt In:
| | |
| --- | --- |
| Blinds | Cap |
| €0.01 / €0.02 | €0.06 |
| €0.02 / €0.04 | €0.12 |
| €0.05 / €0.10 | €0.30 |
| €0.10 / €0.20 | €0.60 |
| €0.25 / €0.50 | €1.50 |
| €0.50 / €1 and higher | €3 |
3-4 Players Dealt In:
| | |
| --- | --- |
| Blinds | Cap |
| €0.01 / €0.02 | €0.04 |
| €0.02 / €0.04 | €0.08 |
| €0.05 / €0.10 | €0.20 |
| €0.10 / €0.20 | €0.40 |
| €0.25 / €0.50 | €1 |
| €0.50 / €1 | €2 |
| €1 / €2 and higher | €3 |
2 Players Dealt In:
| | |
| --- | --- |
| Blinds | Cap |
| €0.01 / €0.02 | €0.02 |
| €0.02 / €0.04 | €0.04 |
| €0.05 / €0.10 | €0.10 |
| €0.10 / €0.20 | €0.20 |
| €0.25 / €0.50 | €0.50 |
| €0.50 / €1 | €1 |
| €1 / €2 and higher | €2 |
MTT & SNG Fees
Tournament fees on MPN are between 0% and 10%. They depend on the buy-in of the tournament.
You can find the exact fee in the table below:
| | |
| --- | --- |
| Tournament Type | Fee |
| 9-max Freezeout | 10% |
| 6-max Freezeout | 10% |
| Turbo | 10% |
| Fish Party SNG | 5% |
| Standard SNG | 5,8% |
NordicBet Poker Offer
Our NordicBet Poker deal offers players amazing value in addition to a significant cashback percentage through our other promotions.
Our members have access to our exclusive leaderboards, chases and even private freerolls.
Conclusion
NordicBet Poker is investing a lot of effort and capital into expanding their presence on the online poker market.
They strive to develop the best possible environment for every poker player. Cash game players will enjoy their huge selection of games and good traffic at most stakes. MTT players will be amazed with the softness of fields but might miss high stakes action as regular tournament buy-ins usually don't surpass €60.
Nonetheless, NordicBet remains a fantastic place to grind and we would highly recommend it to nearly any poker player.