Guts Poker Review
Guts Poker Review Bonus, Traffic and Software
Guts is a very renowned name in the European online gaming industry as they have established a great reputation with their online casino and sports betting clients.
The addition of an online poker room was a logical consequence and the missing link making the Guts offer complete.
Guts Poker is an online poker site built to give the player the best-possible poker experience.
Its team is consisting of highly qualified and very experienced iGaming professionals, whose aim is to create a poker room, which is second to none when it comes to a high-quality online poker experience.
Being part of the Microgaming Poker Network (MPN), Guts Poker offers very high and stable traffic in both cash games and uses the PRIMA software, which is one of the most modern and player-friendly poker software clients in the world.
Guts Poker can pride itself on operating on the MT Secure Trade Limited License, approved and regulated by Malta Gaming Authority and the Gambling Commission of Great Britain. This is the best-controlled and therefore safest license you can have.
There is a great selection of cash games, tournaments and poker formats on Guts Poker. You can look forward to playing the following games: Fast-Fold Poker (Blaze), Texas Hold'em, Omaha, 7 Card Stud, Razz, 5 Card Stud, 5 Card Draw as well as a weekly poker freeroll and daily guarantees.
Please check out our in-depth Guts Poker Review and the details of our one-of-a-kind Guts Poker Rakeback Deal below:
What's on offer?
Below you can find an overview of the currently available Guts Poker Rakeback Deal and promotions.
Guts Poker Review conducted by online poker experts
Our poker experts got to work and tested every aspect of Guts Poker. They came back with extraordinary results.
They told us that Guts Poker is suitable for professionals as well as new players looking to get the most value out of their games.
Offering a wide variety of games, players can experience poker to its full potential. Not to mention all the promotions available to boost your bankroll even more.
The poker software was something that took the experts by surprise when they reported that they could either play in the browser or download the client. This gives Guts Poker that one extra advantage since it can tailor to the needs of players than most of the poker rooms out there.
With a wide variety of different games and formats to choose from and enough traffic to always get a session up and running, there is not much not to like.
Last but not least, Guts Poker support is available 24/7 and offers excellent player support.
To sum things up, Guts Poker is a fantastic online poker site and provides great value for both professional and recreational poker players alike.
How to open an Account at Guts Poker?
Opening an account at Guts Poker is very easy and only takes a couple of minutes. To make things even easier we created this step-by-step guide so that you can be up and playing in no time. Also, be sure to activate your €1,000 WELCOME BONUS.
Step 1 – Start Registration Process
Please delete Cookies (important) and then CLICK HERE to start the Guts Poker registration process. The link will redirect you to the home page of Guts Poker. Then simply click the green "Open Account" button in the top right corner: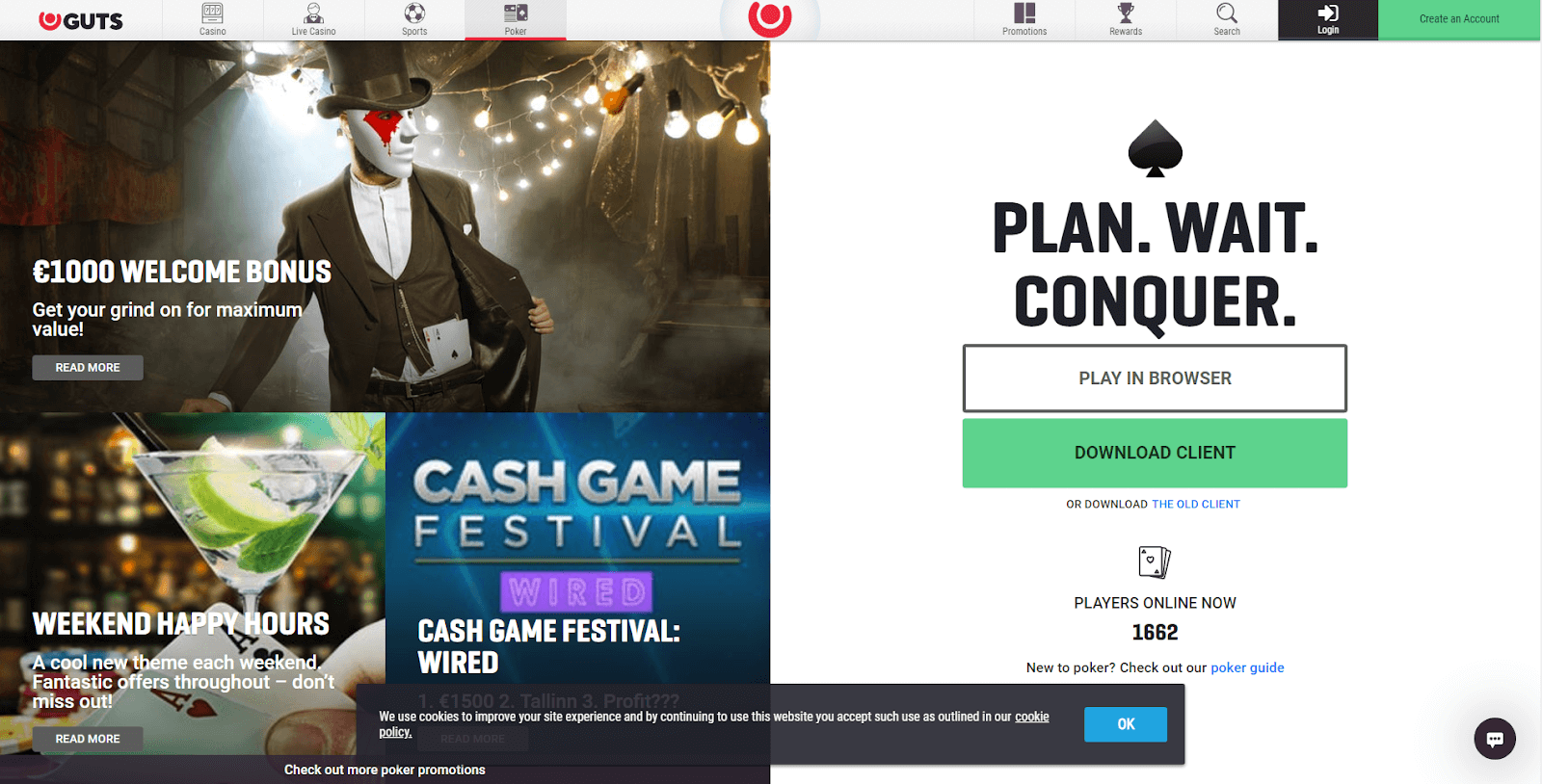 Step 2 – Enter your Personal Details
The instructions on the screen will guide you through the process. To set up your account you will have to enter some details such as your name, date of birth, email, password, address, country of residence and mobile number: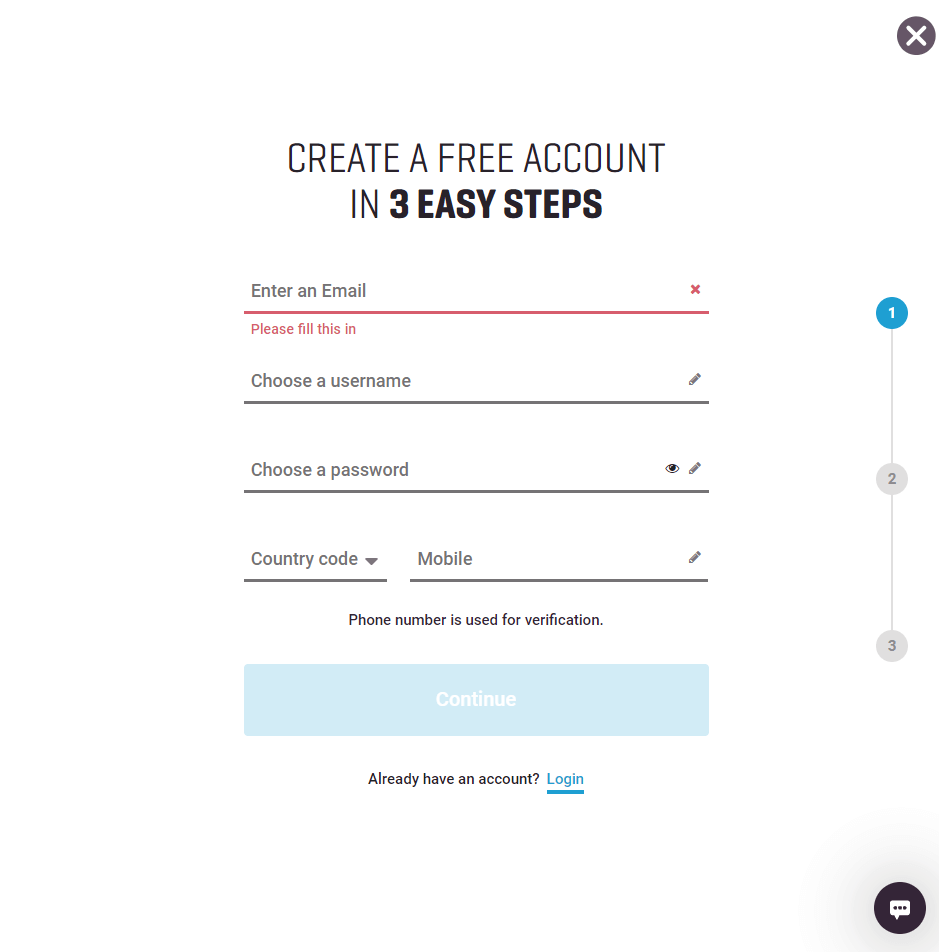 Step 3 – Make your First Deposit and get a €1,000 Bonus
After you registered your Guts Poker account, navigate through the cashier and claim your €1,000 WELCOME BONUS.
To claim any Guts Poker bonus, you must complete the account verification. Once you've clicked the link in your welcome email, you can claim your welcome bonus.
A welcome bonus worth up to €1,000 is the first gift. Based on a 100% match, the bonus will be released in €5 increments for every €25 you rake.
Step 4 – Submit your Details
To ensure that you get access to our exclusive deals and promotions, you have to submit your table alias/nick.
You can do that by logging into your VIP-Grinders account and navigating to the "Submit Usernames" tab.
Here, simply enter your table alias/nick and be sure to pick the right Skin form the drop-down menu. You can find the name of the Skin by clicking the "Claim Now" button on this page.
CLICK HERE TO SUBMIT YOUR TABLE ALIAS.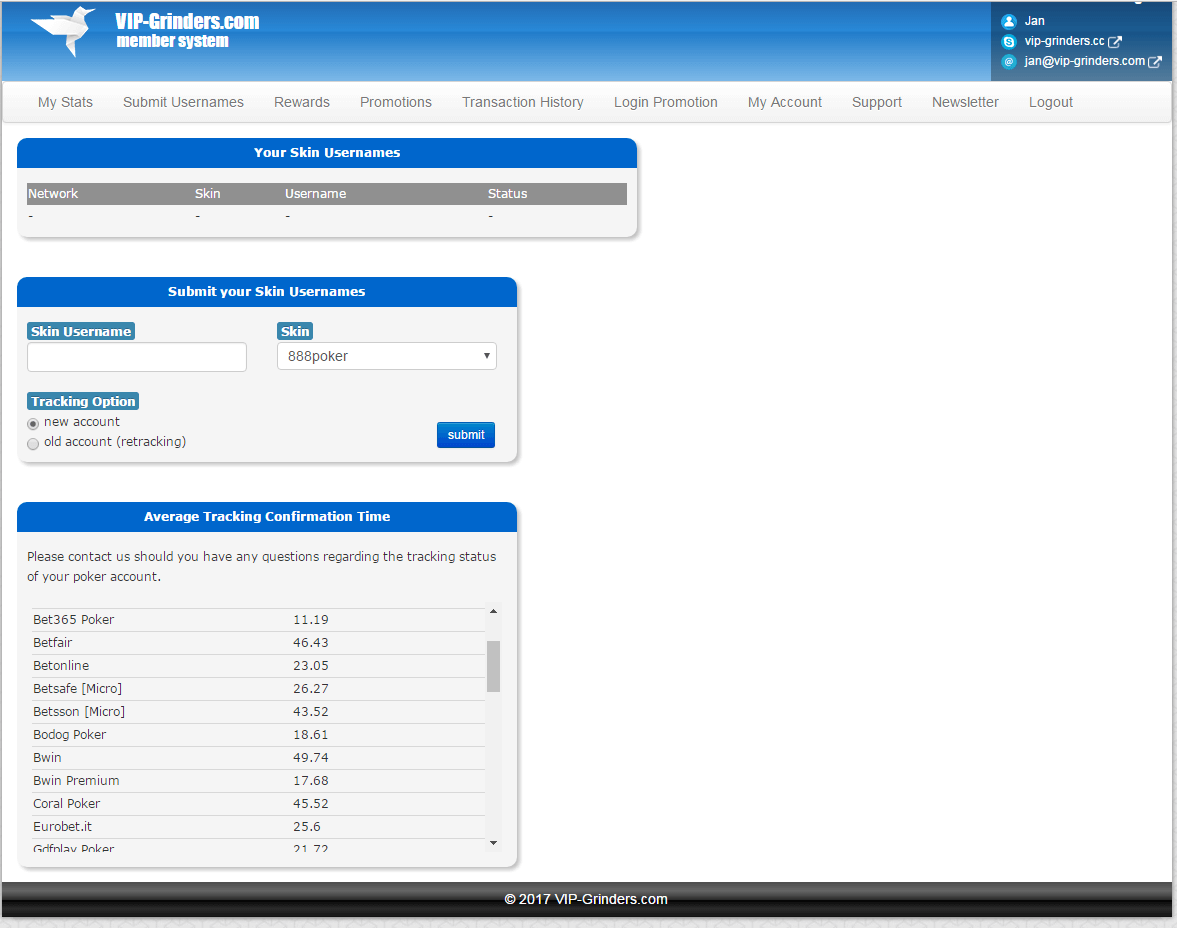 Guts Poker Review Promotions
Guts Poker is not only a great poker site, but it also offers some of the best promotions in the poker industry, and you'll catch yourself coming back for more.
Those include a massive rakeback deal, exclusive chases and other amazing prizes that you are yet to discover.
Guts Poker Rakeback Deal
It doesn't matter, if you play high volume or only occasionally, the Guts Poker loyalty program is designed in a way to maximize your rewards.
If you sign up through us at Guts Poker, you will receive 30% rakeback fixed right from scratch. Guts Poker Rakeback is paid in player points which can be exchanged for cash at any time.
Cashable loyalty points are getting deleted every 90 days on January 1st, April 1st, July 1st, and October 1st. Please make sure to cash in your points in time before you lose them.
Weekend Happy Hours
You can earn massive value by just completing some simple tasks in the poker Client.
Each Happy Hour promotion runs from Friday 05:00 pm CET until Sunday 11:59 pm CET.

Join our Exclusive Guts Poker Chase and reward yourself with up to €2750 every month!
Please Note: All players who sign-up with Guts Poker through us are eligible for the promotion.
Guts Poker €20,000 MTT Leaderboards
There is plenty of value in November at Guts Poker. Join multi-table tournaments and grab your share of the €20,000 prize pool!
Guts Poker Review Software and Traffic
Guts Poker offers players the option to either play in the browser or download the poker client, and both feel well built and very responsive.
Since MPN is behind this room, you can expect the poker client to be easy to navigate, cool-looking and crisp, with everything you need within a reach of a click.
Offering a wide variety of soft games, you can expect the following cash games on Guts Poker: Blaze, Hold'em, Omaha, 7 Card Stud, Razz, 5 Card Stud, 5 Card Draw and Free Play.
To make those games even better for a player Guts Poker offers value-packed promotions and freerolls that boost your bankroll significantly. Not to mention our Exclusive Guts Poker Chase.
There are multiple tables at low and mid-stakes at all times, and most of the time, you should be able to get at least a handful of tables going at the highest stakes.
Guts Poker Deposit and Withdrawal Options
Guts Poker offers many deposit and withdrawal options, and you can review them in the tables below:
Guts Poker Deposit Options:
| | | |
| --- | --- | --- |
| Payment method | Min Deposit | Max Deposit |
| | £7.21 | £3,607.30 |
| | £7.21 | £3,607.30 |
| | £7.21 | £3,607.30 |
| | £7.21 | £3,607.30 |
| | £7.21 | £3,607.30 |
| | £7.21 | £3,607.30 |
| | / | £30 |
Withdrawal Options:
| | | | |
| --- | --- | --- | --- |
| Payment Method | Min Withdrawal | Max Withdrawal | Processing Time |
| | £ 7.21 | £1,442.92 | Instant |
| | £ 7.21 | £1,442.92 | Instant |
| | £ 7.21 | £1,442.92 | 1 – 3 days |
| | £ 7.21 | £1,442.92 | 1 – 3 days |
Guts Poker Cashout History and Processing Times
Guts Poker is a well-renowned poker site belonging to the MPN Network. Surely one of the safest sites currently on the market, it offers massive amounts of value to new players and seasoned pros.
You won't find a shortage of soft games running through the week, which are made even better with their value-packed promotions and freerolls.
We recommend Guts Poker as one of the most reliable sites there, with player support being on the go 24/7 there is nothing holding you back to give it a try.
Company Information
| | |
| --- | --- |
| Company Name: | Guts Poker |
| Website: | www.guts.com/en/poker |
| Network: | Independent |
| License: | Malta |
| Skrill Loyalty: | Yes |
| P2P Option: | No |
Sign-up Now & Submit Details
Guts Games & limits
| | |
| --- | --- |
| Average Total Players: | 1650 |
| Average Cash Players: | 710 |
| HEM/PT Compatibility: | No |
| Rake Structure: | 5% up to $10 |
| NLH 6max: | NL10k |
| NLH HU: |  NL10k |
| PLO 6max: | PLO10k |
| PLO HU: | PLO10k |
| Pos | Nickname | Points | Prize |
| --- | --- | --- | --- |
| 1 | - | 30000.00 | 2750.00 |
| 2 | - | 20000.00 | 1750.00 |
| 3 | - | 15000.00 | 1300.00 |
| 4 | - | 10000.00 | 850.00 |
| 5 | - | 8000.00 | 675.00 |
Guts Poker Review Traffic and Games 
Guts Poker is a member of the MPN Network. Because of that, it offers one of the best poker experiences on the internet.
Its team consisting of highly qualified iGaming professionals who set out to develop an online casino and sportsbook which is second to none when it comes to a high-quality gaming experience.
Priding itself with one of the highest stamps of safety, the MT Secure Trade Limited license, you can expect your experience to be fun and safe at the same time.
Guts Poker is part of the Microgaming Poker Network (MPN)
As we briefly mentioned above, Betsafe Poker is a part of the Microgaming Poker Network or MPN for short.
The network itself has now been in the online gaming market for more than a decade. The highest point of their journey was around the year 2005 when they dominated the European market.
MPN's lighting fast growth was put to a stop just a few years later. The main reason for that was the bankruptcy of a large part of MPN skins.
After that, MPN took some brave steps in rebranding and reinventing the online poker service. The ground breaking innovations presented by the network ware intended to create a healthy balance between the regular players that ware flooding most of the online poker and recreational players.
They were successful in their efforts and formed a poker ecosystem that takes care of all members of the online poker community.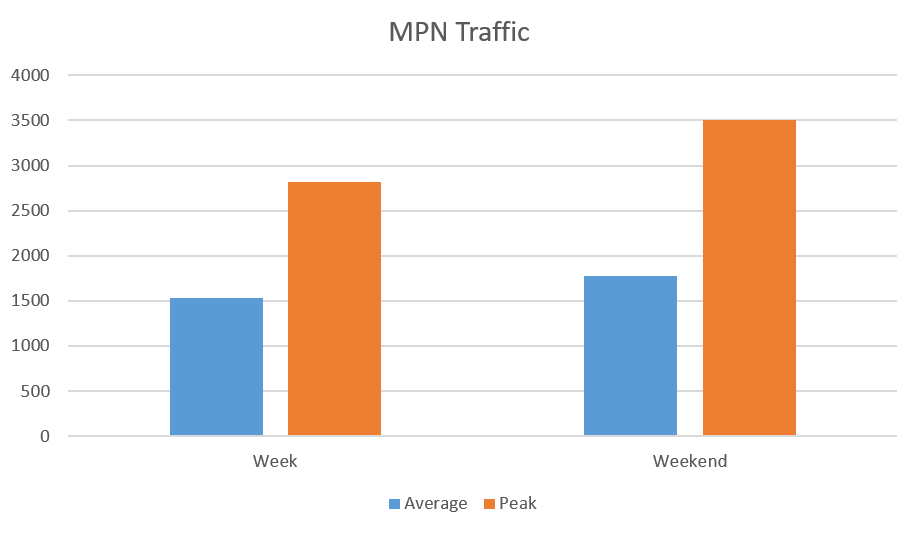 MPN has now one of the most diverse and healthy player pools with thousands of active players.
As you can see above, the MPN traffic is decent throughout the week and it almost doubles during the weekend. Due to the fact that most of the MPN's skins focus on the European markets, the action peaks in the evening in the European timezones.
Guts Poker Account and Table Currency
Guts Poker accepts payments in EUR, SEK, NOK, USD, GBP and CAD but additional options are added regularly.
The games usually run in EUR but don't worry, the currency exchange is made automatically when you buy-in at any game.
Guts Poker Review Cash Games
MPN Network offers one of the widest game selection on the market. In addition to Hold'em and Omaha games, you can also play 7 Card Stud, 5 Card Stud as well as 5 Card Draw and even Razz.
Cash game traffic is good and stable at most times but it obviously peaks on the weekends when up to 1300 players are active at the cash game tables.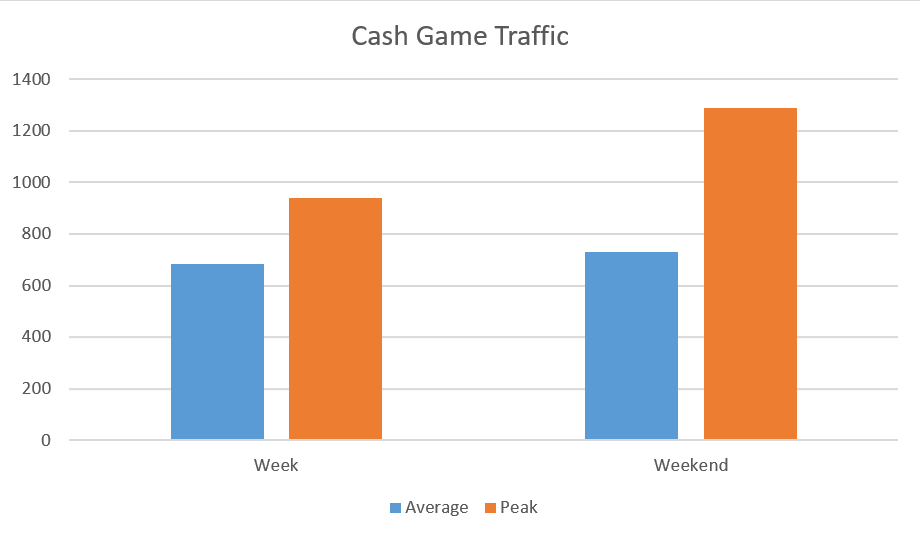 MPN Cash Game TrafficStake offered on Guts Poker range from NL2 all the way up to NL10000 but there is not much regular action above the NL2000 level.
Guts Poker also offers special anonymous tables where the player nick names stay hidden. That means that players can use HUD's at those tables which makes the games there even softer.
No-Limit Texas Hold'em
Texas Hold'em is the most popular poker game in the world, so it is no surprise that the NLHE tables get the most of the traffic at Guts Poker as well.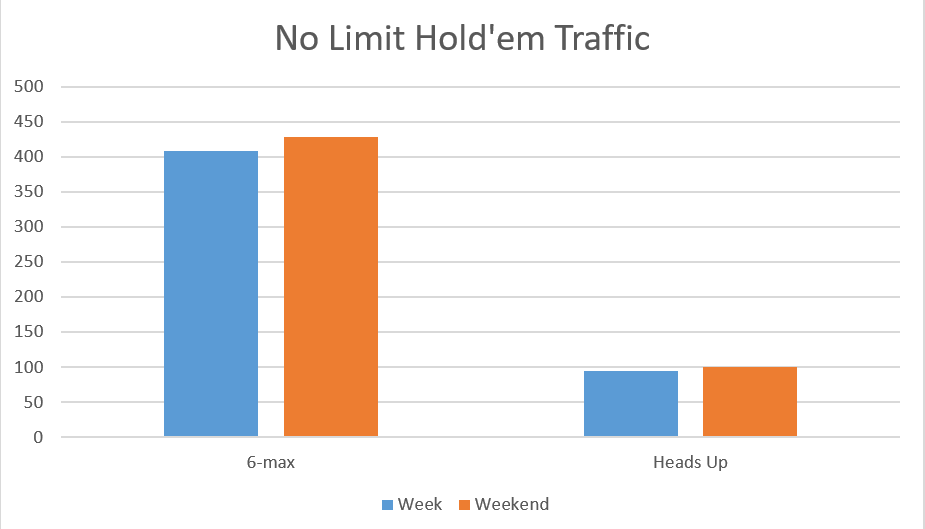 The largest share of No-Limit Hold'em players at Guts Poker plays at 6-max tables, but as you can see in the graph above, there is also some action at the Heads-Up tables.
Pot-Limit Omaha
Pot Limit Omaha (PLO) tables also get a decent amount of traffic with games regularly running all the way up to PLO600 but offered stakes range all the way from PLO2 to PLO10000.
If you play PLO you will enjoy your time playing on Guts Poker. Their PLO traffic can compete with most of the world's biggest poker networks. Even the Heads Up PLO games regularly run all the way up to PLO400.
Other Cash Games (Fast-Fold Poker/BLAZE Poker)
The fast-fold poker client on MPN is called Blaze Poker and it offers fast and furious cash game action.
In case you are not familiar with fast-fold poker, in fast-fold poker variants you don't play with a specific set of other players like you would at a regular table.
Instead you compete with a large pool of players at yours take and every time a hand is finished you get dealt a new hand on a new table with new opponents.
Guts Poker Review Poker Tournaments
The Guts Poker tournament schedule offers some great tournaments with attractive guarantees. You can choose from multiple low to medium buy-in tournaments but there might be some less action for those looking for high stakes MTT action.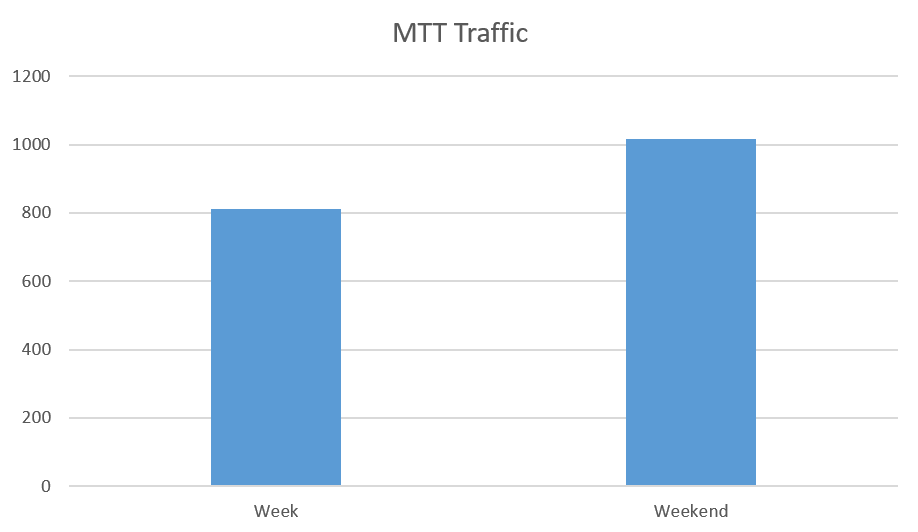 MTT traffic averages around 810 active players during the week and increases on the weekends with an average of 1000 players, when the games soften up even more due to a large influx of recreational players.
Guts Poker Review Tournament Traffic
MTT traffic averages around 810 active players during the week and increases on the weekends with an average of 1000 players, when the games soften up even more due to a large influx of recreational players.
Daily Poker Tournaments
The daily schedule features a handful of really good tournaments that offer great guarantees. The biggest daily tournaments are the €7,500 GTD Daily Mosh Pit and the €1,500 GTD Avalon that is also the networks biggest buy-in daily tournament.
Major Poker Tournaments 
In addition to daily tournaments Guts Poker's weekend MTT schedule offers some exciting majors.
The €25,000 GTD Sunday Showdown and €12,000 GTD Sunday Drive take the center stage over the weekend.
Special Tournaments
Every now and then, MPN runs special tournaments or tournament series that offer huge guaranteed prize pools and loads of soft tournament action.
You will even find a weekly €25 ticket freeroll series.
Guts Poker Review Sit & Gos
Guts Poker offers a good selection of Sit and Go tournaments with various buy-ins ranging from €0,01 to €1050 and formats like Double or Nothing and Fish Party SNG's.
No Limit Hold'em SNG get the biggest share of traffic but there are Razz and Omaha Sit and Go's that also run on occasion.
Heads-Up Sit & Gos
Headsup Sit & Gos run at all available stake levels and formats from standard to super turbo speeds.
They also offer a revolutionary new HU SNG format named 10 minute HU, which as the name suggests last only ten minutes. After the time runs out both players go all in every hand until one of them has all the chips.
Hyper Turbo Sit & Gos
Hyper turbo or Super Turbo SNGs as they are called on MPN run at multiple stake levels with buy-ins ranging all the way up to €530.
Guts Poker Review Spin & Gos
The lottery variant of SNGs that run on MPN are called Fish Party tournaments.  Those 3-handed tournaments run at five different buy-in levels and allow you to win up to 5000x your buy-in or even the jackpot prize that gets higher with every Fish Party SNG played.
Guts Poker Freerolls
Guts Poker runs a weekly €25 ticket freeroll every Friday at 7.30 PM CET.
Guts Poker Review Software
The MPN software that is used by all MPN sites, is up to par with any online poker software out there. It may not be so modernly designed as some other interfaces are, but it still offers all the necessary features any poker player might need.
Software Compatibility
It is available for Windows, Mac and Linux as well as for Android and iOS. You can play cash games or Blaze poker at various stake levels anytime and anywhere!
Guts Poker Review Poker Client
The poker client looks great and can be visually customized to your preferences. A wide variety of customization options are available in the Guts Poker client. Customizable Hotkeys, alerts and shortcuts make grinding easy.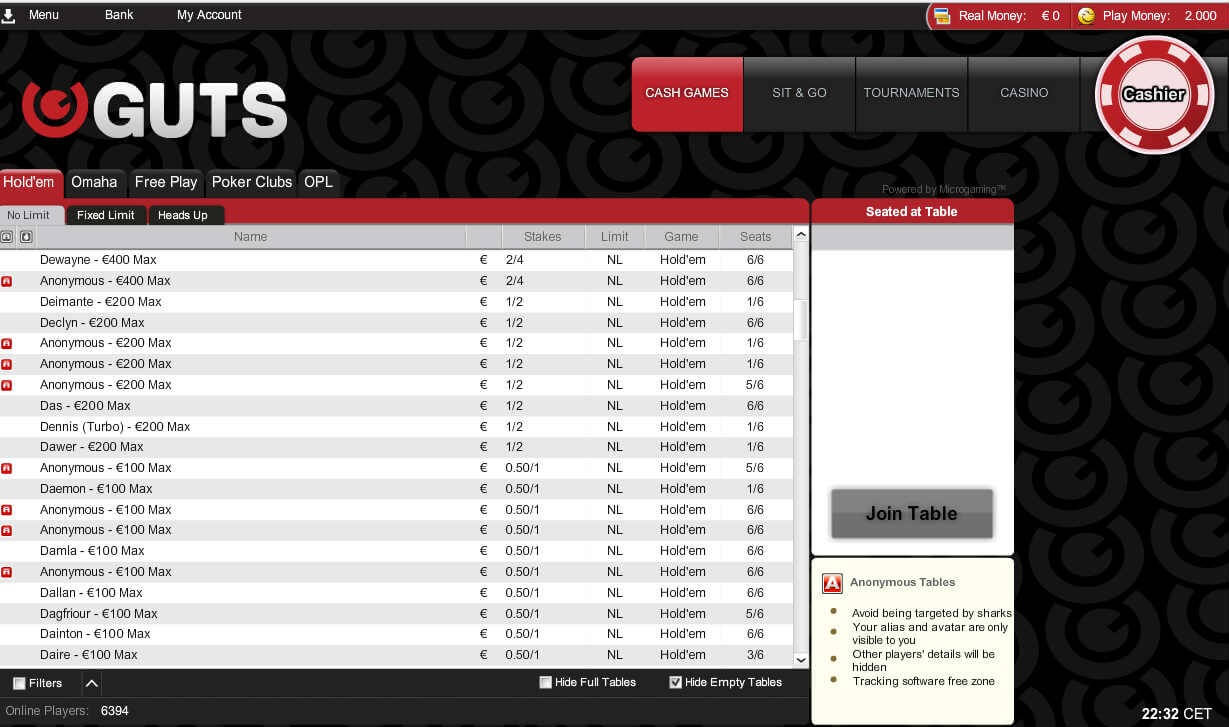 The tile feature allows for simple table tiling. Additional features like a four-colored deck and three different table looks will help you stay focused on the game during the long hours of grinding.
Guts Poker Lobby
The Guts Poker lobby is easy to navigate and it allows you to find and join your favorite games in no time.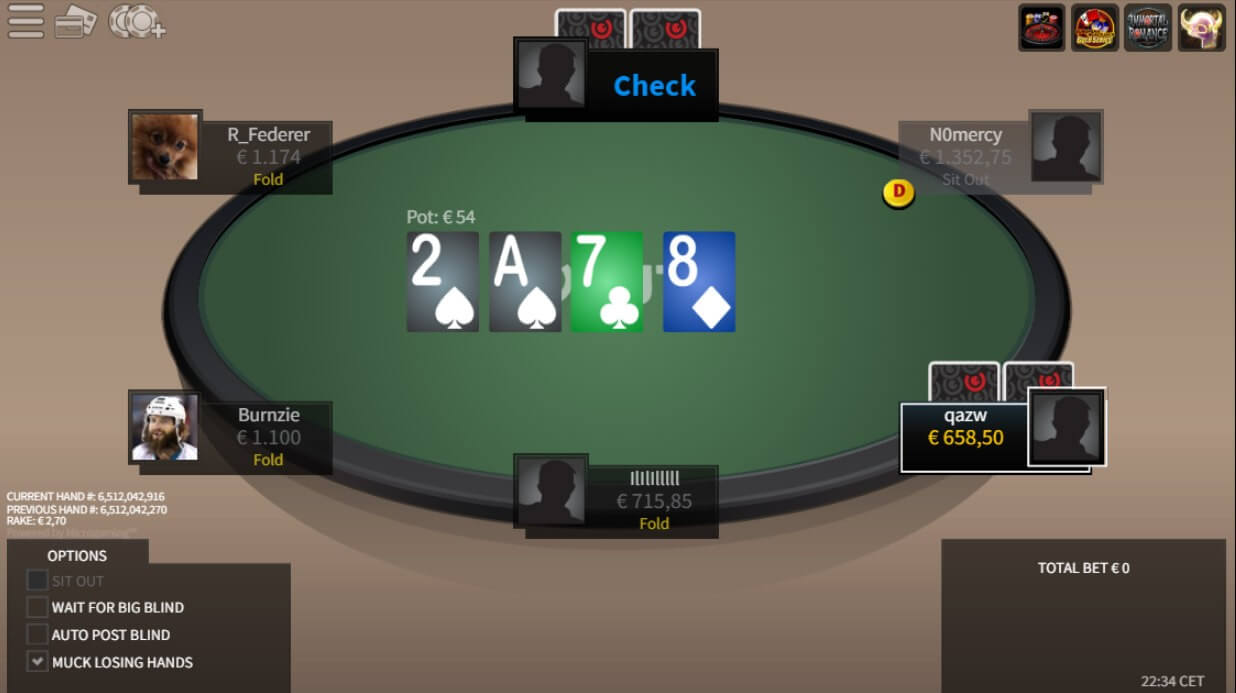 It is divided into four separate sections: Cash Games, Sit & Go, Tournaments and Casino. You can then filter the mentioned categories even further using the built-in "Filters" feature.
Guts Poker Cash Games Multi Table Capacity
You can play up to 6 Cash Game tables at any given moment.
Guts Poker Tournaments Multi Table Capacity
You can play up to 6 MTT or SNG table at any given moment.
Holdem Manager & Pokertracker Compatibility
Hold'em Manager and Pokertracker natively support MPN, meaning your database and HUD software will work with minimal customization.
Make sure that your Hand Histories are saving in English otherwise you tracking software might have trouble reading them.
Hand Converter and Histories
To locate your Guts Poker Hand Histories go to its install folder that is by default saved in C:MicrogamingPokerGuts Poker.
Look for a GameHistory.Dat because that is where your Hand History will be saved.
Guts Poker Review Rake Structure and Caps
The rake structure at MPN is extremely affordable. HU rake caps are no more than 1 big blind and the microstakes rake caps scale all the way down to NL2, meaning the rake structure is much more microstakes-friendly than elsewhere on the internet.
Cash Game Rake
You can find all the information regarding Guts Poker's Rake structure in the tables bellow. In case you have any questions about how the calculations work, do not hesitate to contact our expert team that will gladly help you out!
5+ Players Dealt In:
| | |
| --- | --- |
| Blinds | Cap |
| €0.01 / €0.02 | €0.06 |
| €0.02 / €0.04 | €0.12 |
| €0.05 / €0.10 | €0.30 |
| €0.10 / €0.20 | €0.60 |
| €0.25 / €0.50 | €1.50 |
| €0.50 / €1 and higher | €3 |
3-4 Players Dealt In:
| | |
| --- | --- |
| Blinds | Cap |
| €0.01 / €0.02 | €0.04 |
| €0.02 / €0.04 | €0.08 |
| €0.05 / €0.10 | €0.20 |
| €0.10 / €0.20 | €0.40 |
| €0.25 / €0.50 | €1 |
| €0.50 / €1 | €2 |
| €1 / €2 and higher | €3 |
2 Players Dealt In:
| | |
| --- | --- |
| Blinds | Cap |
| €0.01 / €0.02 | €0.02 |
| €0.02 / €0.04 | €0.04 |
| €0.05 / €0.10 | €0.10 |
| €0.10 / €0.20 | €0.20 |
| €0.25 / €0.50 | €0.50 |
| €0.50 / €1 | €1 |
| €1 / €2 and higher | €2 |
Poker Tournament fees on MPN are between 0% and 10%. They depend on the buy-in of the tournament.
You can find the exact fee in the table below:
| | |
| --- | --- |
| Tournament Type | Fee |
| 9-max Freezeout | 10% |
| 6-max Freezeout | 10% |
| Turbo | 10% |
| Fish Party SNG | 5% |
| Standard SNG | 5,8% |
Guts Poker Review Rakeback Deal 
Our Guts Poker Rakeback Deal offers players amazing value in addition to a significant cashback percentage through our other promotions.
Our members have access to our exclusive leaderboards and chases.
Guts Poker Review Conclusion
Guts Poker is an excellent choice for both professionals or beginners. You won't find a shortage of games and value-packed promotions here.
Their ongoing promotions caters to professional grinders as well as to recreational poker players. Being one of the most secure online poker sites in the industry. Guts Poker is one of the best places to store your poker bankroll and cashouts are processed quickly and safe.
Guts Poker passed our tests with flying colors, especially when it comes to poker bonus, rakeback, safety, variety of games and poker software. For this reason, we highly recommend you to give Guts Poker a try as soon as possible!
There are no User Reviews yet. Let us know your experience now!