Phil Ivey is about to end legal war
The long-running edge-sorting Baccarat scandal that saw Phil Ivey spend six years embroiled in $multi-million court cases may have just ended. A settlement between Ivey and the Borgata appears to have been reached this week, although details are still sketchy.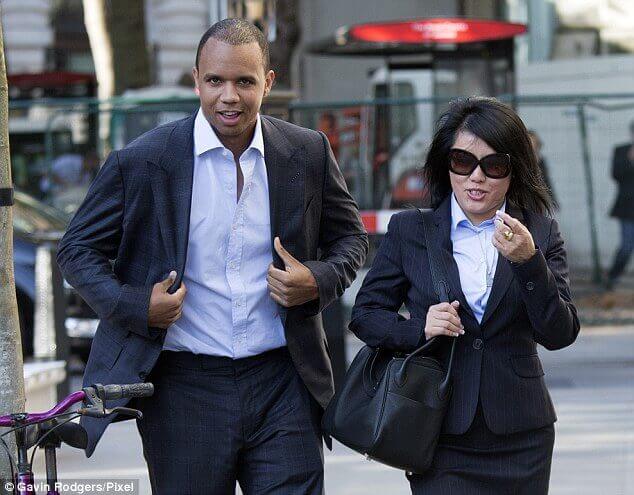 Phil Ivey and his sidekick Cheng Yin 'Kelly' Sun have been embroiled in the infamous case since they took the Borgata Casino in Atlantic City for almost $10million back in 2012.
A similar winning spree in the UK netted them almost $12million. However, Crockfords Casino of London refused to pay out, Ivey unsuccessful in his court bids to enforce payment.
Since then, across the sea in his homeland, the Borgata has been chasing Phil Ivey through the US courts (as the timeline below details).
A six-year-long legal battle is coming to an end
This week's court filing in the U.S. Court of Appeals for the Third Circuit looks set to bring the Borgata case to a close, stating: "The Parties participated in [an appellate court] mediation program, and they have now reached a settlement."
There is no word as yet on what the financial or other details of the settlement may involve. It's unlikely we'll find out exactly what both sides have agreed upon.
It leaves plenty of room for speculation. However, not everyone is convinced of last year's curious involvement of Daniel Cates and Ilya Trincher in the affair…
I'm going to add to this that if Ivey (and Sun) are able to settle and repay at least some of the $10M, then the claim that Ivey was truly backed for his 2019 WSOP events seems ever more on the scammy side. It stank then and it stinks more now.

— Haley "Aunt Eefah" Hintze (@Haley_Hintze) July 9, 2020
Many, or perhaps most, gamblers, and those among the poker-player community have been of the opinion that Phil Ivey and Sun exploiting a flaw in the game was perfectly valid.
Hendon Mob OG, Barny Boatman, summed those feelings up as news of the settlement broke…
Massive respect to Ivey for sticking to his guns. The initial finding against him was an outrage. I just hope that the settlement doesn't consolidate the principle expressed in that first judgment to the effect that casino gamblers are not entitled to expect to win.

— Barny Boatman (@barnyboatman) July 8, 2020
If the settlement really does bring the saga to an end, it will likely allow Ivey to resume playing in US poker events without fear of his winnings being garnered by lawyers for the Borgata, as happened last year at the WSOP.
For those who haven't followed the ins-and-outs of the remarkable story, here is a brief timeline of events
Phil Ivey/Sun Edge-sorting Scandal Timeline
Ivey and Sun take the Borgata for $9.6million at Baccarat across four visits, the Atlantic City casino paying out in full.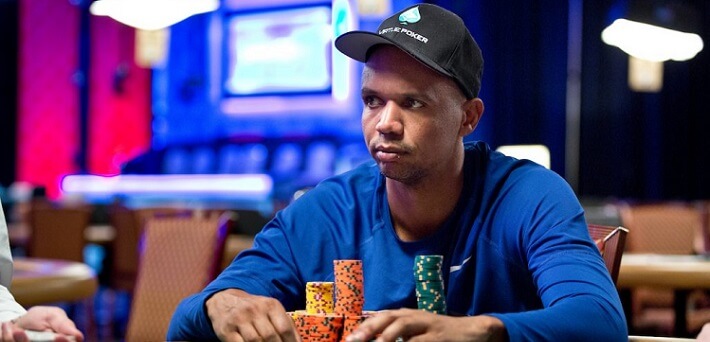 The duo then take their edge-sorting skills to London and win the equivalent of $12million. Crockfords casino refuse to pay out.
2014
While Ivey sues Crockfords and its owner Genting in the UK, he is fighting off a lawsuit brought by the Borgata in the US.
The Borgata's legal team was looking for at least $10million. They claimed fraud and violations of the RICO Act that could have bumped the bill for Ivey up to $30million.
2016
Phil Ivey avoids the RICO and fraud charges. But he loses almost every other part of the court cases on both sides of the Atlantic.
Found to be in 'breach of contract' in the US case, Ivey and Sun are found liable for the $9.6million and ordered to repay the money plus costs.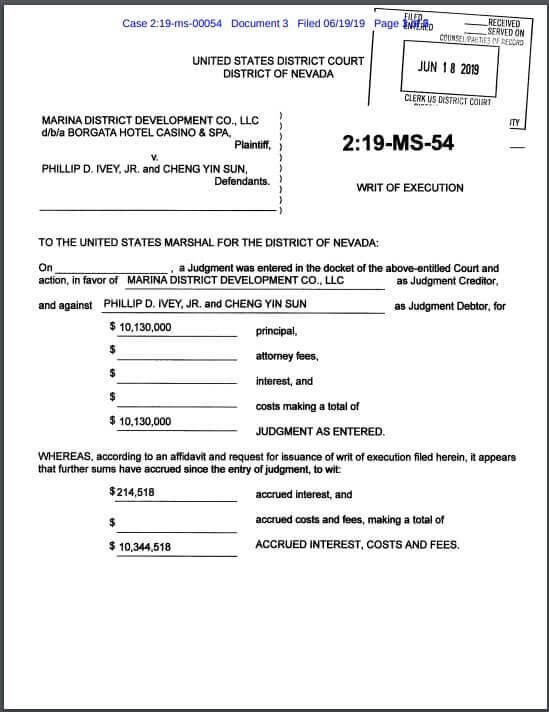 2017
While Ivey appeals each and every loss, his Crockfords case reaches the end of the line. The UK Supreme Court decides he and Sun "took positive steps to fix the deck," in what was "a carefully planned and executed sting."
2018
The Borgata is given the go-ahead to chase Ivey for the lost $millions. However, Ivey's legal team claims it would cause 'irreparable harm' and have a 'devastating impact' on his ability to pursue his poker career.
2019
Having been allowed to chase Ivey's funds in Nevada, lawyers for the Borgata turn up at the WSOP and serve a 'writ of execution' on Caesars Entertainment and the Rio Casino.
Ivey's $124,410 winnings from the$50,000 Poker Players Championship are seized and handed to the US Marshals Service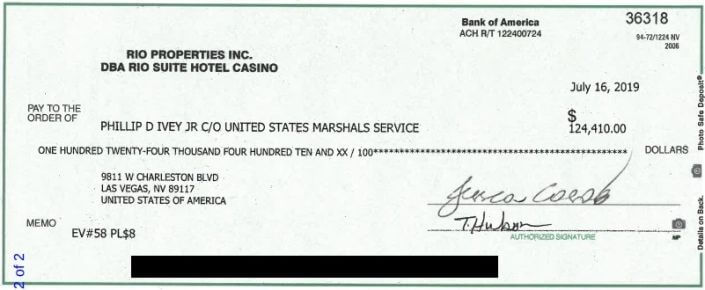 Daniel Jungleman Cates and high stakes cash game player Ilya Trincher launch a countersuit, claiming they had fully staked Ivey in that event and were due 50% of his winnings.
2020
While his gambling partner Sun was the focus of a forthcoming movie, The Baccarat Machine, Ivey was still appealing and 'making progress' according to some legal experts.
The crucial issue over whether 'edge-sorting' could be equated with actual 'card-marking' seems to have been a key issue in the debate, and one that could have swung an appeal Ivey and Sun's way.
The settlement, if approved, will bring to an end one of the most remarkable cases in gambling history.
Earn up to 60% partypoker rakeback when signing up through us!
When signing up through VIP-Grinders.com on partypoker, you can now earn up to 60% cashback on partypoker plus take part in the following exclusive VIP-Grinders Promotions with massive extra value:
$30 Welcome Bonus in SPINS Tickets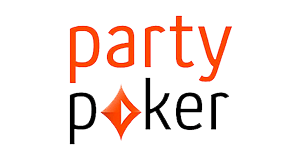 T&Cs | 18+ Only
Upon making your first deposit of £/€/$20, you will receive $30 in SPINS tickets, up to 60% rakeback, our Exclusive Party & Bwin Chase along with other exclusive promotions and races.
New customer offer
$30 Tickets
60% VIP | Chase
Terms and conditions apply. New customer offer and 18+ only. Should you require help regarding your betting pattern, please visit www.begambleaware.org