Last week, we saw Linus "LLinusLLove" Loeliger being accused of cheating on the 2+2 Forums. That case was "dismissed" very quickly – the community determined it's very unlikely the Swiss pro is cheating, he's just really good.
This time, however, the accusers on 2+2 seem to have a stronger case.
The Mike Postle Cheating Allegations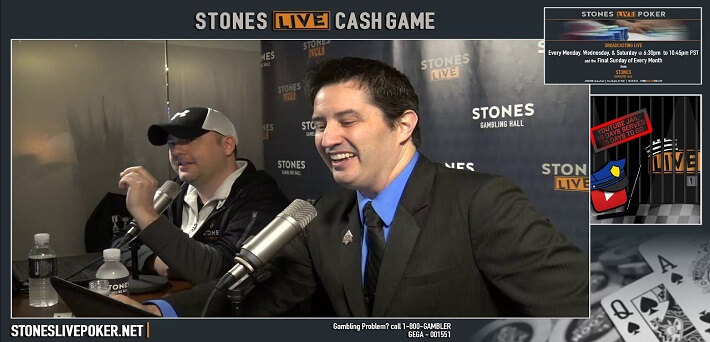 Stones Gambling Hall streams low to mid stakes cash games on their website and their YouTube channel.
A former employee of the casino, a Polish woman named Veronica took to Twitter to voice her concerns.
If someone is displaying a probability of cheating on a live stream you don't make the entire room not be able to use their cellphones in an attempt to reduce everyone's anxiety and then still promote the player as one of the best.

— Veronica 2.0 (@Angry_Polak) September 28, 2019
Also, I brought up my concerns about this player months ago to the person running the live stream. I was told that no one gets this player and that he is just better than everyone. Also that they had some one or some company come in to check their security

— Veronica 2.0 (@Angry_Polak) September 28, 2019
She was objecting to the fact the casino didn't investigate a player by the name of Mike Postle. Postle routinely makes suspicious plays so Veronica thought he might be able to get information about his opponents' hole cards during live streams.
The story was picked up by one of the most prominent poker personalities online, Joe Ingram.
There have been accusations made that a player from @StonesLivePoker has some sort of access to hole card information while playing on stream. I'm surprised this type of thing hasn't been brought up before as the ability to cheat is incredibly easy.

— Joey Ingram 🤙🏻🤙🏻 (@Joeingram1) September 28, 2019
How Do You Cheat in a Live Poker Game?
The Mike Postle cheating accusers allege he has a device that lets him know if he's ahead in a hand.
Stones Gambling Hall has card readers built-in on their tables for their live streams. While the streams are evidently on a delay, Postle still theoretically could get that information in real time.
Although cell phones are technically banned at the table both on and off stream, many players can be seen using their phones without penalties. Postle at times seems to be looking down to his lap, possibly at his phone. Also, some believe he may have some other device that lets him know what the other players have.
The Evidence Against Mike Postle
The online poker community quickly got on the case. Spearheaded by Joe Ingram, 2+2 and Twitter users compiled a number of hands that suggest Mike Postle cheating.
Here are some of the strangest ones.
First off, Mike Postle plays with a VPIP that is outstandingly high for a full ring live cash game. Yet he's still a major winner in these games – in fact, he's never lost a session on stream.
His high VPIP means he's prone to do things like in the hand below, cold calling a 4-bet with 63 suited.
Then he proceeds to correctly call a more than half-pot bet on the flop with bottom pair. When his opponent c-bets the turn with the nut flush draw, Postle insta-shoves – with a pair of 3's in a 4-bet pot.
At other times, on the other hand, he makes super tight laydowns.
He once folded a pair of Kings pre-flop. Of course, his opponent had Aces in that hand.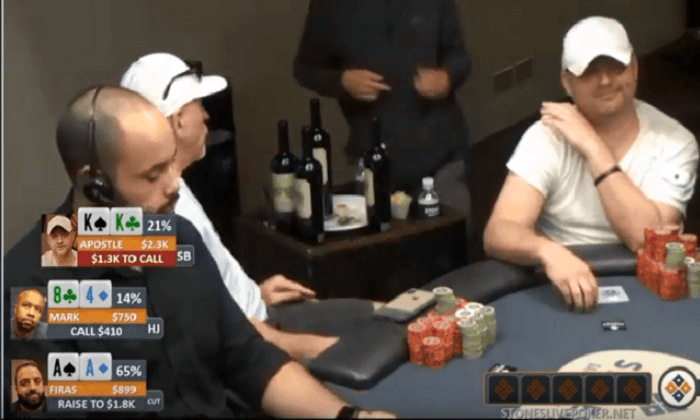 Maybe you could make the case that it was in a multi-way pot and multiple bets had been made before him. But then how do you explain him calling with 54 off-suit against a 3-bet jam with Chris Moneymaker in the pot? Both of his opponents had AK, by the way…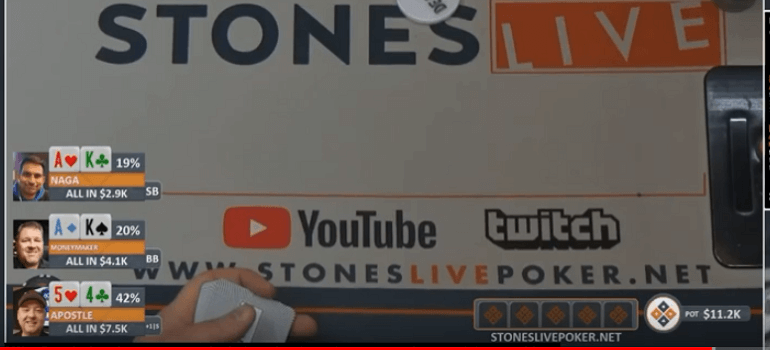 In addition to the hands, some people noticed that he has deleted his LinkedIn profile since the Mike Postle cheating allegations went viral. That profile claimed Postle worked for the production company that set up the set for the Stones Gambling Hall streams.
Joe Ingram investigates the case in detail
Joe Ingram is famous for his in-depth investigations. He didn't hesitate to jump into this one either – "Chicago Joey" spent no less than 5 hours dwelling on the Mike Postle cheating allegations.
Watch Mike Postle cheating investigation video Part 1 here:
Watch Mike Postle cheating investigation video Part 2 here:
You can find a lot more examples of interesting hands there.
Mike Postle's Defense
Mike Postle claims he's able to make these unusual but correct plays because of his amazing reading abilities. However, that begs the question: why does he play low stakes live cash games then, when he could clearly make more money at higher stakes with his uncanny abilities?
His Hendon page suggests he plays tournaments with $100-$1,000 buy-ins.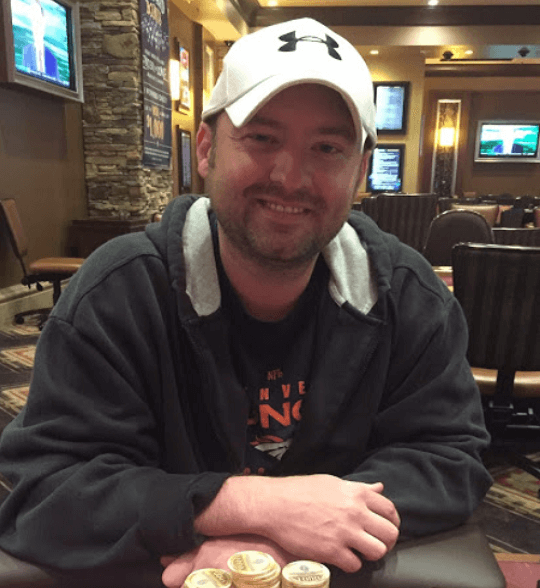 Postle also went on to post a number of pots that he lost on Twitter on live streams. He suggests if he had known the hole cards, he wouldn't have made those calls.
It seems the jury is still out on Mike Postle's case. But it's undeniable that there is something strange going on worth investigating.
Earn up to 60% partypoker rakeback when signing up through us!
When signing up through VIP-Grinders.com on partypoker, you can now earn up to 60% cashback on partypoker plus take part in the following exclusive VIP-Grinders Promotions with massive extra value:
$30 Welcome Bonus in SPINS Tickets
New Customers Only | 18+ | T&Cs Apply
Upon making your first deposit of £/€/$20, you will receive $30 in SPINS tickets, up to 60% rakeback, our Exclusive Party & Bwin Chase along with other exclusive promotions and races.
Terms and conditions apply. New customer offer and 18+ only. Should you require help regarding your betting pattern, please visit www.begambleaware.org.