Collusion at a grind house in China?
Footage of a grind house full of what looks to be colluding players on the PPPokerapp has been doing the internet rounds recently. It's a scary-looking set-up for those trying to play against them…
This is a poker apps it called pppoker.. Its booming in asia… In order to play, u have to know the host… The host either will ask u for deposit or they will give u credit to play

— Titi Copag (@CopagTiti) April 19, 2020
The setting appears to be China-based on responses to the viral video. One poster also shared some highly dubious-looking lobby pics.
Challenge : find out who is who pic.twitter.com/X4HtxI5qmk

— FriDiGiDi (@FriDiGiDi) April 19, 2020
Almost all of the Asian-based apps that hit the poker streets in the past 5 years have been beset with claims that they are ripe for abuse.
They generally operate by allowing private member clubs. Therefore, new players need an introduction to get a seat.
Because this involves 'middle-men', the developers and owners of the apps themselves take nothing to do with claims of collusion, scams, stolen funds, etc.
In the video above, an ordinary honest player could easily be facing several of the grind house colluders at any given time – and a translation reveals more were perhaps on the way…
The language is Mandarin.

Something on the lines of 'That isn't enough. We don't have enough computers. We'll have to add two more.' with some degree of accent.

This is very possibly somewhere china. Suspect that someone's backing all of the players, or they might be hired.

— Altia (@Altia_1) April 18, 2020
Ghosting in online poker
Ghosting, as we investigated recently, is also a big problem, advice easily given at crucial stages by more experienced players, and accounts event taken over by better players in some cases.
Unlike most of the bigger reputable sites like partypoker and GGPoker, there is nowhere to turn if you suspect you are being cheated in the private app clubs.
The main sites actively search out and respond to player concerns, one such bust we revealed a couple of years…
However, most of the dodgy app-based poker-rooms do little or nothing to protect players.
Last year PPPoker was in the headlines after convicted felon Adnan 'NYPokerKing' Mohammad was accused of running a Ponzi Scheme on the PPPoker app through his PokerClub.ag.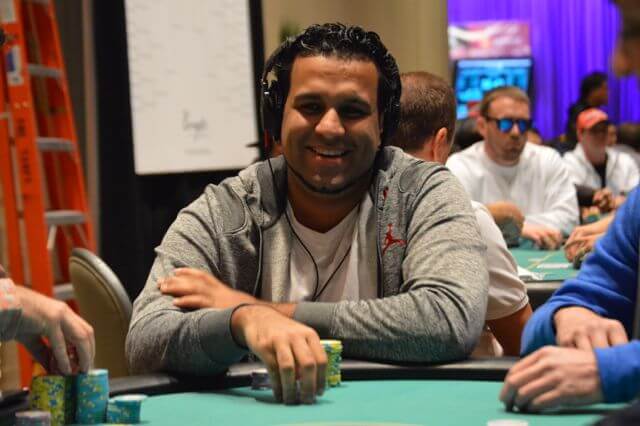 His Instagram club saw several players owed 5-figure sums of money, with Mohammad refusing to pay out and cutting off communication. Many claimed that winnings were only paid out after others had deposited – the classic sign of a Ponzi scheme.
Matters took an even worse turn for two of those owed the biggest sums. Mohammad publicly asked for players to report "any suspicious activity that you observed". Moreover, he accused 'DonkeyCopter' and 'Slizzer' (owed about $40k and $20k respectively) of cheating.
Illegal cooperation at grind houses?
Mohammad rejected all these accusations, claiming he was just the 'face' of the club rather than involved in the detailed running of it.
Back to collusion and the prospect of grind houses full of 'team members' working together. A recent PokerStars Turbo Series final table revealed worries that it's not just restricted to Asian-based apps.
Two members of a Brazil-based poker stable raised eyebrows with their play, and you can check out our take on the highly-suspicious incident here and in the video below…
Of course, not all poker stables and their grind house set-ups are suspect. This shot below of Patrick Leonard's bitB stable is among the respectable ones…
#sunday #bitB pic.twitter.com/8nxxziCYZ8

— Patrick Leonard (@padspoker) October 14, 2018
However, if you are an 'average Joe' online poker player, the vision of multiple players in such close proximity can be off-putting. The subject of whether stables themselves are good or bad for the game, however, is a different argument for another day.
The best advice we can give when faced with the possibility of team collusion? Avoid dubious apps and poker clubs whenever possible. If you really must use them, don't keep a big chunk of your bankroll on them!
Earn up to 60% partypoker rakeback when signing up through us!
When signing up through VIP-Grinders.com on partypoker, you can now earn up to 60% cashback on partypoker plus take part in the following exclusive VIP-Grinders Promotions with massive extra value:
$30 Welcome Bonus in SPINS Tickets
T&Cs | 18+ Only
Upon making your first deposit of £/€/$20, you will receive $30 in SPINS tickets, up to 60% rakeback, our Exclusive Party & Bwin Chase along with other exclusive promotions and races.
New customer offer
$30 Tickets
60% VIP | Chase
Terms and conditions apply. New customer offer and 18+ only. Should you require help regarding your betting pattern, please visit www.begambleaware.org