An epic angle shoot without regrets
Pulling off an angle shoot is bad enough, but calling in to a poker podcast to unashamedly brag about it puts this week's subject at the top.
Who's is up for a good poker angle shooting story? I've been around live games for 15 years, but this guy takes the cake: https://t.co/SZkHAWEgnZ pic.twitter.com/KUWPnTbfUg

— Bart Hanson (@BartHanson) May 2, 2020
Angle shooting, just in case the term is new to you, is when a player uses unethical means to gain an unfair advantage.
Though most often not technically illegal, actions such as pretending to push chips forward to get a reaction from an opponent, or hiding big denomination chips from an opponent, are considered very bad form, and will sometimes be punished by the floor.
In this week's live call-in section of Bart Hanson Crush Live Poker podcast, our villain seemed to show no remorse as he recounted his sordid tale of poker angle shooting.
Playing a live cash game at stakes of about $1.25-$2.50, the caller (showing as the 'Hero' on Hanson's screen) reached the river below, shoved and was called.

Of course, with 8 high he is losing to almost everything, but here's where things get downright nasty.
His opponent asks him what he has and our villainous angle shooter replies "Aces!"
When his opponent throws his cards face down and they catch the edge of the muck, the dealer awards the lying cardsharp the pot.
Not content with angling his way to some undeserved money, the villain then turns over his cards for the whole table to see.
You can catch Hanson's reaction and the rest of this ridiculous story below. He points out there are so many things wrong with this incident that it beggars belief.
Watch the worst angle shoot in poker history here:
Further angle shooting incidents
If this sounds like a one-off that's unlikely to be repeated, you might need to take a look at these infamous incidents of angle shooting, starting with a PokerStars EPT situation from Barcelona last year.
In brief, Zhou made as if to fold to his opponent's raise, then pulled his cards back. Slow-motion shows very clearly that the dastardly ruse was an attempt to see his opponent's cards.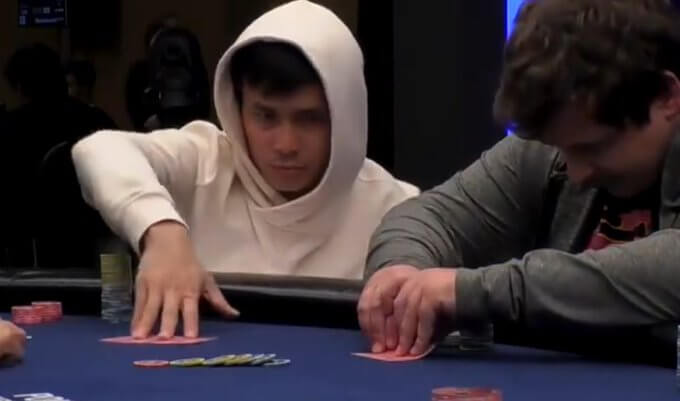 You've seen the hand, was this angle shooting by Quan Zhou?

— PokerStars LIVE (@PokerStarsLIVE) August 28, 2019
We covered that case in some detail here along with the infamous Ivan Freitez and Alec Torelliangleshoots, but here are a few more you may not know or remember.
Antanas 'TonyG' Guoga is notorious for his antics at the table and a hand against Phil Hellmuth from the televised Big Game a decade ago is legendary.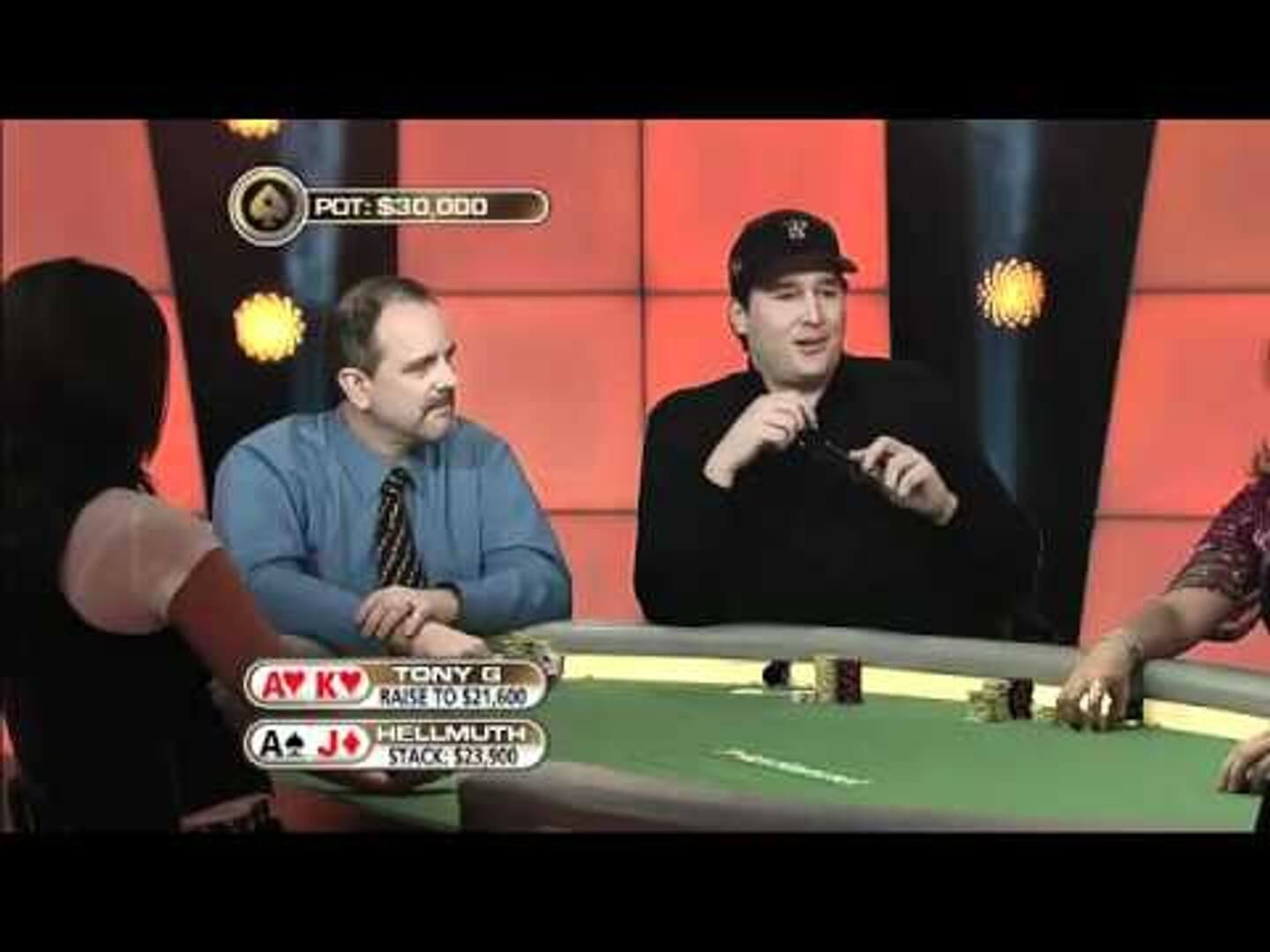 When Guoga re-raised the Poker Brat all-in, he claimed to be doing so blind. However, the commentators and viewers knew that was a bare-faced lie.
Here's Tony G's angle in all its glory…
Daniel Negreanu was involved in his own dubious angle shooting affair. It became known as the 'misclick' hand during the 2013 EPT Barcelona €10k High Roller.
Looking down at ace-king, Negreanu open-raised to 11x, almost instantly realizing and joking that the sizing was a mistake.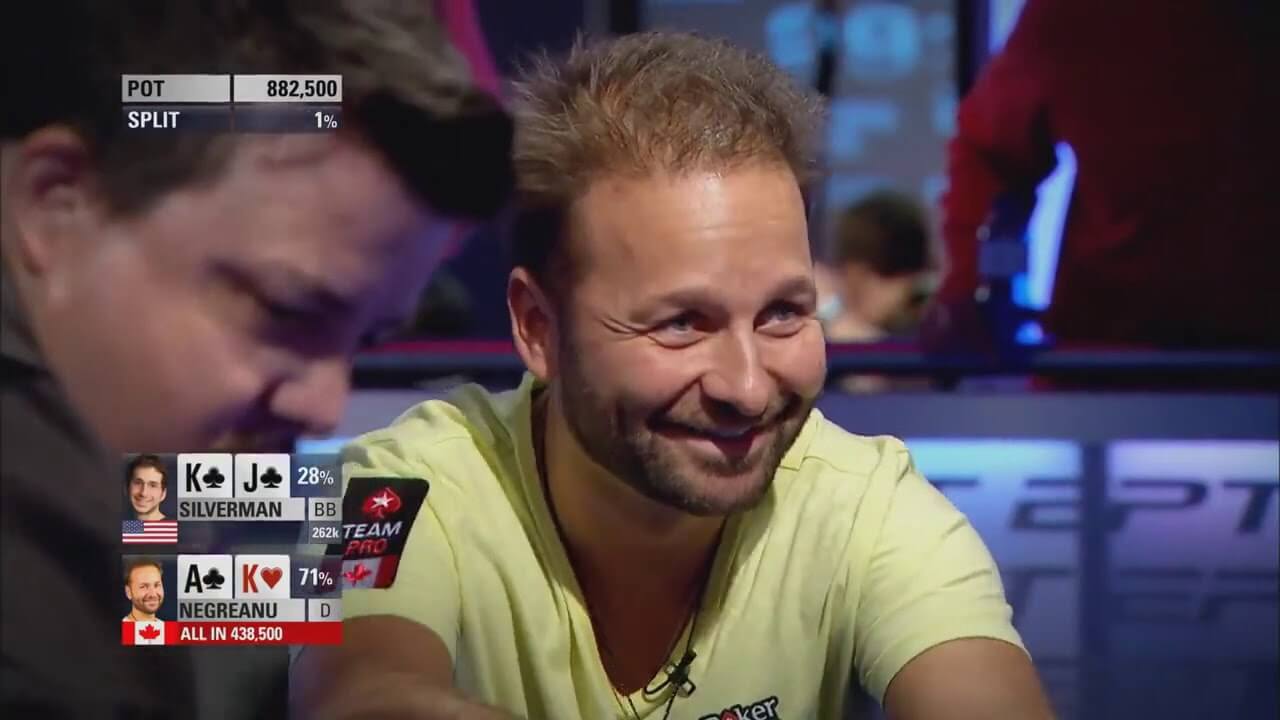 Steve Silverman, apparently believing Daniel's mistake, eventually shoved only to find himself in a desperate situation….
There are many, many different ways to be 'angle shot', and to protect yourself at the table you need to understand just what the less ethical players have planned for you. Hopefully, there have been a few useful lessons here for you.
Earn up to 60% partypoker rakeback when signing up through us!
When signing up through VIP-Grinders.com on partypoker, you can now earn up to 60% cashback on partypoker plus take part in the following exclusive VIP-Grinders Promotions with massive extra value:
$30 Welcome Bonus in SPINS Tickets
Terms and conditions apply. New customer offer and 18+ only. Should you require help regarding your betting pattern, please visit www.begambleaware.org