PCF Poker Review
PCF Poker Review Bonus, Traffic and Software
PCF Poker is short for Players Come First. It's rare to find a online poker site as dedicated to its players and their rewards as PCF Poker.
Being a part of the Microgaming Poker Network (MPN), the previous statement is even more valid given the fact that MPN is one of the most trusted and rooted poker networks on the planet. In addition to that, Players Come First Poker benefits from the high traffic of the MPN network and from one of the best and most modern poker softwares in the game.
PCF is offering a wide variety of games and formats such as Texas Hold'em,  Pot-Limit Omaha or modern variants such as Fast-Fold Poker (Blaze Poker) or the popular Spin & Gos (Fish & Party Sit and Gos).
PCF Poker strives to give new players a change to boost their bankroll quickly by offering a fantastic First Deposit Bonus, great rakeback and plenty of poker freerolls. You can expect value packed promotions and extremely soft games playing here.
In our PCF Poker Review we provide an in-depth introduction and test of all important features such as poker bonus, rakeback, security, software, traffic and payment options.
What's on offer?
Please check out the details of our PCF Poker Rakeback Deal below:
PCF Poker Review written by online poker experts
To ensure the best quality for our poker players, our poker experts grinded away on PCF Poker and came back with extremely positive feedback.
Not only were the games soft, the value they got left them in awe. They were also surprised at how responsive customer support is, and how fast they act if a player is experiencing problems.
Speaking of fast and responsive, the poker software has a sleek and modern feel to it and can be downloaded to your PC or Mac device, or you can play in your browser, it's up to you.
Finding a game on PCF Poker is generally fast, and you can expect enough traffic to always get a session up and running.
In conclusion, Players Come First Poker is a reputable poker site packed with value for seasoned players and newcomers.
How to open a PCF Poker Account?
To open a PCF Poker account you won't need much time, or effort, because the process is so streamlined you'll be up and playing in no time. To make the process even easier, below you can find a step by step guide on how to set up your PCF Poker account.
Oh, and also be sure to claim your €1,000 WELCOME BONUS when you create your account to make the registration even sweeter.
Step 1 – Start Registration Process
Please delete Cookies (important) and then CLICK HERE to start the PCF Poker registration process. The link will redirect you to the home page of PCF Poker. Then simply click the yellow "Register" button in the top right corner: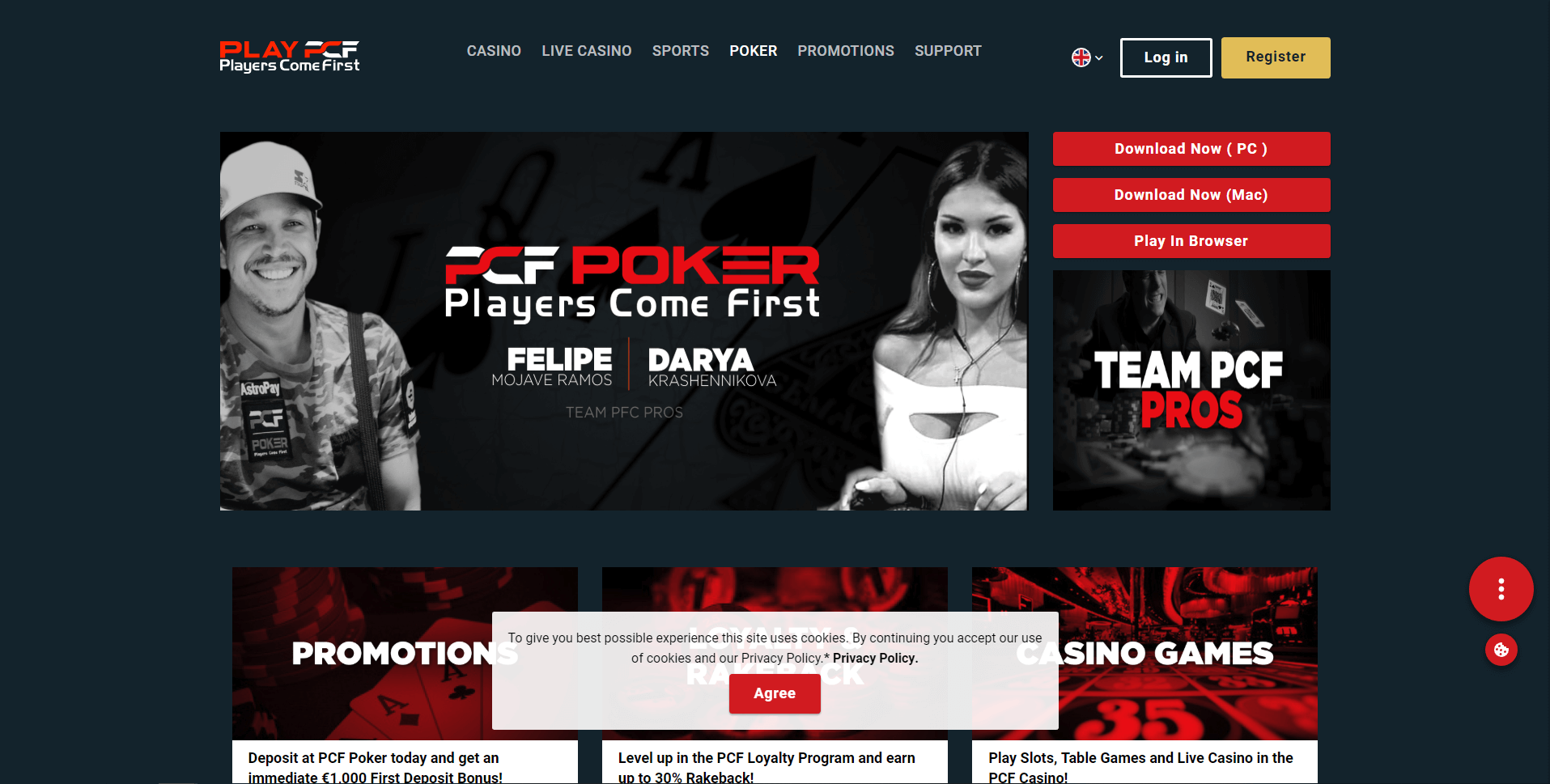 Step 2 – Enter your Personal Details
The instructions on the screen will guide you through the process. In order to set up your account you will have to enter some details such as your name, date of birth, email, password, address and country of residence: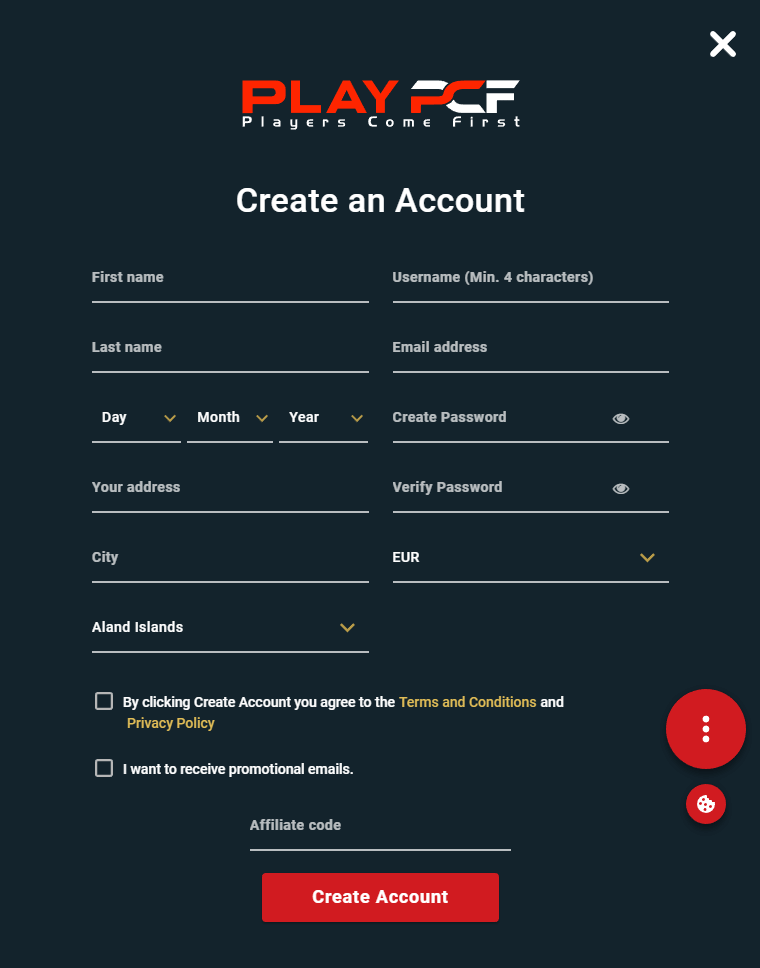 Step 3 – Make your First Deposit and get a €1,000 Bonus
After you've completed the steps above make a deposit and claim your €1,000 WELCOME BONUS.
It's that simple! The bonus is then released in increments of €20 for each €100 in rake to up to €1,000 in new player Freerolls.
You even get 10 FREE spins in the online casino just by completing the registration.
Step 4 – Submit your Details
To ensure that you get access to our exclusive deals and promotions, you have to submit your table alias/nick.
You can do that by logging into your VIP-Grinders account and navigating to the "Submit Usernames" tab.
Here, simply enter your table alias/nick and be sure to pick the right Skin form the drop-down menu. You can find the name of the Skin by clicking the "Claim Now" button on this page.
CLICK HERE TO SUBMIT YOUR TABLE ALIAS.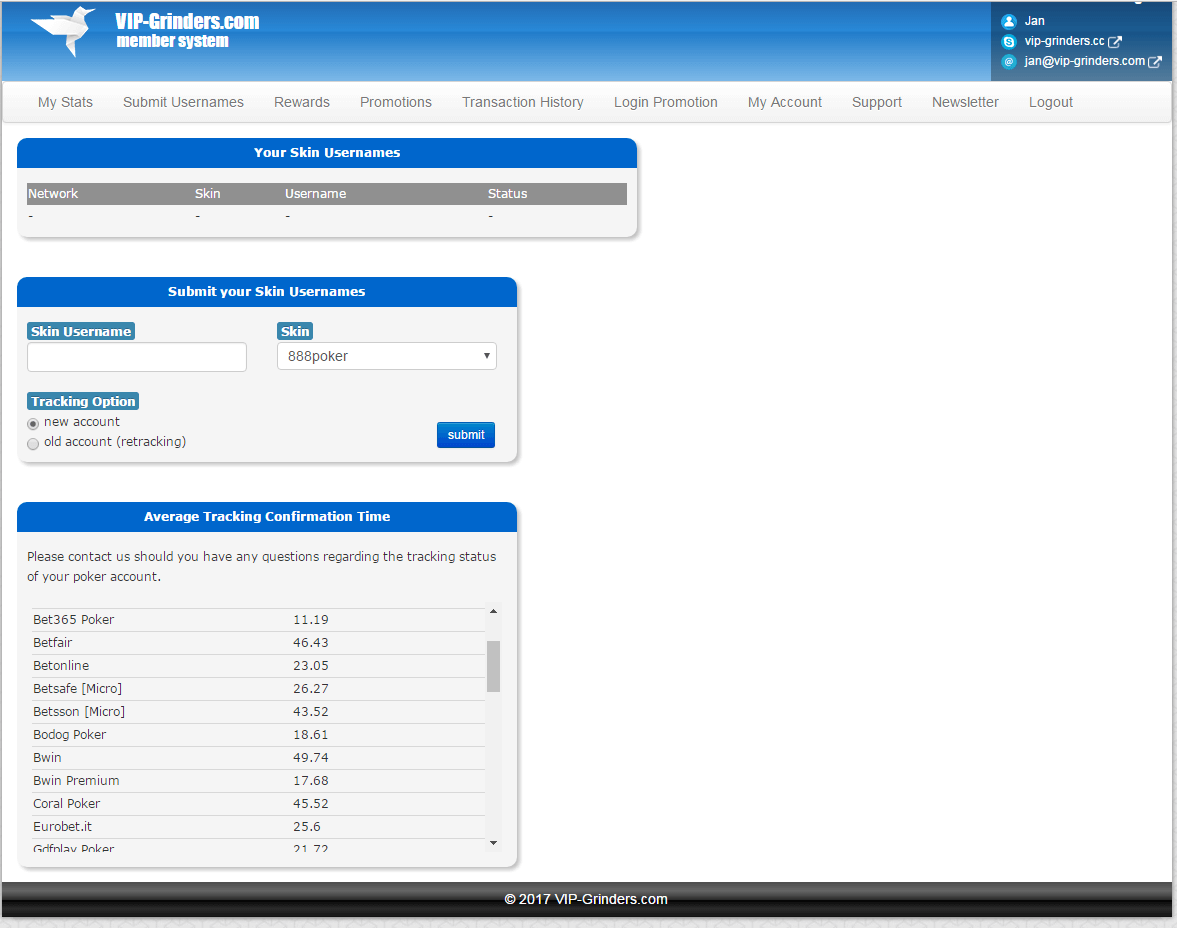 Players Come First Poker Review Promotions
PCF Poker really is one of those poker rooms who wants to give players the most value they can get.
Those include a massive rakeback deal, exclusive chases and other amazing prizes that you are yet to discover.
PCF Poker Rakeback Deal
Our players get a VIP upgrade so they can change points at 30% PCF poker rakeback anytime and from scratch.
Bad Beat Jackpot
PCF Poker has made it especially easy to win with the Bad Beat Jackpot.
All you have to do is click the Bad Beat ticker at the bottom of the screen to contribute 2 cents towards the Jackpot. You are eligible to win as long as you're opted in and contributing to the Jackpot.
Be sure to check out how the game works here.
Join our Exclusive PCF Poker Chase and reward yourself with up to €2,750 every month!
Please Note: All players who sign-up with PCF Poker through us are eligible for the promotion.

PCF Poker Review Software and Traffic
PCF Poker offers players the option to either play in browser or download the poker client, and both feel well built and very responsive.
Since MPN is the poker network this online poker site, you can expect the poker client to be easy to navigate, cool looking and sleek, with everything you need within a reach of a click.
You can expect the following games on PCF Poker: Texas Hold'em and Omaha. The games played here are really soft and offer massive amounts of value.
To sweeten the deal even more, PCF Poker offers awesome promotions like the PCF Beat Jackpot and our Exclusive PCF Chase.
There are multiple tables at low and mid-stakes at all times, and most of the time, you should be able to get at least a handful of tables going at the highest stakes.
PCF Poker Review Payment Options
PCF Poker offers many deposit and withdrawal options, and you can review them in the tables below:
PCF Poker Deposit options:
​
| | | |
| --- | --- | --- |
| Deposit method | Min deposit | Max deposit |
| | €10.00 | n/a |
| | €10.00 | n/a |
| | €10.00 | n/a |
| | €10.00 | n/a |
| | €10.00 | n/a |
| | €10.00 | n/a |
| | €10.00 | n/a |
| | €10.00 | n/a |
| | €10.00 | n/a |
| | €10.00 | n/a |
| | €10.00 | n/a |
| | €10.00 | n/a |
| | €10.00 | n/a |
PCF Poker Withdrawal options:
| | | | |
| --- | --- | --- | --- |
| Withdrawal method | Min Withdrawal | Max Withdrawal | Processing time |
| | €100.00 | n/a | Instant after approval |
| | €100.00 | n/a | 3 – 5 days after approval |
| | €100.00 | n/a | Instant after approval |
| | €100.00 | n/a | 3 – 5 days after approval |
| | €100.00 | n/a | Instant after approval |
| | €100.00 | n/a | Instant after approval |
| | €100.00 | n/a | Bank dependent |
| | €100.00 | n/a | Instant after approval |
| | €100.00 | n/a | Instant after approval |
PCF Poker Review Cashout History and Processing Times
PCF Poker is short for Player's Come First, which is a great moto given the fact that PCF Poker is one of the best poker sites out there.
It offers soft games, boosted by amazing value-packed promotions with everything running either on a poker client you download or on your browser.
We definitely recommend PCF Poker to players looking for a reputable site that offers above average support and security.
Company Information
| | |
| --- | --- |
| Company Name: | PCF Poker |
| Website: | www.pcfcasino.com/poker |
| Network: | Independent |
| License: | Cyprus |
| Skrill Loyalty: | Yes |
| P2P Option: | No |
Sign-up Now & Submit Details
PCF Games & limits
| | |
| --- | --- |
| Average Total Players: | 1650 |
| Average Cash Players: | 710 |
| HEM/PT Compatibility: | No |
| Rake Structure: | 5% up to $10 |
| NLH 6max: | NL10k |
| NLH HU: |  NL10k |
| PLO 6max: | PLO10k |
| PLO HU: | PLO10k |
| Pos | Nickname | Points | Prize |
| --- | --- | --- | --- |
| 1 | tothcs | 2356.00 | 125.00 |
| 2 | spacegravy | 1625.72 | 60.00 |
| 3 | castor11 | 1622.62 | 60.00 |
| 4 | Napoleon | 1031.68 | 60.00 |
| 5 | tamasballai | 496.40 | 10.00 |
There are no User Reviews yet. Let us know your experience now!