AllinAsia Poker Rakeback Deal
All In Asia Poker Bonus, Traffic and Software
All In Asia Poker is the home of online poker in Asia. They are not only the by far biggest, but also best Asian online poker site. What makes them so good is the unique opportunity to play on not less than 7 online poker networks with only one account!
The networks include IDN, which came out of nowhere to become the second biggest online poker network in the world within only a few months!
Consequently, All In Asia Poker boosts huge traffic especially at Asian peak hours, great tournament guaranteed and has one of the best and fastest supports and live chats in the poker world!
In addition to that, Texas Hold'em is a relatively new game in Asia and Asian poker players love to gamble, which makes up for some very soft and profitable games.
Together with our fantastic rakeback deal, which gives you 35% rakeback fixed and our huge private promotions All in Asia is a great option for grinders and professional online poker players.
What's on offer?
Below you can find an overview of current and available offers at All In Asia Poker.
All In Asia Review conducted by poker experts
Our team consisting of online poker experts and professional poker players alike has been grinding a lot at All In Asia Poker and we can sincerely say that we had a very good experience.
First of all the customer support and live chat are the fastest in the poker industry and available around the clock.
Then, we are offering an amazing rakeback deal giving you 35% rakeback paid weekly to your poker account plus great private promotions such as the $10,000 Battle or Poker Sponsorships for live tournaments of your own choice.
We encourage you to CONTACT OUR SUPPORT in case you have any questions or look for a custom deal and don't forget to leave a comment to let us know how your experience was when playing at All In Asia Poker!
How to open an Account at All In Asia Poker?
Opening an account at All in Asia Poker is very simple and onle takes a couple of minutes. Simply follow our step-by-step registration guide and your poker account will be ready to play in no time!
Step 1 – Start Registration Process
Please delete Cookies (important) and then CLICK HERE to start the All In Asia Poker registration process. The link will redirect you to the home page of Red Star Poker. Then simply click the white "Register" button in the top right corner:

Step 2 – Enter your Personal Details
The instructions on the screen will guide you through the process. In order to set up your account you will have to enter some details such as your name, email, password, address, country of residence, mobile number and preferred currency and then on the red and white "Register Now" Button on the bottom: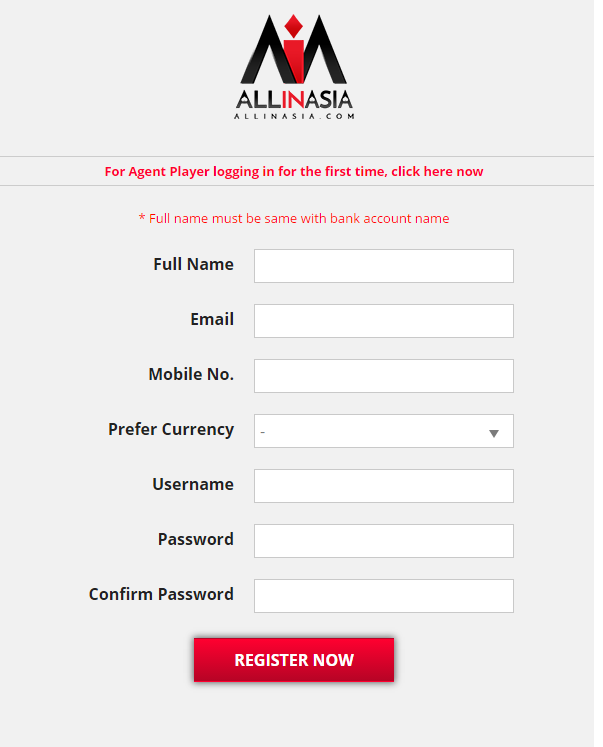 Step 3 – Make your First Deposit
As soon as you have registered at All In Asia Poker, you can make a deposit and start playing your favorite online poker games.
Click on the "Cashier" button within the All In Asia poker client and choose your preferred deposit option. That's all! Now your account is set up and you are ready to crush.
Step 4 – Submit your Details
To ensure that you get access to our exclusive deals and promotions, you have to submit your username.
You can do that by logging into your VIP-Grinders account and navigating to the "Submit Usernames" tab.
Here, simply enter your Username and be sure to pick the right Skin form the drop down menu. You can find the name of the Skin by clicking the "Claim Now" button on this page.
CLICK HERE TO SUBMIT YOUR USERNAME.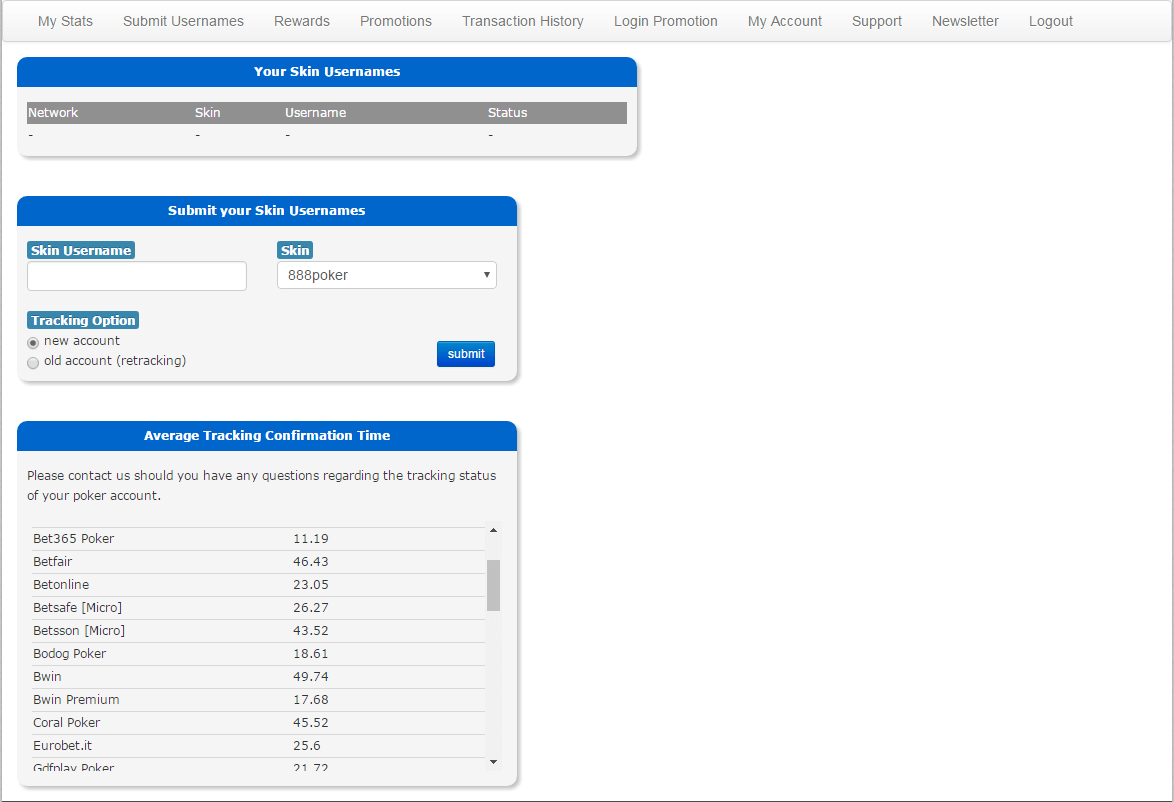 All In Asia Poker Promotions
All In Asia Poker offers great promotions for grinders and high value players such as a most hands played bonus and exclusive freerolls. On top of that, you can benefit from special reload bonuses and huge private rake races, when signing up through VIP-Grinders.com.
And let's not forget our fantastic rakeback deal, which gives all our players a massive 35% rakeback paid out weekly directly to your poker account.
All In Asia First Deposit Bonus
All players that open an account trough us get access to a $1,000 FIRST DEPOSIT BONUS. You have 180 days to clear the bonus and it clears at 20%. Follow the instructions below to claim your bonus:
Open the GG Client
Click My Bonus bottom right corner
Click on the text link "Special offers" and a Browser page will open
Click on the Big Red Button Opt-in and players now have a $1000 Welcome Bonus.
Bonus is valid for 180 days, 10$ bonus is paid out per $50 raked (Value 20%)
All In Asia Poker Rakeback
But 35% rakeback fixed you can only get at All In Asia, if you sign-up through us, otherwise you are missing out on a lot of extra money and our fantastic private promotions.
GG Network Rewards Program
1st of November marks the launch of the new Rewards Program on GG Network. This new ladder system is called Fish Buffet.
In order to climb the ladder and unlock bigger rewards with that, you first have to opt-in. Once you opted-in, you will start earning Fish Buffet Points (FP).
Every time you generate $0,01, you earn 1 FP. The more you play, the more FPs you make and faster you climb through 25 levels of the Fish Buffet. Every player starts at the Gold GoldFish level, earing approximately 28% rakeback.
Each of the level presents a unique challenge with different FP and time requirements. For more information, refer to the table below.
Level
 
FPs
Time
Prize Range
Cashback
Plankton
500
24 hours
$0.50 ~ $1.50
15%
Shrimp
1,000
24 hours
$1 ~ $3
20%
Goldfish
Bronze
1,500
24 hours
$1.50 ~ $6
22%
Silver
25%
Gold – Starting Level
28%
Crab
Bronze
5,000
72 hours
$5 ~ $25
28%
Silver
30%
Gold
32%
Octopus
Bronze
15,000
7 days
$15 ~ $90
32%
Silver
33%
Gold
34%
Platinum
35%
Diamond
36%
Whale
Bronze
40,000
15 days
$40 ~ $320
40%
Silver
41%
Gold
42%
Platinum
43%
Diamond
44%
Shark
Bronze
100,000
30 days
$100 ~ $1,000
45%
Silver
46%
Gold
47%
Platinum
48%
Diamond
49%
Black
50%
VIP
300,000
90 days
$300 ~ $3,000
50%
Once you reach a new level, you will get a chance to spin a prize wheel that offers different reward, depending on the level. If you don't manage to earn the required amount of FPs, your FP for that level will expire and you will be demoted to the previous level.
$35,000 VIP Leaderboard
The VIP Leaderboard is our biggest private promotion. It now boast a $35,000 prize pool with 175 places getting paid and $4,000 going to the top performing player. The prizes are paid out on the 10th of every month.

The Prize pool will be increased as soon as more players have joined, so sign up today!
$1,500 VIP Rookie Leaderboard
Our $1,500 VIP Rookie Leaderboard is available for all new players joining our Rewards deals for their first month.
Note that should you join us after the 15th, you will be eligible for next month´s leaderboard as well.
$10.000 New Year Battle
Our $10.000 New Year Battle is a special, end of year promotion giving our members the chance to boost their bankroll. Happy New Year!
Please click on the Promotions tab inside your account to check if you are enrolled!
Exclusive AllinAsia Chase
Fancy to play vs Asian fish with outstanding returns? Join AllinAsia which is offering 8 Asian and very soft poker networks and fill your pocket with this!
Live Sponsorship Promotion
Become a Poker Pro when getting sponsored for live poker tournaments of your own choice.
You are an ambitious poker player and looking for a sponsorship deal? You have come to the right place!
We can provide live sponsorships for big live tournaments like the WSOP, WPT or EPT for our players. And the best thing is: The sponsorship packages can be used for tournaments of your own choice.
CHECK OUT MORE INFORMATION AND HOW TO APPLY HERE.
All In Asia Poker Traffic, Software and Rake
All In Asia Poker is combining the 7 biggest Asian online poker networks: IDNPlay, GG Network, PPPoker, P8Poker, GG Gaming, AG Gaming, GamePlay and APG under one roof!
That means the traffic is huge and you will find your preferred cash game or tournament at any given time.
In addition to that, All In Asia offers one of the biggest varieties of poker games on the World Wide Web including Texas Hold'em, Omaha, Omaha Hi/Lo, Chinese Poker and a lot of exotic variants such as Games such as All-in or Fold, 6 Card Flower, 8 Card Poker, Pineapple Poker, Texas Mahjong, 13 Card Chinese Poker, Capsa Susun, CEME, Domino QQ and Bull Fight.
The award-winning software is one of the most modern and advanced in the poker industry and has lots of customization options making it a great choice for grinding and multitabling.
CHECK A DETAILED REVIEW ON ALL IN ASIA POKER'S TRAFFIC, SOFTWARE AND AVAILABLE GAMES HERE.
All In Asia Poker Mobile App
One of the best things is that you can play online poker at All In Asia anytime, anywhere!
The mobile poker client is available for all mobile devices, Android and iOS alike, which means playing poker on the go was never easier.
Simply DOWNLOAD THE ALL IN ASIA POKER MOBILE APP and enjoy playing online poker on your iPhone, iPad and Android, whenever, wherever.
All In Asia offers a great variety of cash games and tournaments also on their mobile poker client and it is now possible to play them from everywhere!
Compatibility
As mentioned above the All In Asia Poker Mobile App is available for several operating systems and mobile devices such as iOs, Android and Windows.

To download the Android or iOs version of the App, please go to the WEBSITE OF ALL IN ASIA POKER.
Download
All In Asia Poker is a Multiplatform, which means there is no need to download the software on your computer or mobile device as you can start playing straight away in your browser. Simply go to the site, login and start playing!
All In Asia Poker Payment Options
All In Asia offers the most common and popular payments options and cashouts are processed super fast.
Ewallets such as Skrill, Neteller, ecoPayz are available as well as VISA and Mastercard credit cards as well as several bank transfer options are all available! Simply choose the one, which suits you best!
Deposit & Withdrawal Options and Limits
All In Asia Poker is the only online poker room on the World Wide Web that offers a multiplatform ewallet, which can be used for all 7 featured online poker networks at the same time!
You can choose between USD or EUR including automatic currency exchange. Deposits and withdrawals are processed via Live Chat without agent intervention and supports Skrill, Neteller and Bitcoin.
In the table below you can find the available payment options for All In Asia Poker:
Banking Methods
Transaction Limit (MYR)
Transaction Timeline
Minimum
Maximum
DEPOSIT
ATM / CDM
20.00 MYR
100,000 MYR
5 Minutes
Online Transfer
Local Bank Transfer
WITHDRAWAL
Quick Withdrawal
50.00 MYR
5,000 MYR
15 Minutes
Local Bank Transfer
50.00 MYR
50,000 MYR
1 Day
Cashout History and Processing Times
Although All In Asia Poker is a relatively new online poker network, they already managed to established a good reputation when it comes to safety and cashouts.
All In Asia invests a lot in has the fastest and best support and live chat in the poker world and their employees are available around the clock in case you have any questions or want to deposit or withdraw.
There is a big poker boom in Asia at the moment and AllInAsia is the best option to take advantage of the very soft and profitable games. Together with our fantastic rakeback deal and the great traffic All In Asia is a great option for both recreational players as well as professionals.
All In Asia Featured Promotions:
Company Information:
| | |
| --- | --- |
| Company Name: | All In Asia |
| Website: | allinasia.com |
| Network: | Independent |
| License: | First Cagayan License |
| Skrill Loyalty: | No |
| P2P Option: | No |
Sign-up Now & Submit Details:
AllinAsia Support Details:
AllinAsia Games & limits:
| | |
| --- | --- |
| Average Total Players: | 1629 |
| Average Cash Players: | 1442 |
| HEM/PT Compatibility: | No |
| Rake Structure: | 3% no CAP on IDN, 5% up to $10 on GG |
| NLH 6max: | Up to NL2k |
| NLH HU: | / |
| PLO 6max: | Up to PLO5k |
| PLO HU: | / |
| Pos | Nickname | Points | Prize |
| --- | --- | --- | --- |
| 1 | JoelJackson88 | 204.36 | 500.00 |
| 2 | riggedmitch | 199.5 | 300.00 |
| 3 | Lithman | 125.04 | 200.00 |
| 4 | lidija14 | 107.96 | 150.00 |
| 5 | fiftyeight58 | 69.68 | 100.00 |

| Pos | Nickname | Points | Prize |
| --- | --- | --- | --- |
| 1 | valleydoll | 34343.86 | 4000.00 |
| 2 | Mario | 23314.88 | 2750.00 |
| 3 | Davidneed | 11247.78 | 2000.00 |
| 4 | jeanpaulb129 | 10482.92 | 1500.00 |
| 5 | missmiss | 9935.02 | 1000.00 |

| Pos | Nickname | Points | Prize |
| --- | --- | --- | --- |
| 1 | - | 0 | 0.00 |
AllInAsia Poker Traffic and Games Review
AllInAsia is the home of Asian online poker. Featuring the top Asian poker networks they truly represent their motto, that is "It's not just poker" as for AllInAsia poker is a lifestyle.
AllInAsia is the first online platform that allows you to play on a wide range Asian Poker Networks using a single username or login ID.
They provide more player-to-player games than any other site you can find online. High Quality and a huge variety of games you can choose from are complemented with breath taking promotions and offers that you just can't find anywhere else.
AllInAsia Poker gives access to the biggest Asian Poker Networks
AllInAsia gives you access to the biggest Asian poker networks. Poker networks such as IDNPlay, GG Network, PPPoker, P8Poker, GG Gaming, AG Gaming, GamePlay and APG are all available to All In Asia members.
All those networks and poker rooms are in a middle of an explosive growth period that is accompanied by the Asian poker boom. That means that the traffic at their tables is usually high.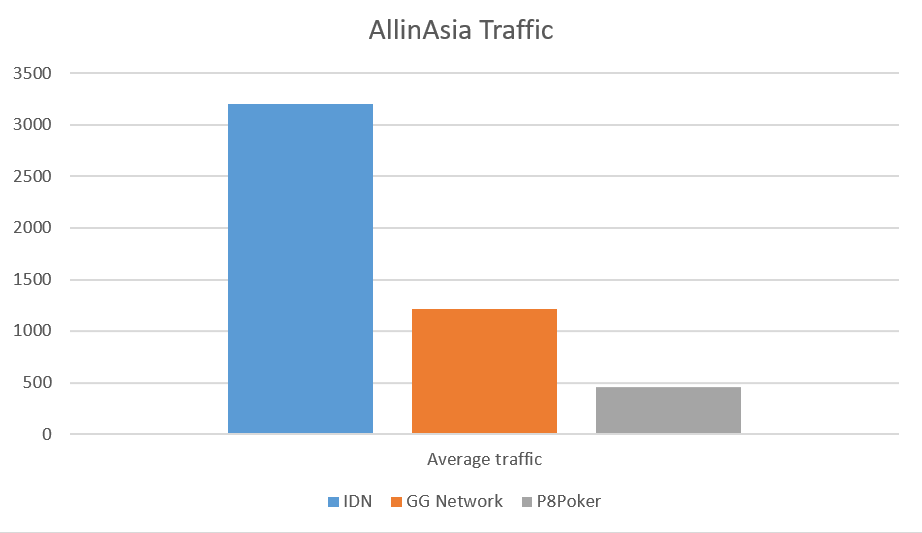 The above graph depicts average traffic at AllInAsias biggest networks, IDN, GG Network and P8Poker. As you can see, IDN gets the highest amount of traffic with an average of 1500 active players.
AllInAsia Poker Account and Table Currency
Your Poker Account and Table Currency depends on which AllinAsia poker network you choose to play on.
For example, on GG Network games and accounts are setup in USD, while IDN uses IDR (Indonesian Rupiah) and P8Pokers currency is MYR (Malaysia Ringgit).
AllInAsia Poker Cash Games
AllinAsia is where you will find great Cash Game traffic. On GG Network, stakes range from NL10 to NL5000, P8Poker offers stakes between NL2 to NL1000 and IDN stakes range from NL1 to NL750.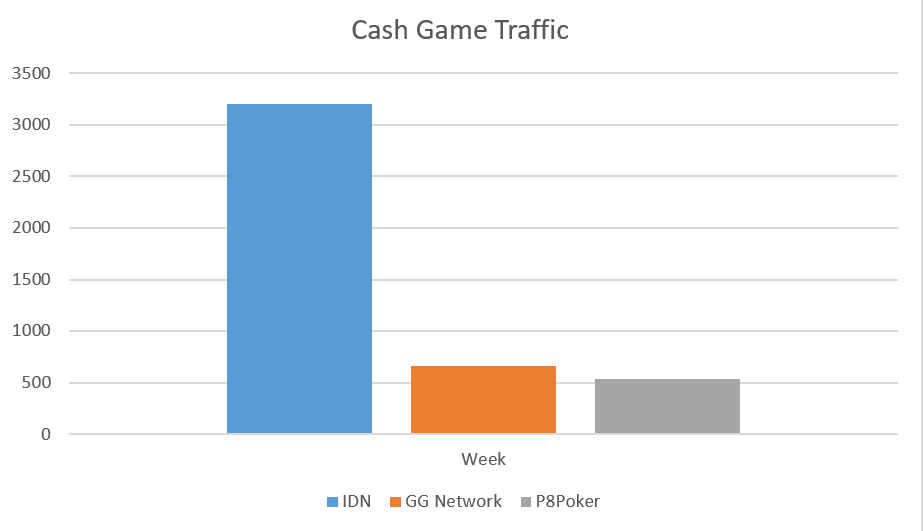 The traffic is dependent on the network you choose to play on. For more detailed information view the graph above.
No Limit Holdem
No Limit Hold'em gets the most traffic on all AllinAsia sites. For an average number of active players in each individual room, check the table below:
| | | | |
| --- | --- | --- | --- |
| | GG Network | IDNPlay | P8Poker |
| 6-max | 400 players | 1500 players | Does not offer |
| 9-max | Does not offer | 1500 players | 500 players |
Pot Limit Omaha
Pot Limit Omaha is only offered by the GG Network. The PLO stakes there range from PLO10 to PLO5000 and there is action to be found on any stake level!
There is an average of 160 active players at the GG Networks PLO tables. Most of the traffic is active between PLO10 and PLO100 but you can always find active tables as high as PLO5000
Other Cash Games (Speed/Rush Games)
None of the networks that we are looking at in this review (GG Network, IDN and P8Poker) offer any fast-fold Cash Games.
But both GG Network and P8Poker offer so called All-in or Fold games. A simplified version of Hold'em and  Omaha. You only two options in this game, either go all-in or fold. The buy in is capped at 8 big blinds for Hold'em and 6 big blinds for Omaha respectively.
AllInAsia Poker (MTT) Tournament Schedule  
Most of the AllinAsia networks focus on Cash Games but there is also great tournament action. The most of the MTTs is offered by GG Network.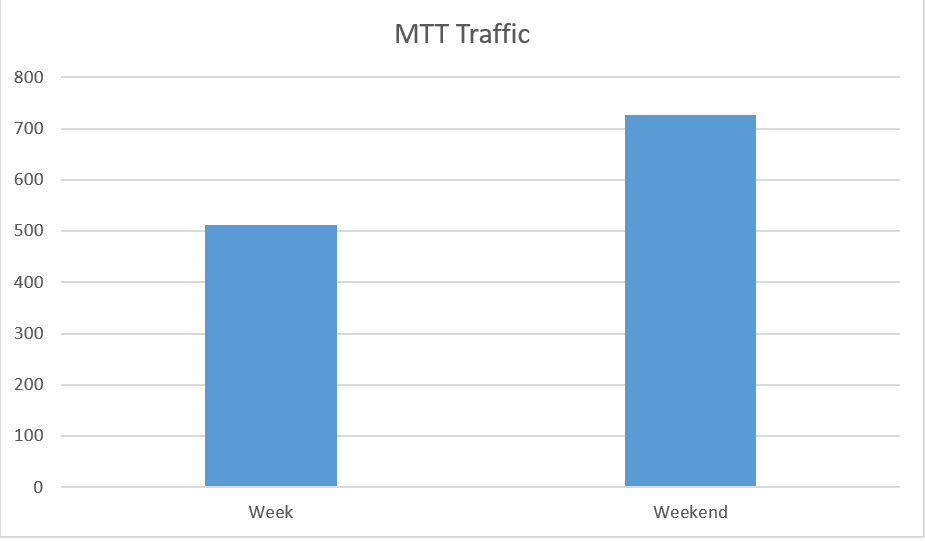 GG Network offers an amazing MTT schedule that attracts a lot of players. For a detailed view of GG Networks traffic refer to the graph below:
Daily Tournaments
There are three tournament series that run every day of the week on GG Network. They are called Daily Red, Daily Blue and Daily Green. Bounty Hunters and freerolls also run all day long. There's $100,000 in guaranteed prize money up for grabs each day!
Check out the schedule of each individual daily tournament series on GG Network below:
Red
| | |
| --- | --- |
| Name | Time (GMT+0) |
| Daily Red $15 | 09:00 |
| Daily Red $25 | 10:00 |
| Daily Red $50 | 11:00 |
| Daily Red $120 | 12:00 |
| Daily Rebuys $8 | 12:00 |
| Daily Red $40 | 13:00 |
| Daily Red $150 | 14:00 |
| Daily Red $30 | 15:00 |
| Daily Rebuys $12 | 15:00 |
| Daily Red $100 | 16:00 |
Blue
| | |
| --- | --- |
| Name | Time (GMT+0) |
| Daily 6-Max $5 | 17:00 |
| Daily Blue $30 | 18:00 |
| Daily Rebuys $5 | 18:00 |
| Daily Blue $50 | 19:00 |
| Daily 6-Max $20 | 19:00 |
| Daily Blue $100 | 20:00 |
| Daily Blue $10 | 20:00 |
| Daily Blue $40 | 21:00 |
| Daily Rebuys $10 | 21:00 |
| Daily Blue $20 | 22:00 |
| Daily Blue $15 | 23:00 |
| Daily Blue $5 | 0:00 |
Green
| | |
| --- | --- |
| Name | Time (GMT+0) |
| Daily 6-Max $50 | 01:00 |
| Daily Green $20 | 02:00 |
| Daily Rebuys $4 | 02:00 |
| Daily 6-Max $10 | 03:00 |
| Daily Green $10 | 04:00 |
| Daily 6-Max $40 | 05:00 |
| Daily Green $15 | 06:00 |
| Daily Green $25 | 07:00 |
| Daily Green $5 | 08:00 |
Weekend Majors
The daily schedule does not change on the weekend but the guaranteed prize pools of all tournaments are doubled on Sunday.
Special Tournaments
AllInAsia Poker sometimes runs special tournaments such as live tournament satellites and freerolls with high guarantees.
AllInAsia Poker SNG Schedule and Offering
None of the AllInAsia networks that we looked into, offer classic sit&go tournaments. GG Network does offer a lottery type SNG called Furtune Spin but we go into more detail about those in the Special SNGs chapter of this review.
Headsup (HU) SNGs
Headsup SNG's not available on AllinAsia.
Hyper SNGs 
Hyper SNG's not available on AllinAsia.
Twister and Spin & Goes (Special SNGs)
As mentioned, the only SNG variant offered on any of the AIA networks we took a look at is Fortune Spins.
Once three players have registered The Fortune Wheel will spin. Each spin gives players the opportunity to win one of three prizes. You can win 4 or 8 times the buy-in.
If the wheel stops on a Fortune Cookie, all three players receive a Fortune Cookie and the game does not get played. Inside each Fortune Cookie, there is a Cookie Card. Collect all 10 cards to earn a cash prize.
AllInAsia Poker Freerolls
As GG Network and its skins are to only MTT provider that you can access through AllinAsia, they are also the only freeroll providers.
They are called Chinese Zodiac Freerolls. The Chinese Zodiac Freeroll is a free tournament series that starts every two hours. You can win special Chinese Zodiac avatar unique to each tournament as well as a Turbo Satellite to Bounty Hunters $31.50 (first place), and a Turbo Satellite to Bounty Hunters $10.50 ticket (second and third place).
Welcome Freerolls
There are no welcome freerolls currently available.
Specials & Private Freerolls
We currently don't offer private Freerolls on AllinAsia.
AllInAsia Poker Software
As we mentioned before, there are multiple Poker Networks available to AllinAsia members. Therefore the software you can use, depends on the network you play on.
In the table below we listed the platforms available on each of the three biggest Asian poker networks.
| | |
| --- | --- |
| Room | Compatibility |
| GG Network | PC Software, ANDROID & IOS App |
| IDNPLAY | HTML5 Browser App, ANDROID & IOS App |
| P8POKER | PC Software, ANDROID & IOS App |
AllInAsia Poker Client
Most of the Asian poker networks use extremely modern and well-designed clients to provide great poker service.
GG Network Poker Client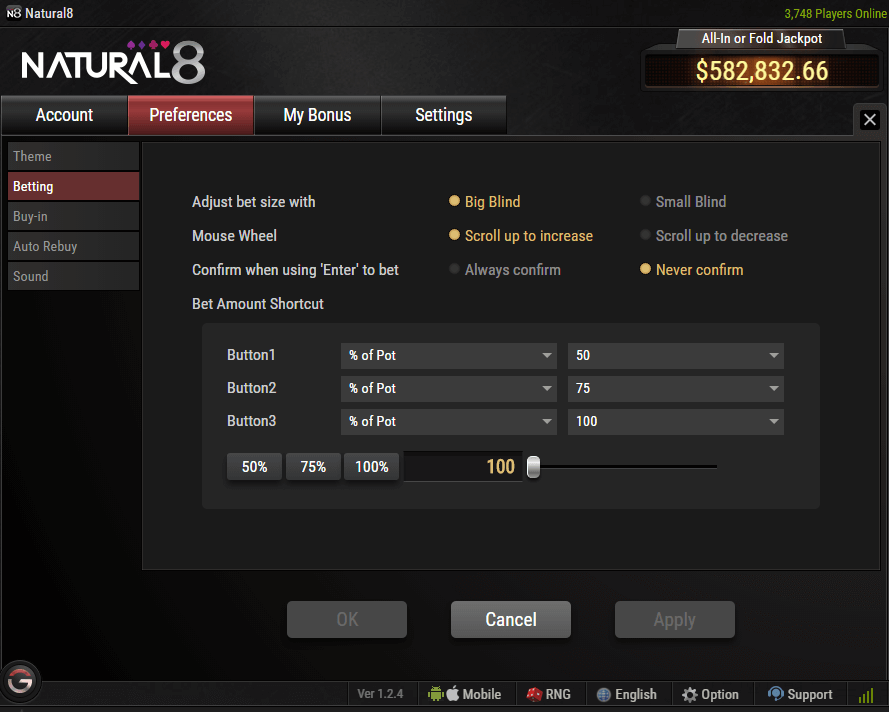 The GG Network client offers great usability and it's easy to navigate. You can customize your betting shortcuts, set-up auto rebuys and add-ons as well as the general look of the tables.
GG Network Lobby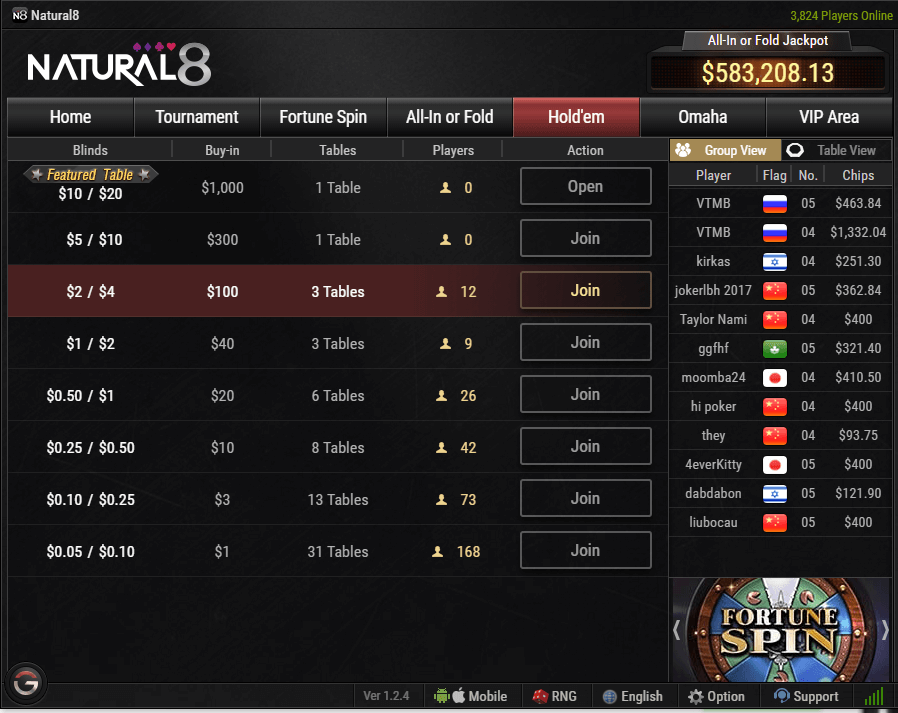 In addition to the game tabs dividing Tournaments, Fortune Spin, All-in or Fold, Hold'em and Omaha games, you can choose between a table and group view. You can also sort tournaments by format.

IDNPLAY Client
IDNPLAY provides an amazing gaming experience for the users. To ensure that the players really enjoy playing on IDN or their partner sites, they keep developing their cutting edge gaming technology.
IDN Poker client is one of the most elegantly designed clients on the market. Be it on PC or Mobile you will surely enjoy the simplicity and usability of their gaming software.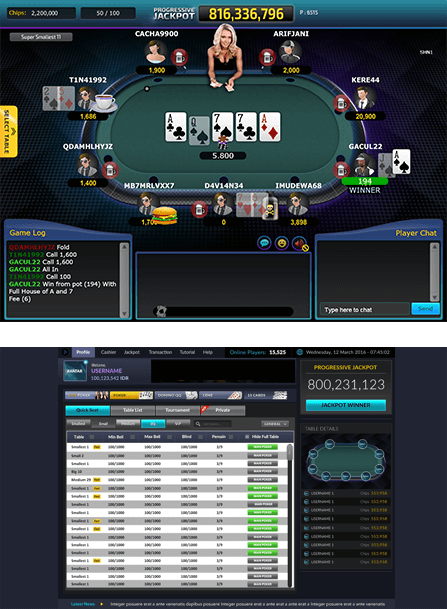 One of the most ground breaking innovations IDN Poker has to offer is definitely Live Texas Hold'em. It is the first ever online poker game presented by a live dealer.
IDNPLAY Lobby
IDN's lobby is easy to navigate using tabs and filters that allow you to find your favorite games easily. If you a Quick Seat feature to find your spot at the Cash Game Tables, that is available as well.
P8Poker Client
P8Poker's Client is the least modern of the three. It offers some basic customizations including theme layouts and avatars but it is pretty limited.
P8Poker Lobby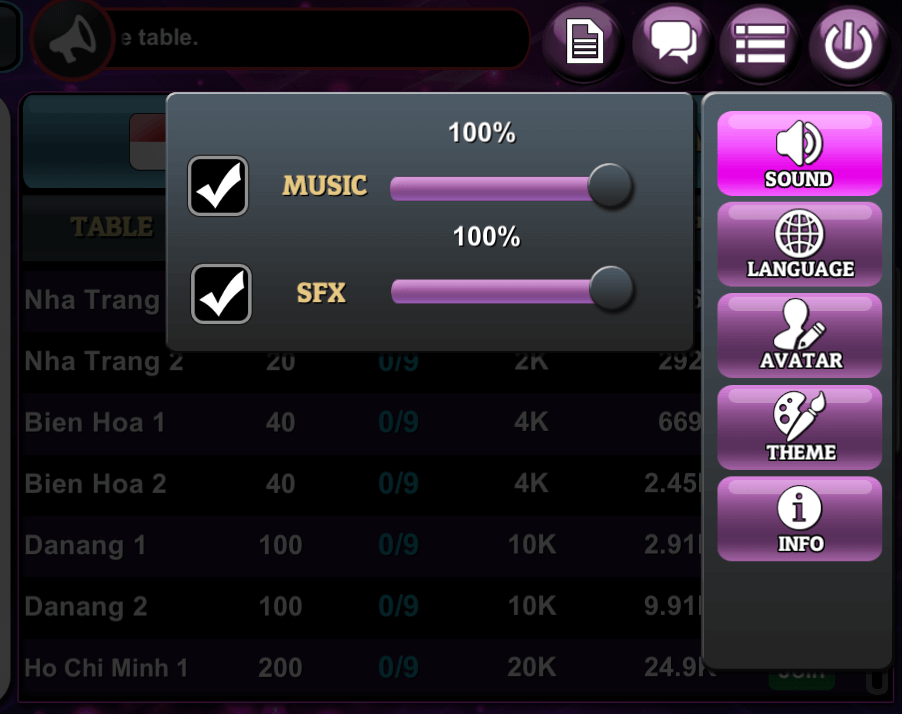 P8Poker Lobby is straight forward when it comes to navigation but the fact that you have to download a separate version for every game (NLHE, PLO etc.) can get in a way of your customer experience.
Cash Games Multi Table Capacity
The number of Cash Game tables you can open varies from network to network, but they all allow you to open multiple tables at once.
MTT & SNG Multi Table Capacity
The number of MTT and SNG tables you can open varies from network to network, but they all allow you to open multiple tables at once.
Hand Converter and Histories
None of the AllinAsia networks save hand histories which in turn attracts even more recreational players.
AllInAsia Poker Rake Structure and Caps
All Players who play on any network offered by AllinAsia receive a 35% Rakeback weekly. The Rakeback is paid out into player account every Monday around 1-3 PM CET. Players can find the weekly transaction statements in their accounts.
At IDNPlay the rake is set at 3% no CAP and the details about the GG Networks rake structure are available in the table below.
MTT & SNG Fees
The MTT fees are extremely low on the AllinAsia networks. GG Network charges only 5% tournament fees while you pay no fees for playing satellites.
AllInAsia Poker Rakeback Offer
Our partnership with AllInAsia Poker allows us to offer the best AllInAsia Poker deals to our members. You also get access to a wealth of value-added promotions.
In addition to 35% rakeback, our members also get to participate in our AllinAsia Chase and VIP Leaderboard.
Conclusion
AllinAsia is a great choice for anyone that would like to play on extremely juicy Asian poker sites without the hassle figuring out different deposit and withdrawal methods or creating separate accounts for each network. With AllInAsia you will get one username and you can use it for any network you wish to play on. Their direct cashier allows you to make fast and secure deposits and instant withdrawals.
There are no User Reviews yet. Let us know your experience now!