Setup Poker Hand of the Week 
This hand comes from the Triton Million London 2019, which was the biggest buy-in poker tournament ever held, with a massive buy-in of £1,000,000 ($1,252.756).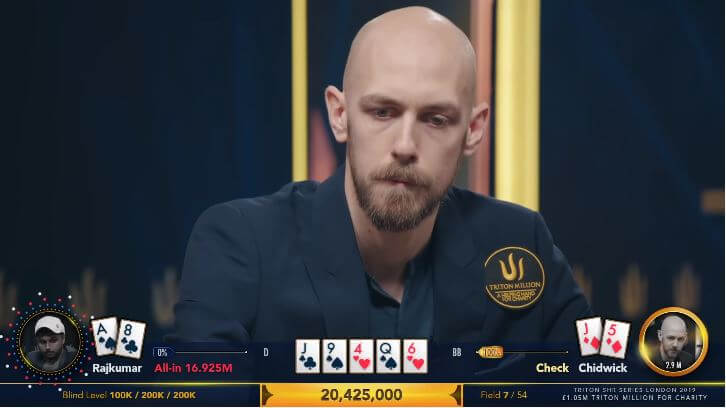 Consequently only the best of the best took part in this super high roller event and as you always have the same players competing in the biggest buy-in events, they know each others game pretty well.
Vivek Rakjumar has Stephen Chidwick covered at the start of the hand and the effective stack size is 23 big blinds.
Poker Hand of the Week Action
Preflop Action:
At Blinds of 100,000/200,000 and a 20,000 Ante Vivek Rajkumar, who is chipleader at this point, raises it up from the button with A♠8♣ to 450,000 and Stephen Chidwicks defends his big blind with J♦5♦, which is both standard. Pot size: 1,400,000
Flop:
The flop comes J♣9♠4♥, which is pretty bad for Rajkumar as Jack-high flops hit the defending range of the big blind pretty well.
Chidwick checks his top pair and, although having a range disadvantage, Vivek decides to make a small cbet of 300,000 with the intention to take the pot down right here, but Stevie is going nowhere. Pot size: 1,800,000
Turn:
The Q♠ on the turn is an interesting card as it is better for Vivek's range, which includes KQ, QT,KT and he therefore fires a second barrel of 850,00 into 1,800,000. With this bet he puts a lot of pressure on Chidwick and will most likely make any 9 fold.
However, Stephen has a pair of Jacks and decides it is to strong to fold so he check-calls again leaving himself less than pot behind. Pot size: 3,500,000
River:
The 6♥ on the river is a blank. Stephen Chidwick has Stack-to-pot ratio (SPR) of  less than 1, 0.83 to be more precise, and he checks for a third time.
Vivek has only Ace-high he knows he has to bet big here, if he wants to win the hand. This is what he does as he puts Stephen All-In.
Chidwick then throws all of his remaining time bank chips at once in to have enough time to think this through as well as to might get a read on Rajkumar.
After 40 seconds, Stephen Chidwick throws one chip into the middle signalising a Call and he takes down a massive pot of 9,300,000 with Jack-high no kicker.
Poker Hand of the Week Analysis
This hand is a prove, why many name Stephen Chidwick, when it comes to the best tournament players on the planet.
Chidwick seems to know throughout the entire hand, where he is at. Moreover, Stevie knows that Vivek Rajkumar is an aggressive player and that he will put a lot of pressure on being massive chipleader on the table.
In addition to that, Stephen Chidwick is aware that he should call on a blank river with a SPR of 0,83 having called the flop and the turn.
He throws all of his time bank chips in to have enough time to work out that his read is right and then calls.
Well played by both players, but Stephen Chidwick was always one step ahead.
Watch Brian Rast's Hero Call against Phil Laak here: 
Earn up to 60% partypoker rakeback when signing up through us!
When signing up through VIP-Grinders.com on partypoker, you can now earn up to 60% cashback on partypoker plus take part in the following exclusive VIP-Grinders Promotions with massive extra value:
$30 Welcome Bonus in SPINS Tickets
Terms and conditions apply. New customer offer and 18+ only. Should you require help regarding your betting pattern, please visit www.begambleaware.org