Online tournament crusher Patrick Leonard has made a ridiculous prop bet with his friend Jason McConnen. The man rated as the best online MTT grinder today has wagered that he will move to Boston, Massachusetts, USA, within one year and enroll at the university.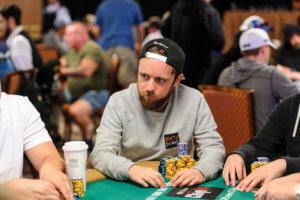 Anything Can Happen on Holiday
Leonard has been travelling around North America with a group of friends this month. The lads have been following a rap star on his tour around a selection of major cities. From New York, to Toronto, and then Chicago, the group has seen some amazing places.
Over the next 2 weeks I'm going to follow @Santandave1 around North America on tour. Here is the schedule, I'll document every trip on this "thread" the tour goes New York, Toronto, Chicago, Boston,Washington, LA, San Fran and Vancouver. Let's fucking go! #pyschodrama pic.twitter.com/N9xbNDtRBN

— Patrick Leonard (@padsPokerSquad) November 13, 2019
Next on the itinerary was Boston, Massachusetts. By now the guys must have been feeling the pace from all the partying.
Even a comprehensive tour of the best pizza joints in New York can't have been enough to soak up all the booze that was being consumed. It didn't matter though as everyone was having a great time. Leonard said,
"What a ridiculous night in Boston, I've never loved a city from the get go like this, the tour just gets better…"
We came to Boston with virtually no sleep for leg 4, but ✅✅✅✅ I literally just woke up and laughed out loud for the last 20 minutes. Funniest night I've ever had I think. Somehow got to stumble to Washington for leg 5 of the @Santandave1 #pyschodrama tour let's gooooo pic.twitter.com/QKhSupYf1h

— Patrick Leonard (@padsPokerSquad) November 17, 2019
Patrick Leonard Makes Drunken Bet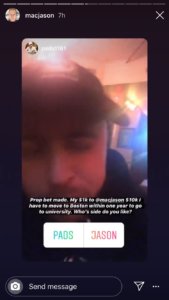 During the night, Leonard managed to negotiate a prop bet with insane odds of 10-1. It is unclear who proposed the wager, but the net result was Leonard only risking $1,000 to win $10,000.
"Prop bet made. My $1k to @macjason $10k I have to move to Boston within one year to go to university. Whose side do you like?"
Of course, the amounts at play here are nothing but chump change to a man who has had so much success over both the virtual and real life felt. Leonard could quite easily just write off the bet without a hint of worry.
On the other hand, the best poker players are notoriously stubborn characters. We might well see Leonard up sticks from his comfortable home in Budapest and get back into the grind of university lectures.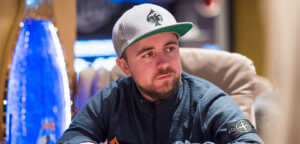 Don't Bet Against Him
As the tour came to a close, what kind of man Patrick Leonard really is started to come out in his social media postings. His learning about the different social issues in the US that Europeans don't fully experience seems to have given him ideas about his next set of travel plans.
"it's becoming more and more apparent to me that the next trip needs to be one where I can make significant changes to other people's lives."
We shouldn't bet against Leonard arriving back in the USA before long, with maybe more than university on his mind. This is a guy who clearly follows through with his ideas.
Earn up to 60% partypoker rakeback when signing up through us!
When signing up through VIP-Grinders.com on partypoker, you can now earn up to 60% cashback on partypoker plus take part in the following exclusive VIP-Grinders Promotions with massive extra value:
$30 Welcome Bonus in SPINS Tickets
New Customers Only | 18+ | T&Cs Apply
Upon making your first deposit of £/€/$20, you will receive $30 in SPINS tickets, up to 60% rakeback, our Exclusive Party & Bwin Chase along with other exclusive promotions and races.
Terms and conditions apply. New customer offer and 18+ only. Should you require help regarding your betting pattern, please visit www.begambleaware.org.