New and improved loyalty program to be launched in May
Partypoker recently signed poker superstars Anatoly Filatov and Johnny Lodden as new ambassadors and organized the first Partypoker Million with a massive guaranteed prize pool of more than 7.5 Million Dollar.
Now they are also launching a new and improved loyalty program in May 2017.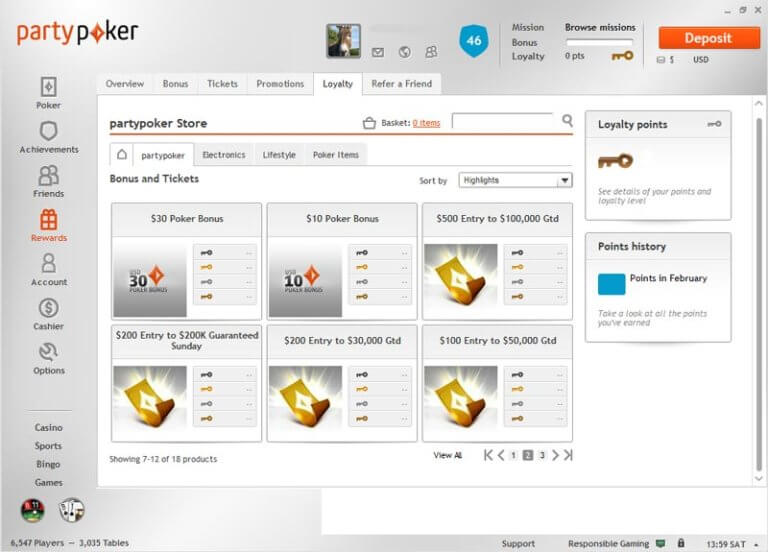 In preparation for the launch, they are offering a sale in the existing points store for a limited time only, where you can make great bargains!
The loyalty store sale includes but is not limited to: discounted tickets, extended expiry dates and more chances to buy cash.
Find out more about the new Loyalty Program here
Discounted tickets
Partypoker is now offering 10% off on all existings tournament tickets.
What that means exactely is shown in the table below:

Current Ticket Price
Discounted Ticket Price
Ticket Name
Palladium
Gold
Silver
Bronze
Palladium
Gold
Silver
Bronze
$5.50 Jab
185
166
$22 Contender
220
300
600
198
270
540
$215 Title Fight
1720
1548
$109 Upper Cut
1000
1500
3000
900
1350
2700
$530 Ticket
4500
7000
4050
6300

Extended expiry dates
During the sale, players will have the chance to buy tickets worth $109 and $215 with expiry dates extended from the standard 30 days to 180 days.
More chances to buy cash
The loyalty sale is also offering more chances and higher amounts of cash.
Players can now buy $500 cash twice a week, which is double the amount that can usually bought per week!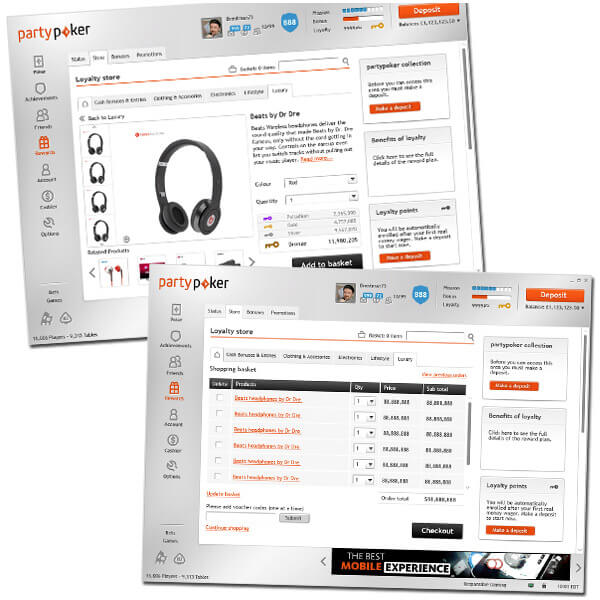 Tournament Dollars
Tournament dollars for all available buy-ins are now also available in the Partypoker Loyalty Store.
Sit & Go Hero Tickets
Sit and Go Hero is Partypoker's Spin and Go Format and offers the chance to win a fortune with a small buy-in.
You can now purchase $20 and $100 Sit & Go Hero tickets, with the chance to win $1.1 Million in the Loyalty Store Sale.
Managing Director of partypoker Tom Waters said:
"Players do not have long to wait for the new and significantly improved partypoker loyalty program. We have been reviewing our loyalty program for a while and after listening to players feedback I feel we have really be able to create a product that will reward everyone. We also wanted to give players the opportunity to use their existing loyalty points and receive great value through the store sale".