Former Arsenal forward Nicklas Bendtner has revealed how he lost £5.4 million playing high stakes poker. The Danish international claims to have been an avid texas hold'em poker fan since he was 19-years-old.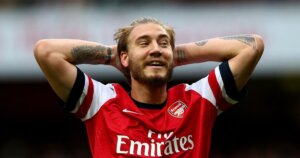 Nicklas Bendtner – A Typical Tale
Bendtner's tale is typical of young footballers who earn too much too soon. Often immature, the young men cannot deal with their new found fortune in a responsible way.
The recent revelation came on Danish TV in a reality style programme alongside his model girlfriend Philine Roepstorff.
He told how during his early days at Arsenal he would take part in high stakes games in London and things didn't always go to plan. UK poker can be unforgiving.
Bendtner said,
"I lost a lot of money, an unrealistic amount. It's hard to say how much it was in reality, but I'd estimate that it was almost 50 million Korona (around £5.4m)."
Even though this sounds like a disaster it is unlikely to have been a huge loss compared to his massive earnings.
As an international player contracted to one of the biggest clubs in Europe Bendtner probably won't have noticed any difference in lifestyle.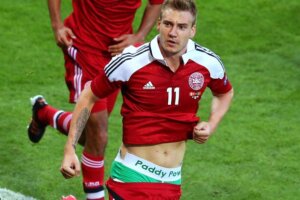 Always Courting Controversy
Nicklas Bendtner is one of those sporting characters that is never too far away from controversy. The 32-year-old has hit the headlines many times over his career.
Ten years ago, during his rise to stardom, Bendtner was photographed leaving a London nightclub with his trousers around his ankles looking more than a little worse for wear.
Eight years ago Bendtner caught the attention of the gambling industry after he was fined €80,000 for pulling off an advertising stunt during a Euro 2012 game against Portugal.
After scoring he whipped his shorts down to reveal the Paddy Power logo in a breach of strict UEFA regulations.
The above were harmless, minor transgressions but what came next shocked football fans.
In November 2018 Bendtner was found guilty of assaulting a taxi driver and sentenced to 50 days in prison in his native Denmark. He was reported to have been drunk beyond control.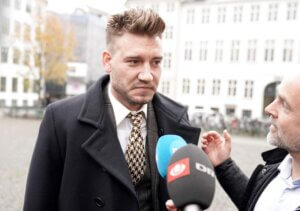 Not an Addict
Bendtner claims that while he lost millions over a decade he never considered himself a gambling addict.
"I wouldn't say I've had a gambling problem at all. I've always been able to control it."
"However in the past I played in really big games. One night in London things got out of control, and they could have ended up really wrong."
Now, a much more mature man, Nicklas Bendtner comes across as quite mellow. He hasn't given up on poker entirely either.
Clearly a true fan of the game, he now plays casual home games with friends for a meagre buy-in of only about £12.
"Now I mostly play for the sake of the game."
"I'm due to host a poker night with a new group of friends. We just put in 100 crowns each."
His reality TV show, produced with his girlfriend, is doing well in Denmark. And while his football career looks to be coming to a natural close life appears to be good.
Check out the latest poker news to see what's going on in the poker world.
Earn up to 60% partypoker rakeback when signing up through us!
When signing up through VIP-Grinders.com on partypoker, you can now earn up to 60% cashback on partypoker plus take part in the following exclusive VIP-Grinders Promotions with massive extra value:
$30 Welcome Bonus in SPINS Tickets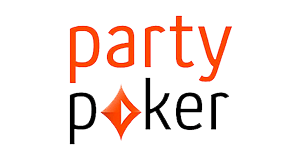 T&Cs | 18+ Only
Upon making your first deposit of £/€/$20, you will receive $30 in SPINS tickets, up to 60% rakeback, our Exclusive Party & Bwin Chase along with other exclusive promotions and races.
New customer offer
$30 Tickets
60% VIP | Chase
Terms and conditions apply. New customer offer and 18+ only. Should you require help regarding your betting pattern, please visit www.begambleaware.org.