About the Cash Game Festival Bulgaria
The Cash Game Festival is a live cash game tour, which was launched in 2015 and since that is touring through Europe. With successful stops in Tallinn, London, Malta and Gibraltar it has established itself as the live cash game event.
Today's Freeroll Password: "CGFBULGARIA"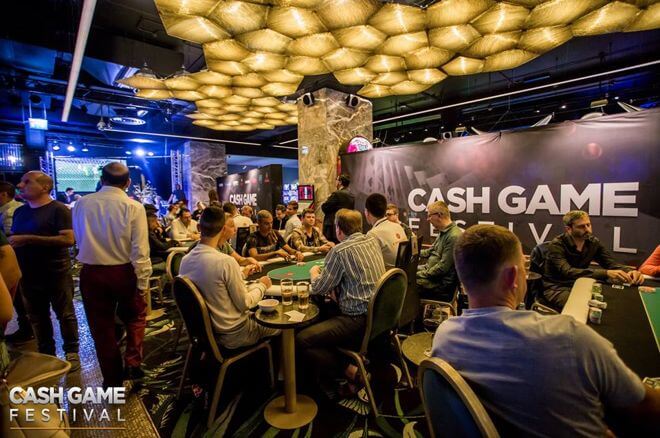 At the live events they are offering No Limit Hold'em, Pot-Limit Omaha, Dealer's Choice and Six-Plus Hold'em and Sviten Special plus a wide range of limits from €1/€2 to €25/€50 with up to 20 tables running at the same time and 24/7.
In addition to that, the festival features live online broadcasts which can be watched on Twitch.
2017 has been a very good year for the Cash Game Festival as the number of stops has grown from 5 to 11!
Next up is Bulgaria Sunny Beach from 9th to 13th of August:
The event will be hosted by Platinum Casino and the best thing is you can be a part of it as VIP-Grinders and Betsafe Poker are giving away an all-inclusive package worth €1,630 FOR FREE!
What does the free package include?
Our all inclusive package includes:
4 nights at a luxury hotel for 2 persons worth €480.
3 x €100 Daily stake on cash tables.
€250 TV table stake.
2 x €200 Hospitality Packages for two persons.
€200 Spending/Travel money.
How can I win the free Cash Game Festival Package?
After reading this you will ask yourself how can I win this free Cash Game Festival Package?
The answer is very simple we are organizing an exclusive Freeroll, which is open for all players, who have signed up through us at Betsafe.
The Freeroll will take place on Sunday, the 30th of July at 6 pm CET.
If you haven't an account at Betsafe yet and you want to travel and play in the Cash Game Festival Bulgaria for free, then sign up now!
Please Note: Package will be given away in a special freeroll in which all players, who signed up through us and tracking was confirmed, can participate.

You can find the passwords for our freeroll in your VIP-Grinders account under ´Promotions` tab if you submitted your username.

The password will also be announced in this article on Sunday morning so stay tuned!
Details of the Cash Game Festival Freeroll
Below you can find all the details of the freeroll, where we give away an all-inclusive package worth €1,630:
Brand: Betsafe
Date: Sunday, 30th July
Time: 6 PM CET
Starting stack: 2000 Chips
Levels: 10 Minutes
Freeroll Name: Cash Game Festival Bulgaria Freeroll
Prizes & Payout: First Prize €1,630 Package
The freeroll has already been added, you can find it in the Betsafe Poker Lobby under "Tournaments" – "Special" (see screenshot):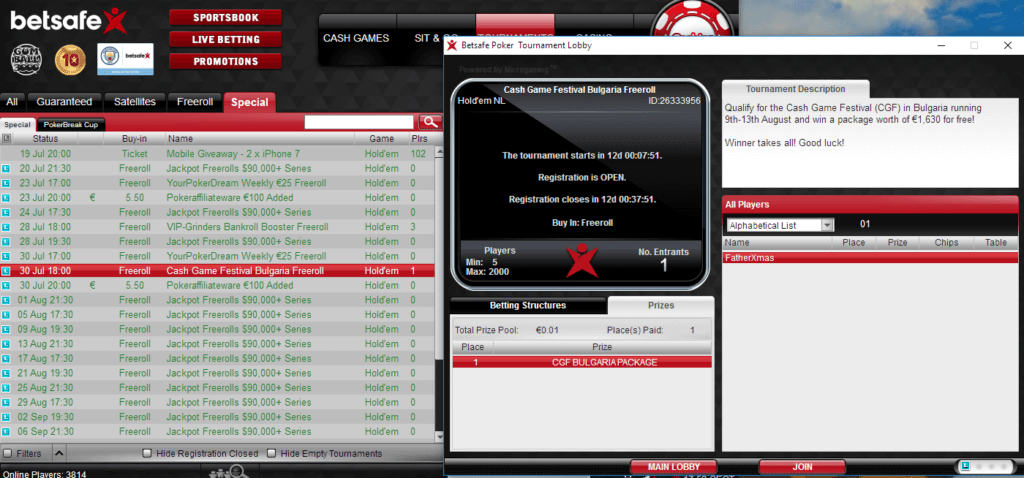 Please Note: You need to submit your Betsafe username in your account with us here in order to access the freeroll. You can find the password in  the VIP-Grinders Member system under the "Promotions" tab once your tracking has been confirmed
Terms and Conditions
By entering the freeroll you are agreeing to the following Terms and Conditions:
Package winners are obliged to wear a Betsafe sticker when playing at Cash Game Festival.
No alternative prizes are possible and no compensation is offered if the winner can't make it to the event. There is no cash alternative for prizes won. The winner has to confirm participation to receive spending/travel money. If the winner cannot go to CGF, second finisher of this tournament will get the prize and so on.
The Winner will take part of the Propbet what is organised between Martin "Franke" von Zweigbergk and Betsafe Ambassador "HeyMonia". Give an video interview, Play on a TV table and take part of the Hospitality Activities.
Here are some impressions what is awaiting you at the Cash Game Festival Bulgaria: