Bigger and better
The XL Eclipse Series is the biggest online poker series to ever take place at 888poker with 197 events within 15 days and a staggering prize pool of 8 Million Dollar! And the best thing is it is already up and running!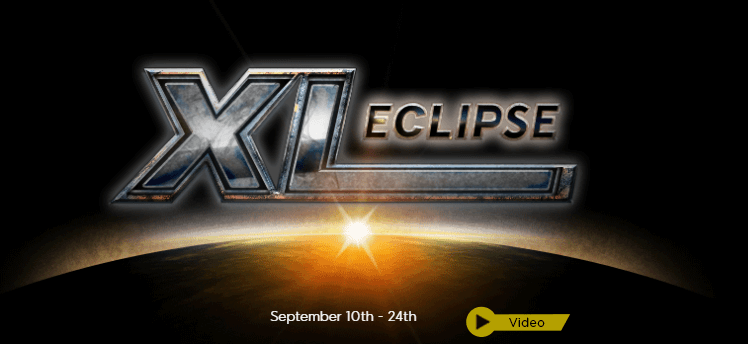 The XL Eclipse series kicked off on Sunday and so far it has been a great success with very decent numbers.
What's new?
To make a long story short, the XL Eclipse series is bigger than ever before as the number of events has been increased to 197 during 15 days of non-stop action.
Not to forget the massive increased prize pool of 8 Million Dollar. In addition, XL Eclipse offers a wide range of buy-ins starting from only $5 up to $5,200 for the Super High Roller Event. That means, there is something for every taste and bankroll.
The Main Event Tournament in each Championship Series will continue to offer one of the largest prize pools in the industry, with a whopping $1,500,000 up for grabs!
You can find all events of the XL Eclipse Series in the 888poker Lobby under "Tournaments" – "XL Eclipse".
Qualify now online from only 1 Cent!
Also the XL Eclipse Series has already started, you still got the chance to qualify for all upcoming events on the cheap.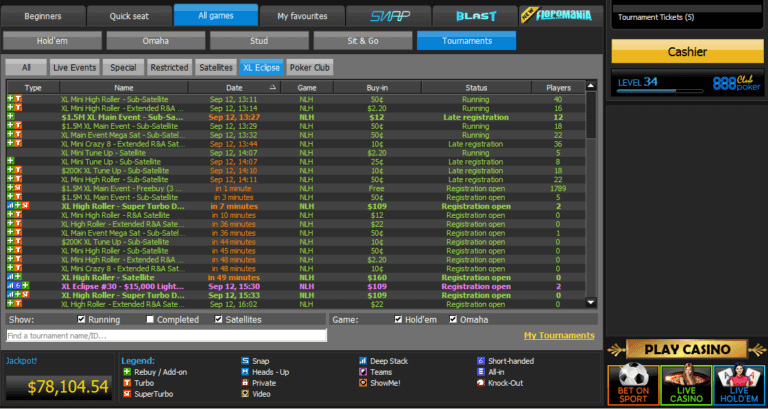 The Online Satellites start from only 1 Cent for the cheaper buy-ins and go up until $320 for the Super High Roller Satellites.
Use the chance to win your share of 8 Million Dollar for only a couple of bucks and get a free poker bankroll of $88 just by signing up through us!
Full Schedule of the XL Eclipse Series
See the full schedule of the XL Eclipse Series below:
| | | | | |
| --- | --- | --- | --- | --- |
| Date | Event # | Buy-in | Tournament | Guarantee |
| Sept. 10 | 1 | $109 | Sunday Lightning | $30,000 |
| Sept. 10 | 2 | $55 | Sunday Breeze | $45,000 |
| Sept. 10 | 3 | $30 | Sunday Deepstack Swordfish | $30,000 |
| Sept. 10 | 4 | $215 | Mega Deep | $15,000 |
| Sept. 10 | 5 | $22 | Mini Mega Deep | $40,000 |
| Sept. 10 | 6 | $30 | Sunday Swordfish | $20,000 |
| Sept. 10 | 7 | $160 | Opening Event | $300,000 |
| Sept. 10 | 8 | $12 | Mini Opening Event | $50,000 |
| Sept. 10 | 9 | $55 | Sunday Monsoon | $45,000 |
| Sept. 10 | 10 | $1,050 | Whale | $250,000 |
| Sept. 10 | 11 | $109 | Sunday Challenge | $100,000 |
| Sept. 10 | 12 | $109 | Sunday Tornado | $30,000 |
| Sept. 10 | 13 | $215 | Turbo Mega Deep | $50,000 |
| Sept. 10 | 14 | $22 | Mini Turbo Mega Deep | $20,000 |
| Sept. 10 | 15 | $55 | Turbo Opening Event | $30,000 |
| Sept. 10 | 16 | $75 | Super Turbo Opening Event | $10,000 |
| Sept. 11 | 17 | $109 | Lightning Six Max | $15,000 |
| Sept. 11 | 18 | $55 | Breeze | $15,000 |
| Sept. 11 | 19 | $30 | Deepstack Swordfish | $15,000 |
| Sept. 11 | 20 | $160 | Crocodile | $20,000 |
| Sept. 11 | 21 | $30 | Swordfish | $15,000 |
| Sept. 11 | 22 | $55 | Monsoon | $20,000 |
| Sept. 11 | 23 | $109 | Omaha | $15,000 |
| Sept. 11 | 24 | $12 | Mini Omaha | $5,000 |
| Sept. 11 | 25 | $22 | Monday Royal | $10,000 |
| Sept. 11 | 26 | $22 | Monday Flush | $10,000 |
| Sept. 11 | 27 | $109 | Tornado | $15,000 |
| Sept. 11 | 28 | $55 | Snap | $15,000 |
| Sept. 11 | 29 | $5 | Mini Snap | $5,000 |
| Sept. 12 | 30 | $109 | Lightning Six Max | $15,000 |
| Sept. 12 | 31 | $55 | Breeze | $15,000 |
| Sept. 12 | 32 | $30 | Deepstack Swordfish | $15,000 |
| Sept. 12 | 33 | $160 | Crocodile | $40,000 |
| Sept. 12 | 34 | $30 | Swordfish | $15,000 |
| Sept. 12 | 35 | $55 | Monsoon | $20,000 |
| Sept. 12 | 36 | $2,100 | High Roller | $500,000 |
| Sept. 12 | 37 | $215 | Mini High Roller | $200,000 |
| Sept. 12 | 38 | $109 | Tuesday Challenge | $50,000 |
| Sept. 12 | 39 | $109 | Tornado | $15,000 |
| Sept. 12 | 40 | $160 | Turbo High Roller | $35,000 |
| Sept. 13 | 41 | $109 | Lightning Six Max | $15,000 |
| Sept. 13 | 42 | $55 | Breeze | $15,000 |
| Sept. 13 | 43 | $30 | Deepstack Swordfish | $15,000 |
| Sept. 13 | 44 | $160 | Crocodile | $20,000 |
| Sept. 13 | 45 | $30 | Swordfish | $15,000 |
| Sept. 13 | 46 | $55 | Monsoon | $20,000 |
| Sept. 13 | 47 | $109 | Eight Max | $50,000 |
| Sept. 13 | 48 | $12 | Mini Eight Max | $10,000 |
| Sept. 13 | 49 | $35 | Wednesday Challenge | $35,000 |
| Sept. 13 | 50 | $109 | Tornado | $15,000 |
| Sept. 13 | 51 | $30 | Turbo Eight Max | $10,000 |
| Sept. 13 | 52 | $160 | Americas | $20,000 |
| Sept. 14 | 53 | $55 | Turbo Americas | $5,000 |
| Sept. 14 | 54 | $109 | Lightning Six Max | $15,000 |
| Sept. 14 | 55 | $55 | Breeze | $15,000 |
| Sept. 14 | 56 | $30 | Deepstack Swordfish | $15,000 |
| Sept. 14 | 57 | $160 | Crocodile | $20,000 |
| Sept. 14 | 58 | $30 | Swordfish | $15,000 |
| Sept. 14 | 59 | $55 | R&A | $60,000 |
| Sept. 14 | 60 | $5 | Mini R&A | $10,000 |
| Sept. 14 | 61 | $55 | Monsoon | $20,000 |
| Sept. 14 | 62 | $215 | Quarterback | $100,000 |
| Sept. 14 | 63 | $44 | Mini Quarterback | $30,000 |
| Sept. 14 | 64 | $12 | Thursday Challenge | $25,000 |
| Sept. 14 | 65 | $109 | Tornado | $15,000 |
| Sept. 14 | 66 | $109 | Turbo Quarterback | $25,000 |
| Sept. 15 | 67 | $109 | Lightning Six Max | $15,000 |
| Sept. 15 | 68 | $55 | Breeze | $15,000 |
| Sept. 15 | 69 | $30 | Deepstack Swordfish | $15,000 |
| Sept. 15 | 70 | $160 | Crocodile | $20,000 |
| Sept. 15 | 71 | $30 | Swordfish | $15,000 |
| Sept. 15 | 72 | $55 | Monsoon | $20,000 |
| Sept. 15 | 73 | $150 | Knockout | $30,000 |
| Sept. 15 | 74 | $35 | Mini Knockout | $15,000 |
| Sept. 15 | 75 | $35 | Friday Challenge | $25,000 |
| Sept. 15 | 76 | $109 | Tornado | $15,000 |
| Sept. 15 | 77 | $75 | Turbo Knockout | $10,000 |
| Sept. 16 | 78 | $109 | Lightning Six Max | $15,000 |
| Sept. 16 | 79 | $55 | Breeze | $15,000 |
| Sept. 16 | 80 | $215 | Octopus | $50,000 |
| Sept. 16 | 81 | $30 | Deepstack Swordfish | $15,000 |
| Sept. 16 | 82 | $160 | Crocodile | $20,000 |
| Sept. 16 | 83 | $55 | Saturday R&A | $25,000 |
| Sept. 16 | 84 | $30 | Swordfish | $15,000 |
| Sept. 16 | 85 | $55 | Monsoon | $20,000 |
| Sept. 16 | 86 | $88 | Crazy 8 | $88,000 |
| Sept. 16 | 87 | $8.80 | Mini Crazy 8 | $20,000 |
| Sept. 16 | 88 | $55 | Saturday Challenge | $25,000 |
| Sept. 16 | 89 | $109 | Tornado | $15,000 |
| Sept. 16 | 90 | $55 | Turbo Crazy 8 | $15,000 |
| Sept. 17 | 91 | $109 | Sunday Lightning | $30,000 |
| Sept. 17 | 92 | $55 | Sunday Breeze | $45,000 |
| Sept. 17 | 93 | $30 | Sunday Deepstack Swordfish | $30,000 |
| Sept. 17 | 94 | $215 | Mega Deep | $150,000 |
| Sept. 17 | 95 | $22 | Mini Mega Deep | $40,000 |
| Sept. 17 | 96 | $30 | Sunday Swordfish | $20,000 |
| Sept. 17 | 97 | $160 | Tune Up | $200,000 |
| Sept. 17 | 98 | $12 | Mini Tune Up | $25,000 |
| Sept. 17 | 99 | $55 | Sunday Monsoon | $45,000 |
| Sept. 17 | 100 | $1,050 | Whale | $250,000 |
| Sept. 17 | 101 | $109 | Sunday Challenge | $100,000 |
| Sept. 17 | 102 | $109 | Sunday Tornado | $30,000 |
| Sept. 17 | 103 | $215 | Turbo Mega Deep | $50,000 |
| Sept. 17 | 104 | $22 | Mini Turbo Mega Deep | $20,000 |
| Sept. 17 | 105 | $55 | Turbo Tune Up | $30,000 |
| Sept. 17 | 106 | $75 | Super Turbo Tune Up | $10,000 |
| Sept. 18 | 107 | $109 | Lightning Six Max | $15,000 |
| Sept. 18 | 108 | $55 | Breeze | $15,000 |
| Sept. 18 | 109 | $30 | Deepstack Swordfish | $15,000 |
| Sept. 18 | 110 | $160 | Crocodile | $20,000 |
| Sept. 18 | 111 | $30 | Swordfish | $15,000 |
| Sept. 18 | 112 | $55 | Monsoon | $20,000 |
| Sept. 18 | 113 | $109 | Omaha Hi-Lo | $10,000 |
| Sept. 18 | 114 | $12 | Mini Omaha Hi-Lo | $5,000 |
| Sept. 18 | 115 | $22 | Monday Royal | $10,000 |
| Sept. 18 | 116 | $22 | Monday Flush | $10,000 |
| Sept. 18 | 117 | $109 | Tornado | $15,000 |
| Sept. 18 | 118 | $55 | ShowMe! | $10,000 |
| Sept. 18 | 119 | $5 | Mini ShowMe! | $3,000 |
| Sept. 19 | 120 | $109 | Lightning Six Max | $15,000 |
| Sept. 19 | 121 | $55 | Breeze | $15,000 |
| Sept. 19 | 122 | $30 | Deepstack Swordfish | $15,000 |
| Sept. 19 | 123 | $160 | Crocodile | $40,000 |
| Sept. 19 | 124 | $30 | Swordfish | $15,000 |
| Sept. 19 | 125 | $55 | Monsoon | $20,000 |
| Sept. 19 | 126 | $5,200 | Super HR Chip-In | $500,000 |
| Sept. 19 | 127 | $215 | Mini Chip-In | $150,000 |
| Sept. 19 | 128 | $109 | Tuesday Challenge | $40,000 |
| Sept. 19 | 129 | $109 | Tornado | $15,000 |
| Sept. 19 | 130 | $55 | Turbo Chip-In | $15,000 |
| Sept. 20 | 131 | $109 | Lightning Six Max | $15,000 |
| Sept. 20 | 132 | $55 | Breeze | $15,000 |
| Sept. 20 | 133 | $30 | Deepstack Swordfish | $15,000 |
| Sept. 20 | 134 | $160 | Crocodile | $20,000 |
| Sept. 20 | 135 | $30 | Swordfish | $15,000 |
| Sept. 20 | 136 | $55 | Monsoon | $20,000 |
| Sept. 20 | 137 | $109 | Eight Max | $50,000 |
| Sept. 20 | 138 | $12 | Mini Eight Max | $10,000 |
| Sept. 20 | 139 | $35 | Wednesday Challenge | $350,000 |
| Sept. 20 | 140 | $109 | Tornado | $15,000 |
| Sept. 20 | 141 | $30 | Turbo Eight Max | $10,000 |
| Sept. 20 | 142 | $160 | Americas | $20,000 |
| Sept. 21 | 143 | $55 | Turbo Americas | $5,000 |
| Sept. 21 | 144 | $109 | Lightning Six Max | $15,000 |
| Sept. 21 | 145 | $55 | Breeze | $15,000 |
| Sept. 21 | 146 | $30 | Deepstack Swordfish | $15,000 |
| Sept. 21 | 147 | $160 | Crocodile | $20,000 |
| Sept. 21 | 148 | $30 | Swordfish | $15,000 |
| Sept. 21 | 149 | $55 | R&A | $60,000 |
| Sept. 21 | 150 | $5 | Mini R&A | $10,000 |
| Sept. 21 | 151 | $55 | Monsoon | $20,000 |
| Sept. 21 | 152 | $215 | Quarterback | $100,000 |
| Sept. 21 | 153 | $44 | Mini Quarterback | $30,000 |
| Sept. 21 | 154 | $12 | Thursday Challenge | $25,000 |
| Sept. 21 | 155 | $109 | Tornado | $15,000 |
| Sept. 21 | 156 | $109 | Turbo Quarterback | $25,000 |
| Sept. 22 | 157 | $109 | Lightning Six Max | $15,000 |
| Sept. 22 | 158 | $55 | Breeze | $15,000 |
| Sept. 22 | 159 | $30 | Deepstack Swordfish | $15,000 |
| Sept. 22 | 160 | $160 | Crocodile | $20,000 |
| Sept. 22 | 161 | $30 | Swordfish | $15,000 |
| Sept. 22 | 162 | $55 | Monsoon | $20,000 |
| Sept. 22 | 163 | $150 | Knockout | $30,000 |
| Sept. 22 | 164 | $35 | Mini Knockout | $15,000 |
| Sept. 22 | 165 | $35 | Friday Challenge | $25,000 |
| Sept. 22 | 166 | $109 | Tornado | $15,000 |
| Sept. 22 | 167 | $75 | Turbo Knockout | $10,000 |
| Sept. 23 | 168 | $109 | Lightning Six Max | $15,000 |
| Sept. 23 | 169 | $55 | Breeze | $15,000 |
| Sept. 23 | 170 | $215 | Octopus | $50,000 |
| Sept. 23 | 171 | $30 | Deepstack Swordfish | $15,000 |
| Sept. 23 | 172 | $160 | Crocodile | $20,000 |
| Sept. 23 | 173 | $55 | Saturday R&A | $25,000 |
| Sept. 23 | 174 | $30 | Swordfish | $15,000 |
| Sept. 23 | 175 | $55 | Monsoon | $20,000 |
| Sept. 23 | 176 | $160 | Six Max | $60,000 |
| Sept. 23 | 177 | $30 | Mini Six Max | $15,000 |
| Sept. 23 | 178 | $55 | Saturday Challenge | $25,000 |
| Sept. 23 | 179 | $109 | Tornado | $15,000 |
| Sept. 23 | 180 | $55 | Turbo Six Max | $10,000 |
| Sept. 24 | 181 | $109 | Sunday Lightning | $30,000 |
| Sept. 24 | 182 | $55 | Sunday Breeze | $45,000 |
| Sept. 24 | 183 | $30 | Sunday Deepstack Swordfish | $30,000 |
| Sept. 24 | 184 | $215 | Mega Deep | $150,000 |
| Sept. 24 | 185 | $160 | Sunday Crocodile | $60,000 |
| Sept. 24 | 186 | $22 | Mini Mega Deep | $40,000 |
| Sept. 24 | 187 | $30 | Sunday Swordfish | $20,000 |
| Sept. 24 | 188 | $55 | Sunday Monsoon | $45,000 |
| Sept. 24 | 189 | $1,050 | Main Event | $1,500,000 |
| Sept. 24 | 190 | $215 | Mini Main Event | $200,000 |
| Sept. 24 | 191 | $30 | Micro Main Event | $50,000 |
| Sept. 24 | 192 | $109 | Sunday Challenge | $80,000 |
| Sept. 24 | 193 | $109 | Sunday Tornado | $25,000 |
| Sept. 24 | 194 | $215 | Turbo Mega Deep | $45,000 |
| Sept. 24 | 195 | $22 | Mini Turbo Mega Deep | $20,000 |
| Sept. 24 | 196 | $109 | Turbo Main Event | $20,000 |
| Sept. 24 | 197 | $75 | Super Turbo Main Event | $10,000 |